Warnditch Ngarrangkani (Maker of Dreams)
Gularrt Bangorri -Bat Dream
Posted by Aboriginal Art Directory | 08.03.08
Gallery: Mossenson Gallery
Dates: 13.02.08 : 08.03.08
Location: 115 Hay Street Subiaco, Western Australia 6008

Born in the bush circa 1920 at what is now called Glenroy Station in the central Kimberley, Ngarra has lived through 90 years of that region's extraordinary frontier history. A speaker of Andinyin, Ngarinyin and Gija, Ngarra is highly respected as a 'Number One' bushman, stockman and artist. His unparalleled knowledge of lore and culture, and his unique sense of colour and form, make Ngarra one of Australia's most compelling and important contemporary artists.
Orphaned as a young child and put to work in the stock camps, Ngarra was unsatisfied with camp life and ran away to find his grandparents, who were living a traditional life at Warrangadada (the Mornington Range). From this small band of defiant refugees, displaced in their own country, Ngarra learnt the ceremonies and laws of his people, traversing the central and east Kimberley with master ritualists now long since passed away. Ngarra was provided an extraordinary knowledge of Country, its geography, resources and lore by the Mananambarra, the elders.
It was only as a young man hoping to get married that Ngarra chose to rejoin his station kinsfolk. Beginning what was to be a long and successful career as a cattleman, Ngarra's bush skills made him a master stockman and drover. When station life slackened during the wet season Ngarra would walk the country with his fellow station workers, living a traditional nomadic life, attending to the ceremonies of life, death and the afterlife. Speaking on Ngarra's importance, the late artist Timmy Timms declared 'This Ngarrangarri standing up here, if him bin Catholic, then him Pope and everybody gotta bend at the knee.'
In 1994, Ngarra enlisted the help of his longtime friend, sociologist Kevin Shaw to assist him in developing his art practice. Quickly developing a unique and sophisticated style of painting, his first solo exhibition was held in 1996. By 2000 he had been honoured with a solo exhibition at the Western Australian Museum, and has exhibited widely throughout Australia and internationally. In 2007 he was selected for the fourth time in the Telstra National Aboriginal and Torres Strait Islander Art Award.
Combining his unparalleled knowledge of country, ritual and law with an idiosyncratic and personal artistic vision, Ngarra's paintings are profound repositories of allegory and metaphor. They reveal his distinctive ability to transform elements of his traditional culture, and the record of his life working in the cattle industry, into compelling visual and political statements.
Commenting on the works in Warnditch Ngarrangkarni, Kevin Shaw notes: 'Ngarra commemorates with his paintings the Andinyin Ngarrangkarni (Dream) country that he grew up in, and the bush foods that nourished him as child. Correspondingly he shows us glimpses of his adult life in the mustering camps and station homesteads: the Camp Frying Pans and Utensils Blackened by Wood Fire, and the Piggy-piggies at Glenroy Station foraging on fallen bush fruit.'
URL: http://www.indigenart.com.au/_common/frames.asp?content=content/exhibitions.asp

Share this: »
del.icio.us »
Digg it »
reddit »
Google »
StumbleUpon »
Technorati »
Facebook
Contact Details
Gallery: Mossenson Gallery
Contact: Diane Mossenson
Email: art@mossensongalleries.com.au
Telephone: +61 8 9388 2899
Address: 115 Hay Street Subiaco Perth 6008 WA

Yalyalji and Malggirri Lightning Strike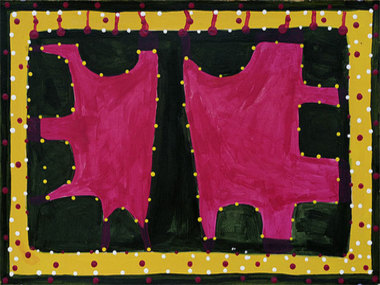 Lalgari and Yugun Waiting for the Wet Season
Where is the exhibition?
Further Research