BARKS 'R US
'Coat of Arms' (1963) by Narritjin MAYMURU, National Museum of Australia. © the artist or the artist's estate, licensed by Buku-Larrnggay Mulka Centre
Posted by Jeremy Eccles | 22.12.13
: 20.07.14

With Aboriginal bark paintings there's the constant dilemma – how important is the aesthetic appeal of the work, and how important the story – and the status of the man telling it?
The issue arises because there have been old barks coming out of our ears recently – 'Old Masters' at the National Museum in Canberra, even older masters at the Potter Museum in Melbourne, drawings made by the great bark painters of Yirrkala for the Berndts – anthropologists and collectors - in the 1940s in Sydney, the unique 'Gossip Song' barks collected by the Berndts on the Goulburn Islands in the same era in Perth; and finally, the Evatt Collection of barks which went to market in late November.
And just how reflective of intrinsic value in this fascinating field is the market-place? Is the most significant of these displays the one in Sydney? I don't wish to be competitive, but, having viewed the art and studied the catalogues of the Sydney and Canberra shows, while missing out completely on Melbourne, there is little doubt in my mind that the anthropological hunger displayed in the rush by Yolngu elders to create 365 drawings in unfamiliar media for the visiting Berndts in 1946/7, and then to explain each work in minute detail so that some had as many as 94 notes attached by Ronald Berndt, suggests at least their vital importance to both their creators and their descendants.
Aborigines had certainly made drawings before. Earlier anthropologists, Tindale and Mountford had supplied paper and ochre shades of crayon to various desert communities in the 30s. Berndt had learnt from Tindale that drawing appealed because of its separation from both the sacredness of ochre and from the complexity of preparing a bark for ceremonial design. But an accident (Berndt's father sending a full range of crayon colours) allowed the Yolngu men to introduce a new, undeniably aesthetic element in these works. Extraordinarily, Berndt himself may have studied his notes and used them in his various anthropological books when he got back down south. But it was only in 1978 that he actually got the drawings out of their storage rolls and admitted to the man setting up what is now the Berndt Museum in Perth – John Stanton - that he'd forgotten how beautiful they were.
And that beauty quietly radiates off the walls in the Sydney gallery. Blues and greens predominate in my memory – the colours of the bush and waters around Yirrkala. Reds and yellows are certainly there, but not aggressively so. Amazingly, both Hundertwasser and Klee sprang to mind as I took in the scene. For there's both figuration (wonderful dancing figures, some astoundingly Dickersonian portraiture by Mawalan Marika, and rock-solid ancestral creator-beings) and abstract patterning in profusion.
Andrew Blake's catalogue essay is a must-read to get your head round the complexities of what's on show. For, as is becoming universal, the AGNSW is reluctant to explain anything in its captioning. Not only does Blake make the obvious comparison with the 'tribal' patterning of Scottish plaid, but he also explains at length how a series of not-quite-straight criss-crossed lines by the amazingly busy Wonggu Mununggurr (who did 84 of the drawings) represent the fish-traps built as the waters receded each year at the end of the Wet – a practical bit of knowledge. But of course there are deeper meanings involving the ancestral shark of the Djapu clan who came to rest in the Wanduwuy billabong and attempted to smash the trap with his dying thrashing. The freshwater there is imbued with the essence of the shark's ancestral power.
Blake also notes how a chronological examination of Wonggu's works – or other multiple artists – reveals how aesthetic sophistication increased with time and experience.
For these were serious men – some old enough to have dealt with the visiting Macassans before the SA Government taxed them out of their annual visitations in 1906, and others like Wonggu already eager to share his culture with outsiders like Donald Thomson, who'd pioneered his way into NW Arnhemland in the 30s. Examples of the works made for Thomson are on show at the Potter Museum in Carlton, Melbourne. Anthropologist Thomson didn't just go, like Berndt, to appropriate and understand the culture. He went to forestall a punitive expedition against the 'restive Caledon Bay blacks' following the killing (by Wonggu's sons) of two Japanese trapangers and a policeman (by Dhakiyarr) who'd seized Dhakiyarr's wife.
Ironically, Wonggu's sons would later serve with distinction in Thomson's Special Reconnaissance Unit designed to keep watch for a Japanese invasion.
The Potter claims that they're showing "the first representations on bark of important ancestral beings, sacred clan designs and totemic animals made specifically for outsiders". Their press release continues, "A masterful suite of works depict anthropomorphic forms that clearly reference the shoulders, torso and thighs of men and illustrate the immediacy and inventiveness of transferring body markings to bark". In other words, the artists are directly translating body-paint on to bark.
Ironically, the ethnographic/aesthetic divide reveals itself in Melbourne. The Thomson barks are actually held by the Melbourne Museum. But they don't show them – their Indigenous section is mainly there to prove survival into the 21st Century, not old ceremony! It's therefore down to the Potter to offer aesthetic reflection upon these works. I wonder whether they annotate each one with its multiple meanings?
The AGNSW certainly doesn't – the precise opposite of Berndt himself, who, in a book like 'Kunapipi' uses several of the Yirrkala drawings to illustrate his colourful analysis of an Arnhemland ceremony that involves multiple copulation, but completely fail to acknowledge the artists who've supplied the works. I wonder what's happened to those drawings – they don't appear in the AGNSW catalogue, which does offer miniature versions of all 365 works?
The assiduous Berndt was as interested in the songs associated with ceremony as with the images. On the Goulburn Islands he collected no fewer than 2789 Gossip Songs – a unique local form by the Mawng people, who used animal tales (much as Aesop and La Fontaine had done) to tell "discreet gossip" about their friends and neighbours in allegorical form. This apparently avoided fighting, and Berndt also discerned "a metaphorical shifting phantasmagorical screen" for depicting social behaviour and allowing redemption.
The music, online at the Berndt Museum site, is interesting in avoiding the falling cadence that seems so prevalent in most Aboriginal ceremonial music. Perhaps subject-matter determine musical form. The barks on show in Perth are pretty rough stuff. It seems that they would not normally have been made – the song was enough to achieve its purpose. But Berndt commissioned them, so the Mawng obliged.
None would qualify for the National Museum's 'Old Masters' exhibition showing 122 works by a limited number of 'artists', now designated 'Masters', from the 2000 odd barks that make up the largest collection in the world. The works date from 1948 to 1988 and have ended up in the NMA via donations/sales by Karel Kupka, Helen Groger-Wurm, Jim Davidson and Lance Bennett. "These paintings are works of art" is the insistent catch-cry, with various artists (and their off-spring schools) grouped together....Yirawala (with 11 works shown) and Narritjin Maymarru (with 13) are the super-stars.
When did Narritjin live? Unimportant, perhaps. But surely if we're building a man's reputation, we should try to get agreement on basics like his dates! The Berndt Museum says1916-81; the NMA says 1914-82. He did only 14 drawings for Berndt, which suggests a less-important figure than many others; though one drawing, 'Nightbird and Possums at Djarrakpi' is a decorative cracker. On bark, his clarity of vision is impressive, his inter-cultural enthusiasm is infectious (his 'Coat of Arms' 1963 is a vast improvement on the Australian national symbol and should be immediately adopted!), and his translation of the map-making in traditional Yirritja moiety sand-painting to bark became a model for many other Yolngu painters.
As for Yirawala, the so-called 'Raphael of Aboriginal art', the case for his mastery is simply not made in Canberra. This is possibly because Sandra Holmes, the women who came up with the Raphael spin, was so successful in promoting the artist that his best paintings went on to an appreciative market rather than into the NMA Collection. Certainly Clive Evatt ended up with two works 'better' than anything the NMA has. One – 'Grey Rock Wallaby' – was clearly a reflection of the important Mardayin Ceremony, which links to NMA co-curator Wally Caruana's comment: "The more important the subject, the more effort put into painting it". In other words, the aesthetics emerge from the ethnography.
And his exemplar is Birrikitji Gumana's 'Four Great Lawgivers of Eastern Arnhemland' (1963) from the Bennett Collection. "It's an extraordinary work", justifies Caruana; "such an important subject, but the use of miny'tji to both distinguish the different characters and to decorate their surroundings is ground-breaking". Indeed, there's a fascinating link to the Potter barks which just show the painted torsos of ancestral figures.
Not so much admired by the NMA curators is the late Bardayal 'Lofty' Nadjamerrek – who fails to get a 'Master' name-check or school associated with him despite being known as the last of the cave painters in Western Arnhemland and having inspired many to live a more remote, traditional life. Incidentally, the Evatt auction awarded Lofty the two highest prices for barks!
But how much would anyone have paid for a Djunmal? I'd never heard of him, Evatt had never collected him. But this Milingimbi Yolngu has the first work in the show in Canberra and a section entirely to himself – 'Identity'. It's a stunning bark, entirely abstract to my eyes but deeply storied to Mayarrmayarr clan eyes. Its divided harmonies reflect the crossing of the Djan'kawu Sisters from the Gulf of Carpentaria to the mainland to begin their life-giving progress. His only other work on show precedes it – describing the Sisters' sea voyaging in equally symbolic form. Extraordinary that such concentrated conceptual work should come from a man better known for his stylish insistence on wearing dark glasses all the time and his performative capacities for the Aboriginal Theatre Foundation.
So discoveries are possible, big names are there, but overall, I have to say, 'Old Masters' didn't speak to me as a show that's going to excite new interest in barks. It doesn't feel as though we have the master works of the master painters leaping off the walls.

But what would I know? And what would the market know on the evidence of the Evatt auction at Bonhams in late November. I've already pointed out a couple of discrepancies between curatorial favour and dollars – but you could have taken home a piece by the great Narratjin Maymuru for just $512! Or a Birrikitji Gumana for an insulting $390. Even a magical work by the great Yunupingu forefather, Munggurrawuy could be had for less than $3000.
In all, the sale grossed almost a million dollars against a temptingly low presale estimate of just half that. Only 15 of the 319 lots offered failed to find buyers. And Bonhams spotted 60 new potential buyers. Lightning Spirit (Namarrkon) by Lofty Bardayal Nadjamerrek achieved the highest result of $47,580 against an estimate of $7,000-$10,000.
But you are buying so much more in a bark than mere paint on wood. Thousands of years of complex story-telling and law-making go into most barks – an artist constantly needing to find a balance between what he can say or reveal and how the rule-makers say he can do it. There have been all the politics of land rights in the North East, invariably fought out through bark painting. There's been the accommodation of missionary Christianity into ancient lore. And a band like Yothu Yindi doesn't emerge from a people who don't have a very clear idea of their place in the world. Barks are them; barks are us!
While the Bonhams sale is long past, and Gossip Songs closed with the Berndt Museum on 14th December, the Yirrkala Drawings at the AGNSW run until 23 February and then head for the QAG in April; Transformations can be enjoyed at the University of Melbourne's Potter Museum from 7th January until 23 February; and Old Masters hangs in at the National Museum until 20 July.


Share this: »
del.icio.us »
Digg it »
reddit »
Google »
StumbleUpon »
Technorati »
Facebook
Contact Details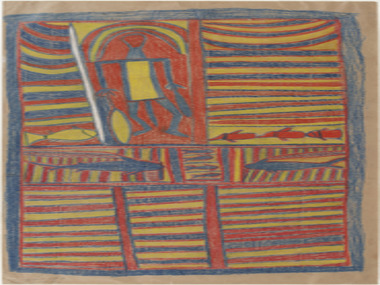 Mowarra Ganambarr's 'Thunderman and Shark Site at Arnhem Bay' 1947 - the work of current star Gunybi Ganambarr's grandfather
Mundukul Marawili's 'Fish Trap at Baraltja' - drawn for the Berndts just 3 years before Mundukul's death
Further Research