The Art Directory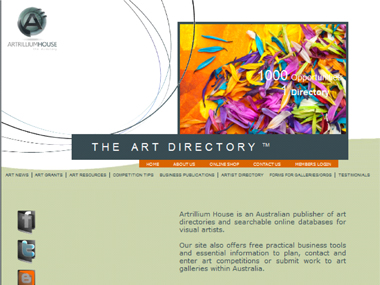 The Art Directory
Posted by Aboriginal Art Directory | 12.05.11
Author: Martina Pook

Australia's Art Directory for visual artists.
With a listing of over 1500 art competitions and 900 art galleries the database can be searched by name, artist type, art form (indigenous art), entry date and state etc.
A directory for art competition tips and free art business resources.
Note at 2014, this no longer appears to be in existence and the link has been removed.

Share this: »
del.icio.us »
Digg it »
reddit »
Google »
StumbleUpon »
Technorati »
Facebook
Contact Details
Further Research