The Long Forgotten Dream
Wayne Blair in the pivotal role of a curmudgeonly Jerry Tucker at the Sydney Theatre Company. Jada Alberts plays his daughter (pictured by Heidrun Lohr)
Posted by Jeremy Eccles | 30.07.18
Dates: 27.07.18 : 25.08.18
Location: Drama Theatre, Sydney Opera House

The world premier of this play by a writer unknown to me but given the imprimature of Neil Armfield's decision to direct it for the Sydney Theatre Company raised mighty expectations. For Armfield has credentials in the Indigenous area – Jack Davies's majestic trilogy of plays at Belvoir, 'The Secret River' in Sydney and on TV, and 'Gulpilil' with David at his most intimately autobiographical. Here he was introducing Sydney to H Lawrence Sumner – not a young man, but Goolwa-born in South Australia and Sumner is an honoured Ngarrindjeri name - with just one play written for the Adelaide Fringe : 'Shakespeare's Blacks'.
I suspect Armfield may have relished the challenge of bringing to urbane Sydney a story potentially encapsulating a wider massacre history of Australia (check out the University of Newcastle's ever-expanding web map on this subject) in a single family's story of loss. But perhaps he didn't quite take on board a dangerously mono-dimensional grumpy protagonist, a confusing mass of generational overlapping, a couple of ghosts and a Novocastrian (UK, not NSW) god! And perhaps he wasn't quite radical enough in seeking to clarify matters.
The affirmative thing was that the STC's opening night audience was so moved by the resolution that they leapt to their feet in cathartic response at the end.
True – Wayne Blair's Jerry Tucker had risen from his chair of curmudgeon and given us a powerful dose of truth, and perhaps a little reconciliation. And true – the mysteries of how his grandfather had died for love, how his bones had become shipped overseas, and how his mother had disappeared were cleared up after a first half in which obfuscation had tended to be the name of the game. And true – Melissa Jaffer's wonderfully gentle portrayal of a dead 102-year-old had justified its existence by playing a key role in revealing the truth.
But that first half in which Jada Alberts' Simone returns to the Tucker house after a two year absence in search of her great-grandfather's bones (and a PhD) to find that Dad Jerry is quite unenthused by her triumph and really only wants her to have grandchildren for him is largely held together by the wonderful character of Jerry's sister, Lizzie – played with utter naturalness and a randy humour by Ningali Lawford-Wolf, one of the pioneers of truthful Aboriginal performance back in the 90s. For Simone takes an eternity to reveal what she's discovered about the death of Mani Tucker (or Mangarajuri Tulla – his tribal name) at the hands of local landlord, Thomas Gilles. And Jerry takes even longer to admit that his loss of desire to engage with the world and sense of dislocation is more about the disappearance of his mother when her body was swept away in a river after a car accident and never recovered.
So, what might have justified his loss of esteem as a leader in his Ngarrindjeri community actually has a more personal cause. Mind you, his tribal position is still strong enough to allow him to let fly at "urban Aboriginal pretenders" who'll jump on the bandwagon of the repatriation of his grandfather's bones, and to mock the tokenism of universal 'Welcome to Country' ceremonies while explaining the origins of this essential way of moving around the country in pre-colonial days.
It was odd therefore that young Mani is referred to several times as 'King Tulla'. For it seems pretty clear that classical Aboriginal society had little need for kings – a title imposed upon some of their leaders via the gorgets of colonialists who couldn't imagine a world without hereditary rulers. However, my researches did throw up one Ngarrindjeri 'king', Peter Pulami, described by anthropologist Diane Bell as "the last rupella or head of the Ngarrindjeri tendi – the governing body of the nation's affairs". But I continue to think it unlikely that Tulla, a young hothead in consensual love with Melissa Jaffer's once-youthful lass, was about to be awarded the authority of an elder by his tribe.
Tulla himself appears as both the young man – who has a tender, ghostly reconciliation with Jaffer's character - and his bones, laid out by forensic taphonomist (and putative lover of Simone) Mandeep for a lecture to his UK students. Unfortunately, that lecture failed to explain why they went to Mexico and how they then ended up in the UK.
So – I wanted more. For the issues of massacre and skeletal repatriation are important, but not as essential as Anglo-Australia facing up to the massive disruption of a culture that Jerry Tucker represents. And I'm not sure that quite comes through despite Wayne Blair's final, powerful speech – along with the need to listen positively to Indigenous arguments such as the Uluru Statement, not simply dismiss them unheard. But clearly, others in the STC audience did hear something of those matters, underlined as they were by the great Kalkadoon man, William Barton's live chant and a final blast of his earth-shaking didg beneath designer Jacob Nash's endless, ever-breathing Coorong sky.
PS. In 2006, twenty-four Ngarrindjeri 'Old People' were returned to the Coorong - taken from burial grounds in the name of science in the 1890s and held by Edinburgh University for a century. But they remain unburied for lack of funds along with some 400 other ruwar/bodies. Significantly, ruwar is the plural of ruwi, the word for land in Ngarrindjeri.
URL: https://www.sydneytheatre.com.au/whats-on/productions/2018/the-long-forgotten-dream

Share this: »
del.icio.us »
Digg it »
reddit »
Google »
StumbleUpon »
Technorati »
Facebook
Contact Details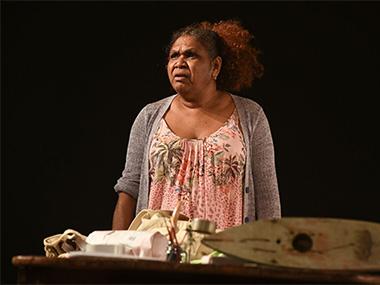 An ebulliant Ningali Lawford-Wolf holds 'The Long Forgotten Dream' together in its first half
A ghostly Melissa Jaffer leads Blair's Jerry Tucker back from the wilderness
Further Research