CIAF 2011
Alick Tipoti blessing his new Sorcerers' Masks in an Awgadh Wiyay ceremoney at Canopy Artspace - this author looking on!
Posted by Jeremy Eccles | 23.08.11
Gallery: Cairns Indigenous Art Fair
Dates: 18.08.11 : 28.08.11

The third edition of the Cairns Indigenous Art Fair, enjoyed by about 15,000 people in the balmy setting of Cairns in the Spring revealed the constant state of evolution that is Queensland's indigenous art scene.
Prime amongst the developments was the appointment of Quandamooka woman, Avril Quaill as the Fair's Director. She's curated at Boomali, the National Gallery and the Queensland Art Gallery, though, most recently, she was with QAIMEA, the Government's marketing and export arm for indigenous Queensland art. The government 'oop north is making huge efforts in this area – an eight year Backing Indigenous Arts program that's pumping $25m into establishing arts centres and hubs in the remote Cape and on Torres Strait Islands, has set up CIAF and helped to surround it in Cairns with operations like KickArts and the Djumbunji Press to make and present the new art.
But it also needs to find a market. So the Fair's involvement of commercial galleries that are already selling Queensland art – surprisingly few and mostly in Melbourne...Vivien Anderson and Alcaston, with the main Brisbane players like Andrew Baker, WAG, Jan Manton and Fireworks all missing this year...and its encouragement of new commercial and institutional players by inviting them to visit the fair on its Curators and Collectors program is all pretty essential. It makes for a mix of parties in one room that don't always see eye to eye – strange as it may seem, remote art coordinators and urban white-wall gallery owners can have their differences!
The one room at CIAF 2011 was also new. A fabulous, architect-designed restoration of the old Cruiseship Terminal, just down the road from the centre of Cairns is the new home. Some people had fond memories of the Tanks Art Centre in the more-distant tropical Botanical Gardens, where food-stalls, performance and the visual arts mixed more holistically in 2009 and 10. This time, for instance, no one seemed to have found the tent where artists were happy to talk. But generally, the airy space by the water won the majority over. And there are plans to convert a neighbouring shed to the same standards – potentially doubling the space available, perhaps bringing in the Director's curated show from the Cairns Regional Gallery, adding films, etc etc. Is there enough Queensland art to justify the move? Are there enough visitors – Cairns locals, back-packers and the 35% non-FNQ, interstate or international?
For the crowd is part of the experience.
What of the art? Snapshots of the outstanding include Brian Robinson's pair of prints somehow blending traditional TSI scenes with Greek mythology; big Alick Tipoti launching a suite of Sorcerers' Masks with a wild dance performance he'd invented himself; the startling emergence of Irene Namok in a reversal of the norm, following up on the successes of her daughter, Rosella; the Yalanji of Mossman Gorge finding a brilliant friend in retired fashionista, Linda Jackson, who's been helping them make some gorgeous material works; the translation of Mornington Island's Emily Evans' finest dotting to ceramics; and the surprising (but legitimate) appropriation of Kimberley Wandjinas by Hughie Ahwon – challenging the various Queensland paradigms!
Throw in an amazingly detailed talk by Prof Peter Sutton – the man who really opened American eyes to Aboriginal art with his Dreamings exhibition at the Asia Society in new York in 1988 – about his beloved Wik people from Cape York, with such deep understanding of their culture and how that impinges on their art; as well as hints of the book he's writing about his predecessor anthropologist, the challenging Ursula McConnel – and you had a Symposium organised by the Director which always stimulated. Is it possible that the presence of a Japanese anthropologist talking about lessons the Ainu could learn from the development of Aboriginal art here in terms of advancing an understanding of the people, could presage an extension of CIAF's remit across the Pacific in the future?
URL: www.ciaf.com.au

Share this: »
del.icio.us »
Digg it »
reddit »
Google »
StumbleUpon »
Technorati »
Facebook
Contact Details
Gallery: Cairns Indigenous Art Fair
Contact: Avril Quaill
Email: info@ciaf.com.au
Address: Cairns Cruise Liner Terminal, Wharf Street Cairns 4870 QLD

Gallery: Cairns Regional Gallery
Contact: Louise Doyle - Director
Email: info@cairnsregionalgallery.com.au
Telephone: +61 7 4046 4800
Address: Cnr Abbott and Shields Streets or PO Box 7784 Cairns QLD 4870 Cairns Cairns 4870 QLD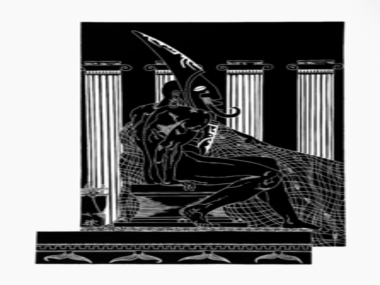 Cast net, Waiben wharf, 2O11. Linocut printed on BFK Rives white, 8Ocm x 6Ocm. Edition of 3O. Printer Hannah Parker. Courtesy the artist and Djumbunji Press
Where is the exhibition?
Further Research