From Cape to Cove
Samantha Hobson, Red Fire Flare, acrylic on canvas, 120 x 192cm
Posted by Aboriginal Art Directory | 01.02.08
Gallery: Holmes à Court Collection
Dates: 08.02.08 : 30.03.08
Location: 11 Brown St, East Perth, Western Australia, 6004, Australia

From Cape to Cove will include paintings and sculpture by members of the young "artgang" at Lockhart River – Rosella Namok, Fiona Omeenyo, Samantha and Silas Hobson and two of the emerging older painters - Susan Pascoe and Moira Macumboy. All the work reflects their colourful environment of reef, beach, culture and community. From Aurukun come sculptural pieces and ceremonial objects that express the artists' close association with their culture, environment and the wildlife that abounds. Artists include Garry and Leigh Namponam, David Bell, Craig Koomeeta, Horace Wikmunea and Joel and Mavis Ngallametta.
URL: http://www.holmesacourtgallery.com.au/exhibitions/index.cfm

Share this: »
del.icio.us »
Digg it »
reddit »
Google »
StumbleUpon »
Technorati »
Facebook
Contact Details
Gallery: Holmes à Court Collection
Contact: Sharon Tassicker
Email: sharon.tassicker@heytesbury.com.au
Telephone: +61 8 6217 2640
Address: PO Box 7255 Cloisters Square 6850 WA

Gallery: Lockhart River Arts
Contact: Camille Masson-Talansier
Email: contact@lockhartriverart.com.au
Telephone: +61 7 4060 7341
Address: Lockhart River Arts Lockhart River Lockhart River 4871 QLD

Rosella Namok, Thuluu... just before sunset, acrylic on canvas, 120 x 190cm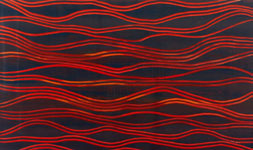 Rosella Namok, Marks on the sand... Dry low tide... night time walk acrylic on canvas, 120 x 190cm
Where is the exhibition?
Further Research