The Legacy of Albert Namatjira Today
Elton Wirri Petermann Ranges 2008, Watercolour on acid free paperboard, 26 x 36 cm
Posted by Aboriginal Art Directory | 28.05.08
Gallery: SoMA Galleries
Dates: 29.05.08 : 22.06.08

Contemporary Aboriginal Watercolours from Central Australia
Opening Thursday 29 May at 6pm (on display until 22 June)
SoMA Galleries, 147 The Parade, Norwood, SA
This will be the first comprehensive group exhibition of the current Aboriginal watercolour artists to be held outside Alice Springs. Anyone in the Adelaide area is encouraged to attend the opening and support the artists. Ngurratjuta has organised for Lenie Namatjira (Albert's Granddaughter) and Ivy Pareroultja (Edwin Pareroultja's daughter) to attend the opening in Adelaide. Ngurratjuta Iltja Ntjarra Art Centre will also be launching a small publication of the same name, /The Legacy of Albert Namatjira Today/.
This special publication has been developed by the Art Centre in recognition of the outstanding commitment and highly developed skills of the current Watercolour artists. This FREE publication will be available in conjunction with the exhibition or directly from the Art Centre (simply email through your postal address with the subject title 'catalogue').
The development of this publication has been assisted by the Australian Government through the Australia Council for the Arts, its arts funding and advisory body.

Please pass this email on to anyone you think may be interested in attending the opening.

Share this: »
del.icio.us »
Digg it »
reddit »
Google »
StumbleUpon »
Technorati »
Facebook
Contact Details
Gallery: SoMA Galleries
Telephone: +61 8 8333 4322
Address: 147 The Parade Norwood Adelaide 5067 SA

Gallery: Ngurratjuta Iltja Ntjarra Art Centre Many Hands Art Centre
Contact: Iris Bendor
Email: art@ngur.com.au
Telephone: +61 (08) 89500908
Address: 29 Wilkinson St Alice Springs 0871 NT

Douglas Kwarlple Abbott James Range Valley 2007, Watercolour on acid free paper, 30 x 49 cm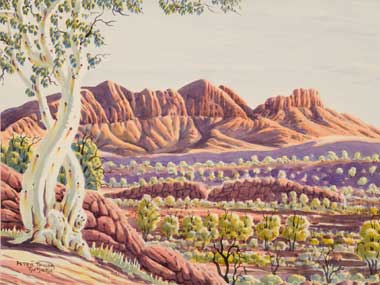 Peter Tjutjatja Taylor Mt Sonder 2007, Watercolour on acid free paper, 53 x 74 cm
Where is the exhibition?
Further Research