Aboriginal Art Direct #4: Ngurrara The Great Sandy Desert Canvas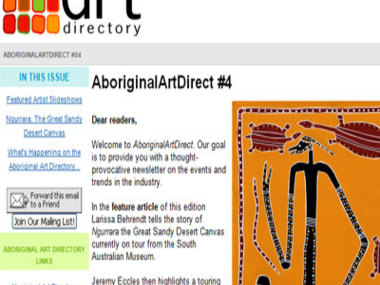 Aboriginal Art Directory | 17.06.08
Welcome to AboriginalArtDirect. Our goal is to provide you with a thought-provocative newsletter on the events and trends in the industry.
In the feature article of this edition Larissa Behrendt tells the story of Ngurrara the Great Sandy Desert Canvas currently on tour from the South Australian Museum.
Jeremy Eccles then highlights a touring exhibition of photographs by Ricky Maynard put together by the Musuem of Contemporary Art.
Finally we discuss the most popular artists on the Aboriginal Art Directory in May and announce two new partnerships.
Read our fourth issue of AboriginalArtDirect now.

Share this: »
del.icio.us »
Digg it »
reddit »
Google »
StumbleUpon »
Technorati »
Facebook
Contact Details
Further Research