One big collection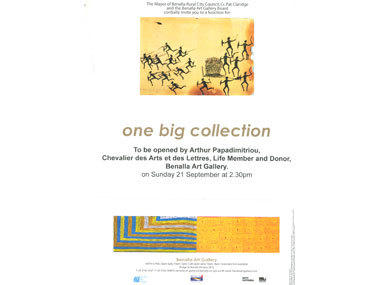 Posted by Aboriginal Art Directory | 26.08.08
Gallery: Benalla Art Gallery
Dates: 31.08.08 : 15.10.08

The Benalla Art Gallery has for some years been collecting indigenous works to add to the opportunities for people and visitors to the North East of Victoria to understand their culture in all its forms and in this exhibition, the indigenous culture of the Aboriginals.
With very limited funds and wonderful support from donors, the gallery has gathered some 64 artworks which begin the role of the gallery in joining one of the world's youngest cultures to the world's oldest continuing culture.
The collection includes works from the Western Desert Region, Balgo Hills and barks from the north - Yirrkala and Manangrida.
The paintings have all been donated to the gallery or purchased with donated funds.
The Aboriginal collection at Benalla is young but this strand of the collection is growing rapidly. The gallery received over 50 works as donations in the last 6 years. Many of these are very important works and have come from donors who have learned about Aboriginal culture, like Arthur Papadimitriou or have studied the cultures and bought artworks for many years.
The purpose of building the aboriginal collection is to complete the cultural story of Australia through inclusion of the indigenous culture. To build the profile of this collection has been challenging and immensely rewarding. From learning a few of the intricacies of indigenous cultural protocols to attending the opening of the Musée du Quai Branly, the staff and friends of the gallery have adventured into fascinating Australian regions
The exhibition will be presented in the Bennett Gallery that is now the site of the major continuing contemporary Australian art and exhibitions in the north east of Victoria.
From 31 august to 15 October

URL: http://www.benallaartgallery.com/?file=article&articleid=74

Share this: »
del.icio.us »
Digg it »
reddit »
Google »
StumbleUpon »
Technorati »
Facebook
Contact Details
Gallery: Benalla Art Gallery
Contact: Simon Klose
Email: gallery@benalla.vic.gov.au
Telephone: +61 3 5762 3027
Address: Bridge Street, Benalla Benalla 3672 VIC

Gallery: The Arthur Papadimitriou Collection
Contact: Arthur Papadimitriou
Email: arthur69papp@yahoo.com.au

Where is the exhibition?
Further Research