Ulema from Uluru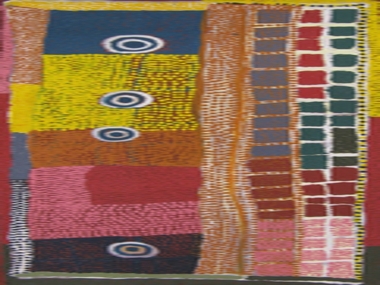 Watiku Tjukurpa - courtesy of the artist and Maruku Arts
Posted by Jeremy Eccles | 23.09.08
Gallery: Maruku Arts
Dates: 02.10.08 : 26.10.08
Location: 134 William street, Wooloomooloo 2011 NSW

Trust the Birrung Gallery - World Vision's excellent Sydney offshoot - to find yet another new, old artist.
From October 2nd, they''ll be hosting the debut solo show by Jim Nyukuti. In his 70s, this Pitjanjatjara elder has been too busy until now looking after ancestral country in the Peterman Ranges between Docker River and Uluru - where he's a member of the National Park Board.
His background is in carving weapons and tools, and he's only recently begun painting his sacred Tjukurrpa - Dreaming maps that only he and other senior Lawmen can fully read.
But already the Seattle Museum - one of the few in the US collecting indigenous art, has bought one of Jim's works. The Quai Branly Museum's curator is another enthusiast.
Jim Nyukuti himself will be in Sydney for the show's opening on Oct 2nd

When; October 2- 26, 2008
Where; Birrung Gallery , 134 William street, Wooloomooloo 2011 NSW
Time: Opening on Thursday October 2 at 6pm with the artist
Gallery Hours :Tuesday-Friday 10-5.30pm and Saturday and Sunday 11-5pm
Contact ; 02 95509964 email :birrung@worldvision.com.au website
URL: www.worldvision.com.au/birrung/

Share this: »
del.icio.us »
Digg it »
reddit »
Google »
StumbleUpon »
Technorati »
Facebook
Contact Details
Gallery: Maruku Arts
Contact: Stephen Fox
Email: punu@maruku.com.au
Telephone: +61 8 8956 2153
Address: CMA Ininti Store Uluru Uluru 0872 NT

Where is the exhibition?
Further Research