Yankuni Laju Karnkani Kujungka (We Are Traveling Together By Air)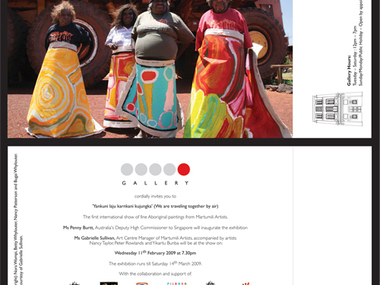 Opening Reception Invitation
Posted by Aboriginal Art Directory | 31.01.09
Gallery: ReDot Fine Art Gallery
Dates: 11.02.09 : 11.02.09

ReDot Gallery cordially invites you to 'Yankuni laju karnkani kujungka' (We are traveling together by air).
The first international show of fine Aboriginal paintings from Martumili Artists.
Ms Penny Burtt, Australia's Deputy High Commissioner to Singapore will inaugurate the exhibition.
Ms Gabrielle Sullivan, Art Centre Manager of Martumili Artists, accompanied by artists Nancy Taylor, Peter Rowlands and Yikartu Bunba will be at the show on: Wednesday 11th February 2009 at 7.30pm.
The exhibition runs till Saturday 14th March 2009.
REDOT GALLERY Pte Ltd, 11 Everton Road, Singapore, 089367.
RSVP & Enquiries: Alessandra: 8189 6405 exhibition@redotgallery.com
Gallery Hours:
Tuesday-Saturday: 12pm-7pm
Sunday/Monday/Public Holiday: Open by appointment
URL: http://www.redotgallery.com/index.php?action=home

Share this: »
del.icio.us »
Digg it »
reddit »
Google »
StumbleUpon »
Technorati »
Facebook
Contact Details
Gallery: ReDot Fine Art Gallery
Contact: Giorgio Pilla
Email: info@redotgallery.com
Telephone: +65 6222 1039
Address: 33 Everton Road Singapore Singapore 089388

Peter Rowlands
Nancy Taylor
Where is the exhibition?
Further Research