Contemporary Aboriginal Art with Danie Mellor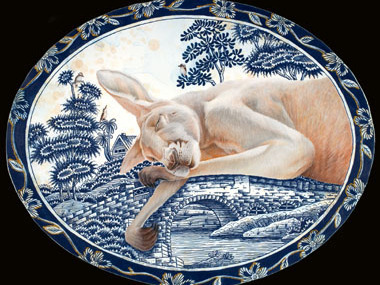 Danie Mellor, Dreaming beyond paradise (let sleeping giants lie), 2008
Posted by Aboriginal Art Directory | 18.02.09
Gallery: Michael Reid
Dates: 14.03.09 : 14.03.09

This series of lectures will discuss the significance of Aboriginal art in Australia, and its place as a contemporary movement in this country's cultural landscape. We will focus on the production of the city-based Indigenous artist, their approaches, and their keen awareness of multiple and often conflicting histories. When so much has been lost through the settlement of Australia, what is it that inspires their work, and why is it important that a kind of reclamation takes place through their art? These questions and many more will be explored and answered in discussions that take us from the north to south, and east to west of the country.
Venue:
Michael Reid at Murrurundi
Boyd Street,
Murrurundi,
The Upper Hunter,
NSW 2338 Australia
When:
Saturday, 14th, March
Cost:
$120 for the whole day.
Bookings online www.michaelreid.com.au
Getting there:
Murrurundi is a small, early Colonial town of about 1,000 people situated 330 km north of Sydney (four hours drive) on the New England Highway and 45 km north of Scone at the very crown of the Upper Hunter Valley.
About the speaker...
Born in Mackay, Queensland, Danie Mellor has lived, worked, travelled and studied in Australia, England, Scotland and South Africa. He is an artist whose work encompasses and comments on Indigenous and non-Indigenous culture and history, and his work has been regularly shown in significant exhibitions in Australia, including Story Place, Queensland Art Gallery and Primavera, Museum of Contemporary Art, Culture Warriors, National Gallery of Australia, and is represented in many permanent national, state and private collections. Since completing his doctorate in 2004, he has lectured in Art Theory at the Sydney College of the Arts, specialising in contemporary Aboriginal art, and he divides his time between his studio and home in Canberra and Sydney.

URL: http://www.michaelreid.com.au

Share this: »
del.icio.us »
Digg it »
reddit »
Google »
StumbleUpon »
Technorati »
Facebook
Contact Details
Gallery: Michael Reid
Contact: Michael Reid
Email: info@michaelreid.com.au
Telephone: +61 2 8353 3500
Address: 44 Roslyn Gardens Elizabeth Bay Sydney 2011 NSW

Where is the exhibition?
Further Research