Some of Us - Lockhart River Art Gang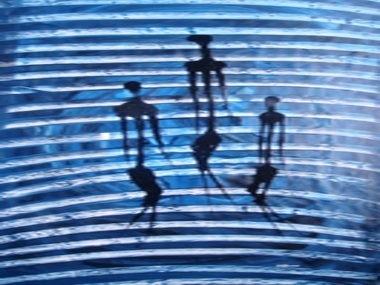 Silas Hobson, Untitled, 2008, Acrylic on canvas 92 x 200cm
Posted by Aboriginal Art Directory | 09.04.09
Gallery: Tandanya – National Aboriginal Cultural Institute
Dates: 11.04.09 : 07.06.09
Location: 253 Grenfell Street, Adelaide, SA 5000

Lockhart River is a remote Aboriginal Community on the east coast of Cape York in far north Queensland. It is about 850 km north of Cairns by road. During the wet season creeks and rivers flood and close th road into town from the highway. Sea and air are the only access at this time. In some wet seasons the road can be closed from December to June.
The commmunity of about 600 people is located 2km from Quintal Beach in Lloyd Bay and is bounded by rainforest, low mountain ranges and the sea. The coastline is strung with sandy beaches where creeks and rivers enter the sea though mangrove protected estuaries.
The artists who work at the Arts Centre are known locally as the Art Gang. The Art Gang now includes "The Old Girls" older women who have taken the art world by storm with their sensitive, energetic paintings. The main works at the centre are paintings on canvas and fine art prints.
The Art Gang's work is a contemporary response to the environment, culture and traditions of this isolcated Aboriginal Community. It expresses some of the realities of being Aboriginal and the strong influences of traditional culture and values in their world. They have developed their own forms of expression which are very different from the art of other parts of Australia. The art from Lockhart River promotes the cultural identity of Aboriginal people in contemporary Australian culture.
The array of talent of the community is a testament of the success of hte Lockhart River Art Gang.
URL: http://www.tandanya.com.au/ed37/some-of-us/

Share this: »
del.icio.us »
Digg it »
reddit »
Google »
StumbleUpon »
Technorati »
Facebook
Contact Details
Gallery: Tandanya – National Aboriginal Cultural Institute
Email: tandanya@tandanya.com.au
Telephone: +61 8 8224 3200
Address: 253 Grenfell Street Adelaide Adelaide 5000 SA

Where is the exhibition?
Further Research