Aboriginal Dreamtime Fine Art Gallery opens in West Hollywood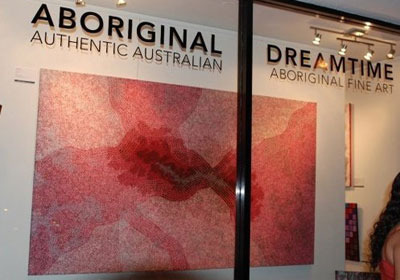 9011 Melrose Avenue • West Hollywood, CA 90069
Aboriginal Art Directory | 22.10.09
Author: Andre Boghoskhanian

Aboriginal Dreamtime Fine Art Gallery is pleased to announce it's second location in West Hollywood, CA. Their opening night which was held on September 24th, 2009 proved to be a great success and the gallery will be featuring an exhibition monthly.
Aboriginal Dreamtime Fine Art Gallery is located at Sydney's beautiful and well known Manly Beach, and now also in LA's trendy West Melrose shopping district. With over 12 years experience in Aboriginal Fine Art, the gallery has developed relationships with artists and staff from diverse communities throughout Australia.
These include the Central & Western Deserts and art centers such as Utopia, Yuendumu and Papanya Tula. They source works from highly acclaimed prize winning artists who are represented in major public and private collections and especially encourage younger and emerging artists. They rely on their depth of knowledge and experience in observing the on-going development of the Aboriginal Art movement. The gallery encourages their customers and collectors to be aware and concerned that aboriginal people should directly benefit from sales. This experience and knowledge ranges from very good to exceptional with one thing in common, a passion for Aboriginal Art and the importance of cultural continuity.
All paintings sold are accompanied by a Certificate of Authenticity. They have a reputation in this industry that is important to themand is important particularly to collectors who know that they source their works directly and ethically.
URL: http://www.aboriginaldreamtimegallery.com

Share this: »
del.icio.us »
Digg it »
reddit »
Google »
StumbleUpon »
Technorati »
Facebook
Contact Details
Gallery: Aboriginal Dreamtime Fine Art Gallery - Los Angeles

Walangkura Napanangka 200cm x 120cm
Gloria Petyarre 180cm x 120cm
Further Research