VISIONS OF DISTANT FOOTPRINTS - Looking at the past, walking to the future
The Dense Bush
Posted by | 29.10.09

Location: NOOSA MARINA, 2 Parkyn Crt, TEWANTIN QLD 4565

SOLO EXHIBITION - Carl P Moggs
As part of the 2009 ARC Biennial of Art
presented by Artworkers Alliance
Previewed at the 2009 Cairns Art Fair in August - with works sourced for Collections.
In the year of the 150 Celebrations of Queensland, the works by Queensland artist, Carl Moggs provide a wonderful opportunity to see the new talents emerging from Queensland.
Carl P. Moggs, self taught artist and hunter from the Bigambul group uses a combination of inks, acrylics and oils to interpret stories from the Dreamtime that he heard from indigenous elders and his grandmother Ivy during his childhood. He combines traditional indigenous style work with a Norwegian (his father's heritage) kind of psychedelia to produce a unique body of work that also reveals his own strong spiritual link to the land.

DESERT RAIN – INDIGENOUS FINE ART
Opening Night Friday 30th Oct 6-8 pm
Noosa Marina, 2 Parkyn Crt, Tewantin
until 22nd Nov 2009
Contact Details:
Gallery: 5470 2214
Mob: 0403 901 769
PREVIEW ONLINE: www.desertrain.com.au
E: art@desertrain.com.au


Share this: »
del.icio.us »
Digg it »
reddit »
Google »
StumbleUpon »
Technorati »
Facebook
Contact Details
REEF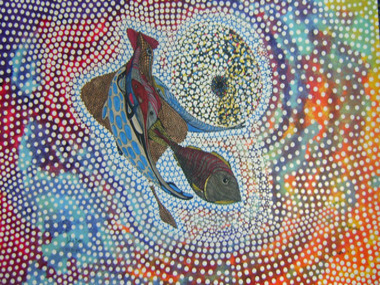 Further Research