"Ingalimpa Tjuntu" - Singing songs, 'We sing the country and that's how we find the way'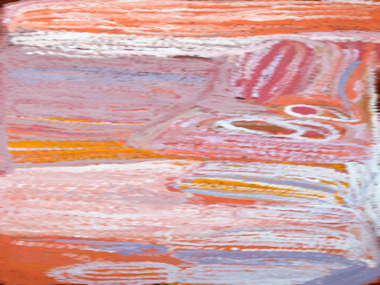 Eubena Nampitjn
Posted by Aboriginal Art Directory | 22.03.10
Gallery: Warlayirti Artists
Dates: 20.04.10 : 10.05.10

MEDIA RELEASE
The ancient and the modern- a perfect partnership
Redot Gallery- Singapore, Warlayirti Artists- Balgo, Audi Japan Group- April 2010
Question: What would bring the new hi-tech Audi navigational system side by side with the ancient Aboriginal Australia Tjukurpa country mapping system??? Why art of course!
From 14th of April 2010 (Wednesday) till 10th May 2010 the slick Audi 'Iceberg' Building in Shibuya Tokyo will be home to a unique exhibition of paintings, "Ingalimpa Tjuntu" - Singing songs, 'We sing the country and that's how we find the way'. The exhibition showcases the current and most spectacular painting works being created by Warlayirti Artists from Balgo, Western Australia.
Warlayirti Artists is one of Australia's leading Indigenous art centres whose artists have a reputation for producing uniquely individual and vibrant paintings which draw their inspiration from the Tjukurpa - the unique dreamtime maps and stories of country passed from generation to generation of indigenous people. This exhibition is a collaboration between Warlayirti Artists, Redot Gallery, Singapore and Audi Japan.
Accompanying this exhibition will be the newly released Audi which will be painted in stories of the Tjukurpa by four of Balgo's top male contemporary artists. The ancient and high-tech- a perfect synergy which highlights the key role of the motor car for contemporary societies across the world.
The exhibition forms part of the larger 'Motika Project' which is an arts-based initiative being produced by Warlayirti Artists. This 3 year project is inspired by community members lived experiences of the 'motika' ( motor car) as a 'vehicle' to explore a range of social, cultural, economic and justice-based issues experienced by indigenous Australian living on remote communities. The project will take the form of workshops and exhibitions in photography and painting and ultimately a new film work about this all- important part of contemporary indigenous culture.
In addition to the stunning contemporary art and the 'painted' Audi- the artists will be resident in Tokyo to paint the car for 10 days and additional artists will join them for the opening on the 14th April. This coming together of cultures is a unique learning opportunity for an international audience to deepen their understanding of contemporary indigenous culture, meet the artists and be part of unique cross-cultural event.

"Ingalimpa Tjuntu" - Singing songs, 'We sing the country and that's how we find the way' opens in the Audi 'Iceberg' Building, Shibuya Tokyo on Wednesday 14th April 2010.
In Australia: Contact, Warlayirti Artists: admin@balgoart.org.au, Tel: 08 9168 8960
In Singapore: ReDot Fine Art Gallery, Email:  giorgio@redotgallery.com Tel:  +65 6222 1039 Mobile: +65 8113 5333


Share this: »
del.icio.us »
Digg it »
reddit »
Google »
StumbleUpon »
Technorati »
Facebook
Contact Details
Gallery: Warlayirti Artists
Contact: Sally Clifford and Annette Cock
Email: admin@balgoart.org.au
Telephone: +61 8 9168 8960 08 9
Address: PMB 20 Balgo Hills, Via Halls Creek, via Halls Creek 6670 WA

Tossie Baadjo
Where is the exhibition?
Further Research