'Ngamu nu la ngurra ra kujupa – Bringing Cultures Together'
Janice NIXON (09-102) 91cm x 91cm
Posted by Aboriginal Art Directory | 30.03.10
Gallery: ReDot Fine Art Gallery
Dates: 09.04.10 : 28.04.10

ReDot Fine Art Gallery is proud to announce the 2nd Singaporean show of innovative works of the Martumili Artists.
Following on from last year's first ever, sell out, international show we will be exhibiting the latest and most exciting works from one of the Western Desert's newest and most refreshing Aboriginal art communities.
The works of Martumili Artists are grounded in strong cultural knowledge but its style is contemporary and modern, allowing these works to stand strong alongside any western comparison, drawing parallels with many established western artists. Sandhills and waterholes and areas around the Canning Stock Route are depicted in abstract, raw, colourful, sometimes naïve, sometimes intense, maps of land and country. They are some of the most innovative artworks being produced in Australia today, possessing strong cultural significance which has led to demand being high since the establishment of a gallery exhibition programme with most shows sold out quickly.
Martu artists now have their works placed in significant collections including the National Gallery of Victoria, The National Gallery of Australia, Artbank, the Art Gallery of New South Wales and the National Museum of Australia as well as most private collections of Aboriginal art. The Adelaide Biennale will present a beautiful large collaborative work by the senior artists, many of which will be showing here in April, again their only international show in 2010.
New works from Milly Kelly, Bugai Whylouter, Nancy Chapman to name but a few will all be on show at our Keppel Road premises, along with many other amazing canvases.
The exhibit opens Friday, April 9th and runs until Wednesday. April 28th, 2010.
URL: http://www.redotgallery.com/upcoming.php

Share this: »
del.icio.us »
Digg it »
reddit »
Google »
StumbleUpon »
Technorati »
Facebook
Contact Details
Gallery: ReDot Fine Art Gallery
Contact: Giorgio Pilla
Email: info@redotgallery.com
Telephone: +65 6222 1039
Address: 33 Everton Road Singapore Singapore 089388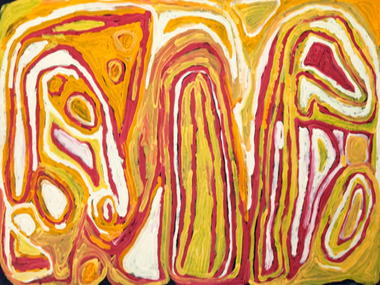 Nora NUNGABAR (08-59) 122cm x 76cm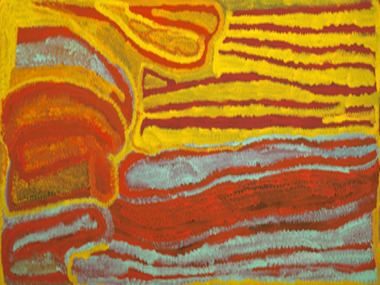 Bugai WHYLOUTER (09-1203) 151cm x 76cm
Where is the exhibition?
Further Research