Men's Business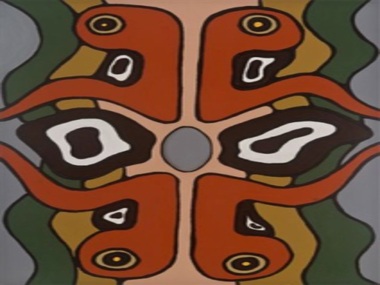 Mulu Bama dayal ninyinang 1
Posted by Aboriginal Art Directory | 26.05.10
Gallery: Cairns Regional Gallery
Dates: 04.06.10 : 11.07.10
Location: CRG Cnr Abbott & Shields streets, Cairns, Qld 4870

MEN'S BUSINESS
Napolean Oui's country is Djabugay one of 20 traditional tribal groups situated in the rainforest region of far north Queensland. He has worked for over 13 years as a cultural presenter and educator in Cairns. Napolean's strong connection to culture informs his creative practice.
His knowledge and awareness of his culture both drives and inspires his art.
Through this exhibition Napolean explores his connection to the rainforest and his culture in a contemporary medium that shows a linkage to his heritage. Although the paintings on canvas are contemporary they evoke the essence of the almost abstract art found on the ancient traditional rainforest shields which is his heritage.
Many of the 'abstract' forms on the shields have totemic and daily life significance reflecting the close association and deep understanding of the rainforest environment in which they lived.
The subject matter of his paintings relate to totems, dreamings and the natural world of the rainforest.
Napolean's style gives reference to the traditional stylized art unique to the large rainforest shields of far north Queensland.
Napolean's contemporary paintings on canvas allow him to express his individual style by drawing on the almost abstract traditional art from this region.
In this way he believes that through his art he can tell his stories of the rainforest in his own way but which is still connected to his culture and heritage in an authentic and respectful manner.
FLOOR TALK : Saturday 5 June – time TBC
Local artist Napolean Oui will talk about the exhibition Men's Business prior to his exhibition launch.
URL: http://www.cairnsregionalgallery.com.au/exhibitions.html

Share this: »
del.icio.us »
Digg it »
reddit »
Google »
StumbleUpon »
Technorati »
Facebook
Contact Details
Gallery: Cairns Regional Gallery
Email: info@cairnsregionalgallery.com.au
Telephone: +61 7 4046 4800
Address: Cnr Abbott and Shields Streets Cairns Cairns 4870 QLD

Murrgu (burial ground)
Guyu-dingal (fish eggs)
Where is the exhibition?
Further Research