Marcia Langton's Challenging Portrait
Marcia Langton 2009 by Brook Andrew; a unique screenprint on paper Collection: National Portrait Gallery, Canberra Commissioned by Marilyn Darling AC
Posted by Jeremy Eccles | 09.06.10
Dates: 09.06.10
Location: Naional Portrait Gallery, Canberra

The National Portrait Gallery today unveiled a new commissioned portrait of Professor Marcia Langton AM by leading Blak artist Brook Andrew.
Andrew was invited to produce a contemporary portrait of Professor Langton. And the result is designed to embody Langton's individuality, intellect and strength of purpose in a spectacular and dynamic image that casts her as a powerful Goddess in command of the earth's elemental forces.
The portrait of Marcia Langton is an addition to the National Portrait Gallery's contemporary collection. The portrait was commissioned with funds generously provided by Marilyn Darling AC, a Founding Patron of the National Portrait Gallery.
'Marcia Langton has made highly significant contributions to Australian society and culture', said curator Christopher Chapman who coordinated the commission, 'particularly through her advocacy of the rights of Indigenous Australians. Professor Langton's representation in the National Portrait Gallery recognises her leadership as an outstanding Australian'.
Marcia Langton AM was born in 1951, and is a descendant of the Yiman nation of central Queensland. Foundation Chair of Australian Indigenous Studies at the
University of Melbourne, she is widely published on topics in Aboriginal
studies, including land tenure, art and agreement-making. During the 1990s
she conducted her doctoral fieldwork in eastern Cape York Peninsula,
exploring the statutory land claim and native title system in far north Queensland. Awarded a PhD from Macquarie University in 2005, she is a Fellow of the Academy of the Social Sciences of Australia, and a board member of Noel Pearson's Cape York Institute for Policy and Leadership. She was formerly a board member of Jirrawun, the now-disbanded art centre in the East Kimberley.
Brook Andrew, born 1970, is an artist who lives in Melbourne. His work is currently on show in the Sydney Biennale – his 'Jumping Castle War Memorial' on Cockatoo Island challenges people to leap aboard and be greeted by skulls in the turrets and a huge black figure which rises from the deck. The black and white, op-art colour scheme continues into the Langton portrait. Andrew has held major solo exhibitions at the Contemporary Aboriginal Art Museum in Utrecht, The Netherlands, and in Cambridge, UK. Andrew's work explores beauty, cultural and historical perception, and the limitations imposed by power structures. He uses photography, installation, print-making and graphic techniques in his work.
And a newly commissioned 'immersive installation' by Brook Andrew will be opened by the Governor-General next month at the Sherman Contemporary Art Foundation gallery in Sydney's Paddington. As with the Jumping Castle, viewers participate by donning an op-art prison suit to enter 'The Cell'. Visiting days are from July 8 to September 18.
URL: www.portrait.gov.au

Share this: »
del.icio.us »
Digg it »
reddit »
Google »
StumbleUpon »
Technorati »
Facebook
Contact Details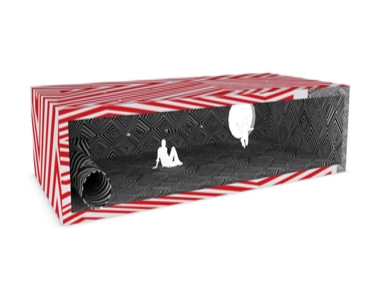 Brook Andrew, The Cell, 2010 (3D rendered image) PVC vinyl and fan. Commissioned by Sherman Contemporary Art Foundation. Image courtesy the artist and Tolarno Galleries, Melbourne.
Further Research