Practices, Processes & Politics of Indigenous Place-Making: A Symposium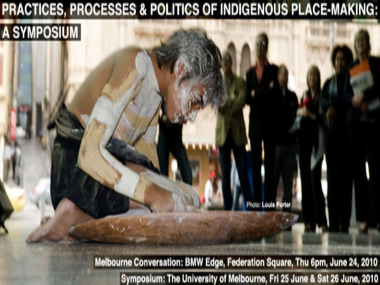 Posted by Aboriginal Art Directory | 26.06.10
PROGRAM on Indigenous Place-making
Download the symposium flyer.
MELBOURNE CONVERSATION
BMW Edge, Federation Square
Thurs 24 June 6.00pm
Conversation:
Emmanuel Kasarherou, director Tjibaou Cultural Centre Carroll Go-Sam, Aboriginal Environs Research Centre, UQ Greg Burgess, Architect Uluru-Kata Tjuta & Brambuk Margaret Gardiner, Wurundjeri Elder
SYMPOSIUM
Prince Philip Theatre
Faculty: Architecture, Building & Planning, University of Melbourne
25-26 June
Friday 25 June
Registration
8.30am-9.00am
Registration is free, however we need to record attendance. Please complete and return the registration form.
Opening
9.00am–9.30am
Welcome to country (Margaret Gardiner) Ceremony (Wurundjeri Land Council) Opening remarks (Gary Murray: the genesis of the idea)
Session 1:
A Case Study: Creating a Cultural Centre from the Ground Up.
9.30am–10.30am
Keynote address: Emmanuel Kasarherou, Director of Tjibaou Cultural Centre, Noumea
Morning tea
10.30am–11.00am
Session 2:
Victorian Traditional Owners Speak: Re-Imagining 'Place' for Victorian Indigenous Culture, Knowledge and Education in Melbourne
11.00am–12.30pm
Panel of Traditional Owners from around the state including:
Margaret Gardiner Wurundjeri, Yorta Yorta, Dja Dja Wurrung Gayle Maddigan (Wamba Wamba, Wertigkia, Nyeri Nyeri and Dhudhuroa) Mark Dugay-Grist (Wertigkia, Wamba Wamba, Nyeri Nyeri) Marjory Thorpe (Gunnai) Jida Murray-Gulpilil (Dhudhuroa) Esther Kirby (Baraparapa) Annette Xiberras (Wurundjeri)
Lunch
12.30pm–1.30pm
Session 3:
Re-Imagining 'Place' for Victorian Indigenous Culture, Knowledge and Education in Melbourne
1.30pm–2.00pm Dr Tony Birch: "Whose Chair, whose table?" 2.00pm–2.30pm Dr Chris Healy: 2.30pm–3.00pm Carroll Go-Sam: "We Don't Dream" 3.00pm–3.30pm Discussion with panel of speakers
Afternoon tea
3.30pm–4.00pm
Session 4:
Making Indigenous Place: The New Zealand Experience
4.00pm–5.00pm
Keynote: Prof Rewi Thompson
Saturday 26 June
Session 1:
What can we learn from Precedents? Contemporary Indigenous Place-making around the world
9.00am–10.00am
MacGeorge Visiting Speaker Public Lecture:
Prof Lisa Findley, "Negotiating Place: History, Memory & Politics in Building Visibility"
Morning tea
10.30am–11.00am
Session 2:
What can we learn from Precedents? Contemporary Indigenous Place-making in Australia
11.00am–11.30am Greg Burgess, Victorian Architect 11.30am–12.00am Dillon Kombumerri, Principle Indigenous Architect, NSW State Govt Architects
Concluding Discussion: Where to from here?
12.00pm–1.00pm Panel of speakers and discussion from floor
URL: http://aboriginalartreadinggroup.wordpress.com/2010/06/24/practices-processes-politics-of-indigenous-place-making-a-symposium/

Share this: »
del.icio.us »
Digg it »
reddit »
Google »
StumbleUpon »
Technorati »
Facebook
Contact Details
Further Research