Desert Art from Utopia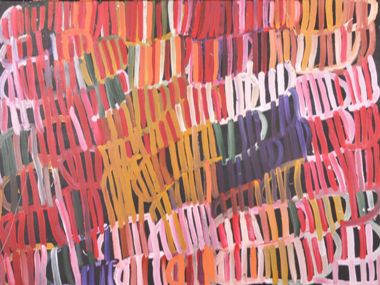 Minnie Pwerle, Awelye Atnwengerrrp, 146x92cm, 2005
Posted by Aboriginal Art Directory | 28.07.10
Gallery: Dacou Melbourne
Dates: 28.07.10 : 28.09.10
Location: Art Space, Level 2, Monash Medical Centre, 246 Clayton Rd, Clayton

Opening, Wednesday, 28 July, 5:00pm
DACOU (Dreaming Art Centre of Utopia) and Monash Southern Health have developed a fundraising initiative in bringing indigenous contemporary art from the Central Desert to a major public hospital in Melbourne. An exhibition of works by famous artists from the Utopia region, N.T. will be displayed. Artists included are Minnie Pwerle, Gloria Petyarre, Barbara Weir, Emily & Galya Pwerle.
The exhibition will be on display on the second floor in the Arts Space area with major paintings also on display in public areas of the hospital. 20% of all sales will be donated to Monash Southern Health and the much needed facilities they provide the community.
The exhibition will be opened by Shelley Park, Southern Health's CEO & Fred Torres, Director of DACOU. Mr Torres, who is the grandson of the late Minnie Pwerle and son to Barbara Weir, will be discussing the cultural meaning behind the works & the contemporary aboriginal art movement.
Fred Torres began dealing artworks from Utopia in 1989 and established DACOU gallery in 1993. The gallery gained success by commissioning works by well known family members such as Emily Kame Kngwarreye and Gloria Petyarre. DACOU was also the first gallery to 'discover' Minnie Pwerle, encouraging her to paint for the very first time in 1998. Today, pieces commissioned by DACOU are represented in many prominent public and private collections.
It will be the first time that Indigenous works have been on display in the hospital. The works will be accommodated by images from Utopia and the artists at work. The exhibition aims to provide a tranquil and educational experience for the public and hospital residents.
Over 25 works will be display until the 28 September.
For more information, please visit
www.dacoumelbourne.com.au

URL: www.dacoumelbourne.com.au

Share this: »
del.icio.us »
Digg it »
reddit »
Google »
StumbleUpon »
Technorati »
Facebook
Contact Details
Gallery: Dacou Melbourne
Contact: Fred Torres
Email: info@dacoumelbourne.com.au
Telephone: 0419037120

Where is the exhibition?
Further Research