Recent works from Blackstone Ranges (26 September - 15 October 2010)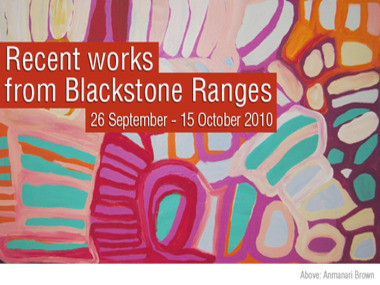 Posted by Aboriginal Art Directory | 22.09.10
Gallery: Tunbridge Gallery (Margaret River)


Tunbridge Gallery in conjunction with Papulankutja Artists are pleased to invite you and your guests to an exhibition of recent works from Blackstone Ranges, 26 September - 15 October 2010.
Including paintings by established artists Tjayanka Woods and Anmanari Brown as well as emerging artists Anawari Mitchell, Angilyiya Mitchell, Maime Butler and others.
This exhibition will be opened by Marlene Stafford, Chair Art Gallery of Western Australia Foundation at 4.30pm Sunday 26 September 2010.
The exhibition will be online from Saturday 25 September
URL: http://tunbridgegallery.com.au/exhibitions

Share this: »
del.icio.us »
Digg it »
reddit »
Google »
StumbleUpon »
Technorati »
Facebook
Contact Details
Gallery: Tunbridge Gallery (Margaret River)

Gallery: Papulankutja Artists
Contact: Jane Avery
Email: artists.papulankutja@bigpond.com
Telephone: +61 8 8956 7586
Address: Blackstone Art Centre Blackstone WA

Where is the exhibition?
Further Research