Salt Water to Salt Contemporary: Exploring the theme of water in Indigenous Art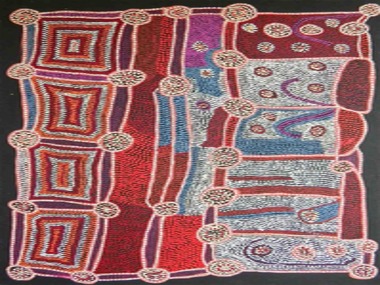 Molly Tjami, Kapi Tjukula - Rock Holes, 2010, acrylic on canvas, 152 x 107 cm.
Posted by Aboriginal Art Directory | 17.01.11
Gallery: Salt Contemporary Art
Dates: 16.01.11 : 08.02.11
Location: 33-35 Hesse St Queenscliff Victoria 3225

Curators' Exhibition Preview & Talk Symbols, Mark Making and Colour: Saturday January 22, 5pm
Followed by opening drinks, 6pm
Curators' Talk: Sunday January 23, 2.30pm
More than 35 works from around Australia have been selected to represent the significance of water – and how this is represented in art – by Australia's Indigenous population in the latest McCulloch's exhibition to be held at Salt Contemporary. Water, from drought to floods, is one of the key environmental issues in Australia today, and water dreaming paintings have been some of the most significant Indigenous art ever made.
This exhibition consists of contemporary works from coastal and desert regions throughout Australia that dynamically represent this theme.
URL: http://mccullochandmcculloch.com.au/exhibitions/current

Share this: »
del.icio.us »
Digg it »
reddit »
Google »
StumbleUpon »
Technorati »
Facebook
Contact Details
Gallery: Salt Contemporary Art
Email: info@saltcontemporaryart.com
Telephone: +61 3 5258 3988
Address: 33-35 Hesse Street Queenscliff Queenscliff 3225 VIC

Gallery: McCulloch & McCulloch
Contact: Susan McCulloch
Email: info@mccullochandmcculloch.com.au
Address: 642 Tucks Road Shoreham 3916 Vic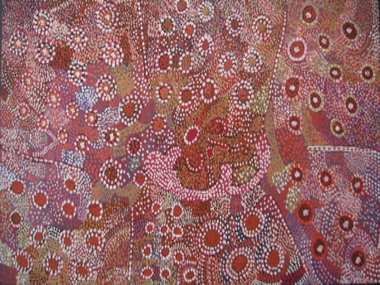 Tuppy Goodwin, Minyma Pampa, 2010, acrylic on canvas, 152 x 92 cm.
Billy Black, Larratjatja –Saw Fish, 2010, earth pigments on canvas, 220 x 92 cm.
Where is the exhibition?
Further Research