ALEX NGANJIMIRRA 'QUEENS' IT UP
Alex Nganjmirra 'Queen Lady back in London' 2002 Natural ochre & pigment on canvas 900 x 600mm
Posted by Jeremy Eccles | 29.04.11
Gallery: Art Mob - Aboriginal Fine Art
Dates: 29.04.11 : 15.05.11

A wonderful suite of paintings by Oenpelli's Alex Nganjimirra has emerged five years after his death just in time to celebrate the Royal Wedding.
Painted between 2002 and 2004, the son of Bobby Nganjimirra simply imagined the English 'Queen lady" visiting Arnhemland – as well as riding an elephant in India on the way home, and taking a couple of his fellow Bininj home with her to drive her carriage. It came about because Christchurch Cathedral in Darwin was re-consecrated in 1977 following its destruction by Cyclone Tracey. A few weeks later Queen Elizabeth II and the Duke of Edinburgh visited the new cathedral; the Queen's signature is in the visitor's book.
Many people from Arnhem Land visited Darwin for this occasion, including, some of the Nganjmirra family. Bobby Nganjmirra even made a request for the Queen Lady to visit his people in Arnhemland, and they would take her on adventures she should never forget including visiting old rock art sites, helping repair broken down Toyotas, rounding up water buffalos and joining in a drink at the club. Unfortunately such a wonderful offer was never taken up. Years later Alexander, Bobbie's eldest son remembered these stories and talked with his friend, the dealer Neil McLeod about the possibility of painting these adventures and the places she could have visited. Back in Darwin, he imagined the Queen Lady going to a circus and being invited to join the trapeze artists flying high. She was so grateful for this wonderful experience, she chartered a special plane to take two Toyotas, some dingoes and lots of artefacts back to England.
A key feature for Alex was that she had to be Black, just like him. So Her Maj now clearly has a traditional naked Bininj body, though it's decorously covered in a pink outfit, and – unless she's fixing up the Toyota – she's also wearing a magnificent crown.
The suite of 17 works has been tucked away in Neil McLeod's hands since 2004, and it took an inspired call from Art Mob's Euan Hills in Hobart to point out the wisdom of releasing the paintings at the same time as Royal interest was at a peak caused by the Royal Wedding today. Those at the opening tonight may miss some of its screening! One problem, though, was that the works lacked some of the rarrking that Nganjimirra had planned for the works. But this has now been completed by his niece and fellow painter, Eva Nganjimirra just in time for the show.
Though the subject matter of the Queen Suite is so far removed from Arnhemland traditional art – and Alex was a cave-painter as well as a bark, canvas and paper man – it's quite clear that the artist's style of painting has persisted. And it's a joy to see works NOT on paper – which he and his father Bobby had been encouraged to use to evoke cave art by US billionaire John Kluge when he commissioned works at Oenpelli in the early 90s, just before Bobby died.
Bobby had taught his three sons to paint on bark and on rock when the family lived at an isolated bush camp high up in the Stone Country between Oenpelli and Maningrida. In accordance with traditional law, however, he would not begin to pass on any details regarding the sacred meaning attached to each design until the sons had gone through several age grading ceremonies, when they were deemed to be worthy enough to learn the meaning behind the paintings. They were usually allowed to start painting the tribal stories at about the age of 25.

Because of the distance from Oenpelli the boys had little western education when young, but were well trained in bush craft and ceremonial obligations. They later gained an education at Oenpelli and Kormilda College in Darwin.
Sadly, Alex died in June 2006, aged only 45.
His timely paintings are selling like hot cakes in Hobert!

URL: http://www.artmob.com.au/artists/queen/index.html

Share this: »
del.icio.us »
Digg it »
reddit »
Google »
StumbleUpon »
Technorati »
Facebook
Contact Details
Gallery: Art Mob - Aboriginal Fine Art
Contact: Euan Hills
Email: euan@artmob.com.au
Telephone: +61 3 6236 9200
Address: 29 Hunter Street Hobart 7000 TAS

Gallery: Art Mob - Aboriginal Fine Art
Contact: Euan Hills
Email: euan@artmob.com.au
Telephone: +61 3 6236 9200
Address: 29 Hunter Street Hobart 7000 TAS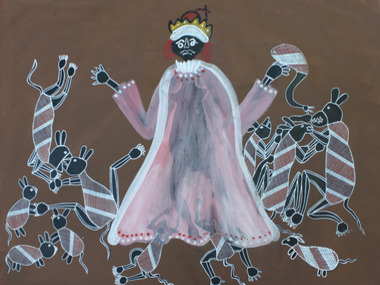 Alex Nganjmirra 'Queen Dog Fight Arnhem Land' 2004 Natural ochre & pigment on canvas 940 x 700mm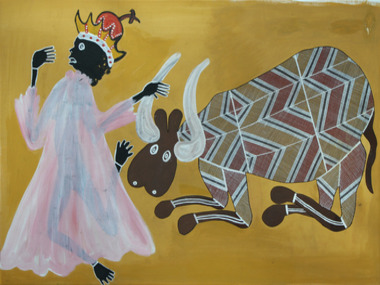 Alex Nganjmirra 'Queen Lady chased by Bull Buffalo' 2002 Natural ochre & pigment on canvas 910 x 630mm
Where is the exhibition?
Further Research