PALYA IS GOOD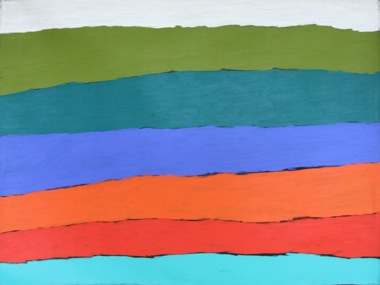 'Untitled' by Daisy Bullen 2011 (detail), courtesy of Daisy Bullen's Estate and Short Street Gallery. 920 x 760 mm
Posted by Jeremy Eccles | 01.06.11
Gallery: Palya Art
Dates: 26.05.11 : 24.06.11

The former Didgeri Air Art Tours – by which many an art collector has accessed remote community art centres with their piles of raw, exciting canvases – has changed its name to Palya Art Tours and climbed into bed with its partner in art – Palya Art. Ex-flying nurse, Helen Read runs both – and has currently flown into Sydney loaded with canvases for sale.
It's undoubtedly the largest selection of ethical art available in the city at this time – and competes in its range of artists with even the current offerings at the AGNSW!
For Read is happy to offer small canvases, carvings or baskets at a reasonable price as well as substantial works for rather more money. And I wouldn't be surprised to find that all 92 of the artists featured on the Palya website are on canvas in Sydney. Perhaps there are rather more Papunya Tula artworks than one would ever want to see in one place; but there are also the fresher offerings of the Bidyadanga artists from the Great Sandy desert out of Broome, via the Short Street Gallery. A Daisy Bullen work features on the Palya invitation.
This is not all for domestic consumption. On line, Helen Read is reaching out to the mythological Chinese marketplace, with plans to offer Putung Wah translation facilities later this year. The site is already in French, to match the fifth exhibition that Palya will be staging this year in Paris.
The Sydney show stays at Mary Place gallery until 24 June (just off Glenmore Road by the roundabout). And then Palya Art Tours takes to the air with flights for 5/7 people ranging from Mowanjum Art Centre at Derby in the West to Buku Larrnggay at Yirrkala on the Easternmost tip of Arnhemland.


Share this: »
del.icio.us »
Digg it »
reddit »
Google »
StumbleUpon »
Technorati »
Facebook
Contact Details
Gallery: Palya Art
Contact: Helen Read
Email: palya.art@palya.com.au
Telephone: 0418 137 719

Gallery: Mary Place Gallery
Contact: Julius Bokor
Email: jbokor@juliusbokor.com.au
Telephone: +61 2 9332 1875
Address: 12 Mary Place Paddington Sydney 2021 NSW

Alice Nampitjinpa at Ikuntji Art Centre, Haasts Bluff. Photo by Frances Andrijich (2007)
Where is the exhibition?
Further Research