Aboriginal Art from the Holmes a Court Collection Auctioned in Sydney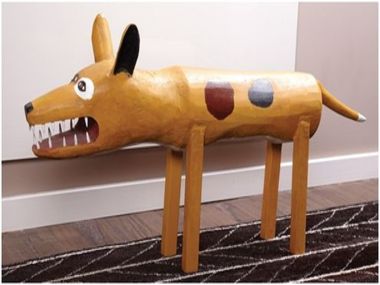 "Ku - Camp Dog" by Garry Namponan
Posted by Nicholas Forrest | 24.08.12
Gallery: Mossgreen Auctions


The August 19 Mossgreen Auctions sale of works from the collection of Peter Holmes a Court, joint owner with Russell Crowe of the National Rugby League team the South Sydney Rabbitohs, and his wife Divonne Holmes a Court, included a number of great works of Aboriginal art.
Prompted by the recent sale of two properties owned by the power couple, the auction was a success with the sale total of $551,000 (including premium) exceeding the low sale estimate of $424,000.
The highlight of the Indigenous works from the collection was a large painting by Emily Kame Kngwarreye titled Alatyite. Despite its size it sold for $9,150.00 against an estimate of 8,000 - 12,000.
Ku – Camp Dog synthetic, a fantastic large milkwood sculpture by Garry Namponan (BORN 1960), was one of the big surprises of the sale fetching $4,270.00 against an estimate of 1,000 - 2,000.
A number of other Aboriginal paintings also went to new homes including an untitled (1988) painting by Mary and Colin Dixon Nungurrayi that sold for $3,660.00 against an estimate of $3,000 - 4,000, Gloria Petyarre's Mountain Devil, 2007 which made $2,928.00, a painting by William Sandy from 1988 that fetched $3,660.00, and an untitled painting by Charlie Tjapangati, also from 1988, that sold for $3,050.00.

Share this: »
del.icio.us »
Digg it »
reddit »
Google »
StumbleUpon »
Technorati »
Facebook
Contact Details
Gallery: Mossgreen Auctions
Email: mail@mossgreen.com.au
Telephone: +61 3 9508 8888
Address: 926-930 High Street Armadale 3143 VIC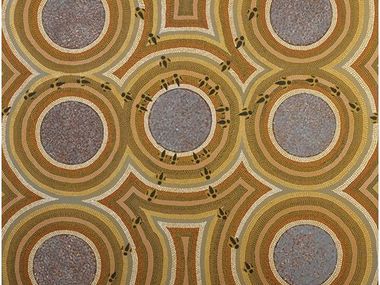 Untitled, 1988 by William Sandy
Where is the exhibition?
Further Research