Ode to Billy Thomas
Billy Thomas - Karnta Karnta , 'Gunambalayi - Travels of the Black Snake' (2004). Natural earth pigments on canvas. 150 x 180 cms
Jeremy Eccles | 20.08.12
Author: Jeremy Eccles
News source: Family obituary

Karnta Karnta - Billy Thomas. Circa 1920's - July 2012
It is with great sadness that we announce the passing of Karnta Karnta - Billy Thomas. Billy passed away peacefully on the morning of 17th July 2012 at the age care facility in Fitzroy Crossing, aged in his 90's.
In his own words, Billy was born "wild" in the mid 1920ʻs south of Billiluna Station in the Great Sandy Desert of Western Australia. At that time, Wangkajunga people had had no contact with European settlers and lived a traditional, nomadic lifestyle. Billy met his first white person while a small boy; cooking a goanna, a stockman rode up to him on a horse and offered him some mungari (food).
A few years later, like many young Aboriginal boys, Billy began work as a stockman and drover. Billy joined the best known droving team of all when he began work with Wally Dowling, droving the Canning Stock Route many times. On that team were other young men who were also later to become famous through painting; Rover Thomas and George Wallaby were two of them.
Droving was rigorous work and on one particular droving expedition with Wally Dowling the team left from Legune Station in the Northern Kimberley with a mob of cattle and headed south down the Canning Stock Route. After many weeks travel, they arrived outside the township of Wiluna on the northern edge of the Western Australian Goldfields. They were tired and threadbare and they pooled the best of their clothing to respectfully dress one stockman, who rode into Wiluna to buy clothes for the rest of the team so they could all push on into town. Billy told many great stories about his experiences as a drover.
After his droving days Billy took up work as a police tracker, assisting police in capturing fugitives. He was based in Kalumburu and Halls Creek, and the old trackers hut where Billy spent many years still stands in Halls Creek. On one particular tracking expedition Billy was shot through the leg as he was caught between a fugitive and the police. Billy walked with a limp from then on and the scarring from the entry and the exit of the bullet was a popular topic of conversation.
Eventually Billy became too old for police tracking and made his way to the East Kimberley where he took up residence at Emu Creek, a small community outside of Kununurra. Then in 1995, Billy went into Waringarri Aboriginal Arts in the town and asked to start painting. The Art Centre Manager at the time provided him with boards, and his painting career began. Within a few few months Billy's paintings gained widespread attention. His work was vibrant, unique and oozed cultural integrity.
And this was largely because he spent up to half of each year out bush on his country in ceremony – gathering people together from communities around his birthplace and making sure that the land they had responsibility for received its due. It mattered not to Billy that the land was actually owned by the likes of Kerry Packer or the Sultan of Brunei. But it mattered a lot for his art that he returned to painting at the Red Rock Art Gallery in Kununurra hot with the Secrets of the Great Sandy Desert, as Billy's 1998 show was called in Sydney.
As a senior medicine man, Billy's role was crucial in traditional ceremonies and the initiation of boys into Aboriginal law. Consequently, his knowledge of sacred sites, stories and ceremony was immense and in some of his paintings, comprises a major part of the 'hidden' iconography. For the uninitiated, familiarity with this information is inappropriate. So the artist 'dotted' over the entire work and scraped back parts of the white ochre to reveal only the aspects of his history and knowledge he wished to.
It is unusual today for an artist to paint ceremony so directly. But Billy focused on this and its relevance to Aboriginal culture, the diversity of its origins, the making of the country, the importance of places and the movements of the creatures that made the country.
As a result, in Melbourne the William Mora Gallery offered him shows and in Alice Springs, Gondwana Gallery held sellout shows which heralded Billy's wonderful future as an artist. Billy Thomas's works are now held in many state and private collections nationally and internationally.
Billy stopped painting in 2005 but not before he had sat with his youngest son, Lloyd Kwilla and tutored him in painting skills. Lloyd is still painting and is building a fine reputation as an artist in his own right.
Billy is survived by many sons and daughters and many many grandchildren all of the Wangkajunga Language group.
Written by Kevin Kelly on behalf of the family of Billy Thomas

Share this: »
del.icio.us »
Digg it »
reddit »
Google »
StumbleUpon »
Technorati »
Facebook
Contact Details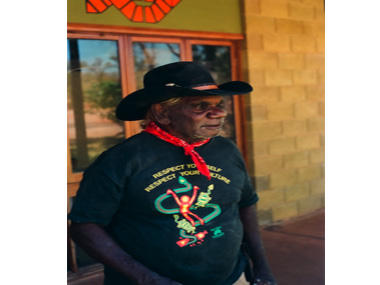 The late Billy T outside the Warringarri Art Centre in Kununurra.
Further Research