DAWN OF ART IN THE KIMBERLEY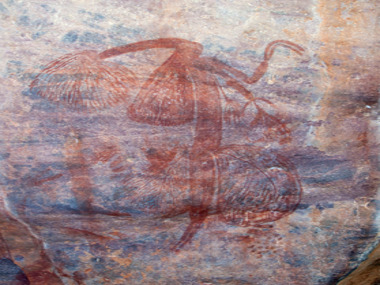 An elaborate Dynamic Gwion figure on the Lower Mitchell River, 1.1 metres tall with a full range of accoutrements
Posted by Jeremy Eccles | 28.09.12

Location: Mary Place Gallery, Paddington, Sydney

There are obsessives – and then there's Mike Donaldson.
The 67 year old geologist has already produced a mighty book of images from the Burrup Peninsular area, alerting the world to its remote beauty and the threat from industrial developments to the million or so petroglyphs carved into the rocks there.
Now he's moved on to The Kimberley – where he's published the first of three planned volumes that will cover the main rock art areas with almost 2000 photographs, obtained only by 20 years of heroic bush-walking in the rugged country, or helicopter drops into the most inaccessible areas. The first volume covers the Mitchell Plateau (Ngauwudu) – 26,000 sq kms of Wunambul Gaambera Country, much if it the beneficiary of a Federal Court decision in May 2011 making it legally Aboriginal land. It's traditional owners including artists Lily and the late Jack Karada and Sylvester Mangolamara have been closely involved with Donaldson in studying, giving names to and approving his work.
But not interpreting it!
Anyone familiar with Kimberley rock art will be aware of its potential for contention. This has been the case since the 1980s when the controversial researcher Grahame Walsh began collecting more than million images of Kimberley rock art (making Donaldson look like an amateur obsessive) while keeping most of the locations secret (unlike Donaldson who groups his work geographically rather than by subject, as Walsh did in 'Bradshaw Art of the Kimberley' 2000). Walsh's work lead him to the extreme conclusion that the fine images first sighted by pastoralist Joseph Bradshaw in 1891(and mistaken for Egyptian art) must have been the work of a culture that arrived in Australia before today's Aborigines during what he contentiously called the Erudite Epoch, with superior artistic skills.
This was not a popular conclusion!
There is no doubt that the earliest work – now mostly called Gwion art following the efforts of film-maker Jeff Doring, who worked with Ngarinyin elders on the 1992 Pathways Project to battle Walsh's influence by placing the Bradshaws/Gwions within their Wunan or Law – are older than the succeeding Wanjina art. That may have been known to white Australia first – since George Gray spotted it in 1838 – but the Gwions have been dated back to to least 17,500 years; while the Wanjinas which often over-paint them have no dating going further back than 3,800 years.
And here we have a problem. For Doring's informants – who were working up to a Land Rights claim - and Donldson's Wunambal Gaambera all position the Gwions as offspring of their central Wanjina Wunggurr pantheon. In other words, current TOs are taking ownership of something their predecessors denied to earlier white explorers such as anthropologist AP Elkins, Father Worms and the German Froebenius – who was clearly told that the Bradshaws weren't their peoples' work but the efforts of the Kujon bird, which pecked away at the rocks until blood emerged and formed those wonderful, mulberry-hued images.
Mike Donaldson doesn't really play up this inconsistency. But he does quietly offer a possible solution.
During the Ice Age that ended about 10,000 years ago, The Kimberley had a dry and hostile climate, while the fertile Kimberley plains, which stretched more than 100 kms beyond the current coastline towards Timor and Roti Islands, would have been a more pleasant place to live. And there does seem to be a 5000 year gap in the artistic record – quite long enough for a culture to have forgotten the artistic styles which were so suited to being recorded and retained on the most ancient sandstone in the world, the King Leopold compacted rocks.
When they were forced to return by sea-waters that rose steadily until about 8000 years ago, they had found the Wanjina. Possible?
Or should archaeologists be looking more closely at Arnhemland parallels – for there are clearly painted battle scenes in both places, suggesting that those forced off the plains might well have fought fiercely for the diminished area of land with people who'd stayed in the rock country?
Fascinating stuff.
Donaldson's Volume 1 is primarily a Gwion book – few great Wanjina images are recorded. And he makes the point that the Gwions are largely found in uninhabitable places; and he captures the landscapes in which this rock art was created beautifully. I lust to visit to the Lawley River's 40 kms of pristine wilderness. But there are other fascinating and often inexplicable images: Deer?; a wacky phalanx of bird-men!; four Gwions in a canoe – the world's first navigators?; and Wanjinas with pipes in their mouths – could Abel Tasman's sailors have landed in 1644 and been mistaken for gods?
All this effort doesn't come cheap – the book, from Donaldson's own Wildrocks Publications, costs $175. Will there be a special rate for the threesome? But – for free – Mike will be giving an illustrated talk on Kimberley rock art in Sydney on Tuesday 9th October at 7pm in conjunction with a Donaldson family art show at the Mary Place Gallery in Paddington, running from Oct 3 to 14.

URL: www.wildrocks.com.au

Share this: »
del.icio.us »
Digg it »
reddit »
Google »
StumbleUpon »
Technorati »
Facebook
Contact Details
A view from inside the cave behind Lower Mertens Falls
The Wanjina, 'Kaiara' from a cave at Wary Bay, Bigge Island, off the Kimberley coast
Further Research