FUTURE IS PERFECT FOR CHRISTIAN THOMPSON IN SINGAPORE
'Desert Melon' by Christian Thompson, 2012. C-type print, 100 x 100 cms
Posted by Jeremy Eccles | 13.09.12
Dates: 15.09.12

A former British colonial army barracks which was one of the last places to hold out against the Japanese during the Fall of Singapore in 1942 has been converted by the Singapore government into an art centre, which opens this weekend.
Fifteen Asian, American and Australian art galleries have been awarded tenancies in Gillman Barracks and the opening exhibitions include "works by such renowned artists as Yayoi Kusama from Japan, Zhang Enli from China, Annie Leibovitz from the USA and Christian Thompson from Australia", according to a press release.
Congratulations to Indigenous artist Thompson from South Australia for his position on such an illustrious list!
The Gillman Barracks gallery opening will also be marked by an exhibition curated by Dr. Eugene Tan, Programme Director at the Singapore Economic Development Board, who is overseeing the development of Gillman Barracks. Using the mix of colonial building and tropical setting there as the setting for varied encounters with the art, the exhibition will offer new meanings and contexts as works by 15 Singaporean and international artists flow around the sprawling six-hectare compound surrounded by lush greenery.
Although not in the central hub of Singapore, Gillman is in a trendy area where both Rem Koolhaas and Daniel Liebeskind have been tempted to undertake architectural projects. The final aspect of the 'Lifestyle Package', as the EDB likes to style it, is CCA Singapore. The Centre for Contemporary Art will be there to "strengthen Singapore's position as a contemporary art destination" through international artist residencies, research, and exhibition programmes, though it won't open until 2013.
The sole Australian gallery whose programming came up to the selectors' requirements is Future Perfect, which has been operating in Singapore since 2010, but without a bricks-and-mortar platform. However, the gallery's directors have been pretty busy in various corners of the contemporary art world for over a decade. David Teh has been in Southeast Asia for 7 years, working closely with Jasper Knight – both artist and director of the Chalk Horse Gallery in Sydney - who is also a director of Future Perfect. Their third partner is Nina Miall (also Australian) who has long been based in London.
David Teh explained: "Our programme will be quite diverse, including contemporary work from Australia, Southeast Asia and beyond by artists practising in a wide range of media. Adam Cullen is on our list. We're thrilled to be presenting new work by Christian Thompson for the official inauguration of both our gallery and the Gillman Barracks precinct. Indigenous art is of course a highly visible national export. Yet I've been amazed, since moving to this part of the world, how one-dimensional people's image of Aboriginal art can be. It simply doesn't reflect the diversity of contemporary indigenous practice. Christian's work is a great way to challenge the stereotype". His new body of work, entitled We Bury Our Own, springs from his research in the Australian section of the famed Pitt Rivers Museum at Oxford.
Christian Thompson is one of two inaugural Charlie Perkins Scholars who were the first Aboriginal Australians to be admitted to Oxford University, where he is aiming for a DPhil in Fine Art. He's in residence at the august Trinity College, whose timbered Great Hall he will people with his challenging photo-images.
Thompson's practice is a critical rumination on how indigenous bodies have been shaped by colonial ways of seeing, including those of anthropology and the global technology of photography. His encounter with the Pitt Rivers collection probes the politics of repatriation – of both art works and human remains – that haunts many of the world's great museum collections. His work is a study in how we animate our objects, and how they animate us.
Jasper Knight comments: "'Christian's research in Oxford reveals an imperial heritage that Australia and Singapore share. But the results could not be more contemporary. We are thrilled to be bringing this stunning new body of work to Asia".

Share this: »
del.icio.us »
Digg it »
reddit »
Google »
StumbleUpon »
Technorati »
Facebook
Contact Details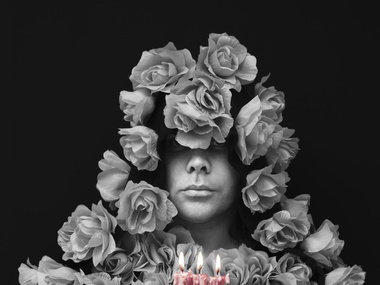 Christian Thompson 'Thre Sisters' (2012), C-type print, 100 x 100 cms
Singapore barracks during WWII and Christian Thompson's, Lamenting the Flowers (2012)
Further Research