Early Papunya Boards Lead Landmark Bonhams Aboriginal Art Auction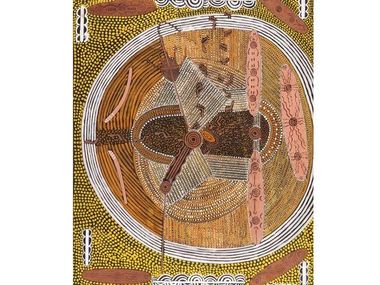 Lot 33 Clifford Possum Tjapaltjarri (circa 1930-2002) "Love Story" Estimate: AU$ 400,000 - 600,000 £260,000 - 390,000 US$ 420,000 - 620,000
Posted by Nicholas Forrest | 09.11.12
Bonhams Australia has put together a fantastic sale of Aboriginal art that will be auctioned in Sydney on the 19th of November. One of the most ambitious and significant sales of Aboriginal art in recent years, the Bonhams sale could be the one to resurrect the struggling market.
Mark Fraser, Bonhams Australia chairman, says he is "incredibly proud" of the catalogue which features some spectacular early Papunya boards as well as major paintings by Paddy Bedford, Emily Kngwarreye and Clifford Possum Tjapaltjarri.
Leading the auction is Clifford Possum Tjapaltjarri's iconic painting Love Story which set a record at the time for the highest price paid for an a work of Aboriginal art at auction in 1995 when Sotheby's sold the painting for $50,600.
Bonhams will offer Love Story with an estimate of $400,000-$600,000. A price higher than $463,000 would afford the painting a spot in the top ten highest prices paid for Aboriginal art at auction.
A fine example of the talent that made Emily Kngwarreye famous is also included in the sale with a very attractive estimate. Wild Anooralya was last sold by Sotheby's in 2007 when it fetched $210,000 against an estimate of $100,000 - 150,000. Well worth every cent of Bonhams' AU$100,000 - 150,000 estimate, Wild Anooralya is a top quality painting.
Collectors will be particularly drawn to the range of early Papunya board paintings on offer which includes a fine example of an early painting by Yumpululu Tjungurrayi. Painted in 1972, Wonghonyon - Bush Tucker Dampers is being sold with the original Stuart Art Centre label with an estimate of $100,000-$150,000.
Also included in the sale are a range of fantastic artefacts the most appealing of which is a beautifully decorated early rainforest shield from North East Queensland. Formerly part of the Lord Mcalpine's collection and exhibited in Perth in the London House Collection of Australian Aboriginal Artefacts exhibition, the board is being offered with an estimate of $25,000-$35,000.
The full catalogue can be viewed here: http://www.bonhams.com/auctions/20406/60115/

Share this: »
del.icio.us »
Digg it »
reddit »
Google »
StumbleUpon »
Technorati »
Facebook
Contact Details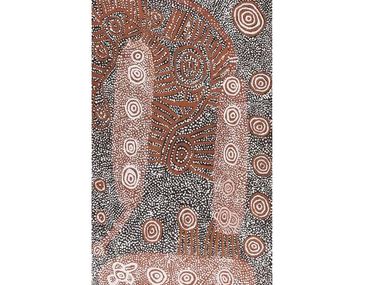 Lot 32 Yumpululu Tjungurrayi (born circa 1925-1998) "Wonghonyon - Bush Tucker Dampers" bears artist's name, title and Stuart Art Centre consignment number 12009 on a photocopy of the original Stuart Art Centre label on the reverse of the frame synthetic p
Further Research