WINDMILL BOY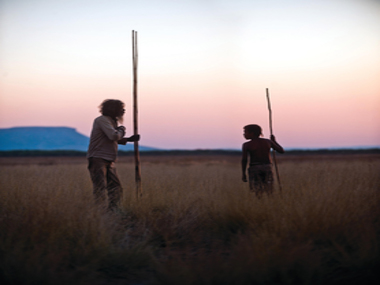 David Gulpilil and Cameron Wallaby in the Kimberley twilight
Posted by Jeremy Eccles | 04.07.13
Dates: 20.06.13

This film is a delightful fable shot in some magical East Kimberley scenery by the masterly Geoff Simpson. And even though the film's conclusion has similarities to the glorious, gritty Samson & Delilah, this is a gentle film in which there's never any serious likelihood of harm befalling our eponymous hero. Perhaps I can sum up by suggesting that this is an Urban Aboriginal take on the Northern Aboriginal reality.
But its heart is in the right place. Or places. For an online interview with new feature director Catriona McKenzie (a Gippsland girl) reveals that even ahead of its Indigenous heart, there's a very personal, universal heart - "A love letter to my (late and adoptive) father". For the iconic David Gulpilil role as young Pete's grandfather (Jagamarra or Jubbi) has to all intents and purposes adopted his grandson after Pete's mother has headed for the bright lights (of Kununurra!) and a world of shopping, leaving behind only Pete's memories of star-gazing with her and a dream of opening a restaurant at the disused Wyndham outdoor cinema where the pair lives.
Reality is a plan to dig a mine there, despite the other-worldly Jubbi's blind faith in a philosophy that if he looks after the Country, it will repay him in kind. It's a world view that he dins into the reluctant Pete's head, along with a few tricks for surviving in wilder bits of Country. And when Pete, and his mate Kalmain (or Boy) leap on their bikes to go tell the miners how wrong their plans are, those reluctantly-won pieces of wisdom turn out to be very useful.
Particularly useful is the crisp packet that Pete's rescued from Boy's chuck-out pile – its shiny surface magically serving as a mirror to start a fire. Jubbi's apparent view that the boys' errant errand is as good as an initiation Walkabout seems to be paying off. Indeed, when all else are in tears at their prolonged absence, he smiles knowingly. But later, despite a sort of spiritual communication between grandfather and grandson – his voice with didg overlay – he's howling in concern at the stars.
These hints of the spiritual are just a bit lite. Somehow the boys reach the magical Bungles in pursuit of a sugar-bag wasp. But the full Gija mythology of that place is very lightly touched on with only odd flashes of Gwion (Bradshaw) and Wandjina art on rock walls that probably never saw such art before. Then we're off to the Ord River Scheme farmlands, a house to break and enter, the miners HQ to sneak into and a televised denouement that serves to bring all parties together – including unreliable Mum.

As Boy is carted off to the Boys' Home (as far too many young Aborigines are), Pete is blandished into a crisp white shirt even though Mum's restaurant dream has now become a beauty parlour in Perth. But, as he's leaving his Country, he hears Jubbi again in his head, and quickly rejects the bright lights. Back to Jubbi, properly initiated now, we're reassured about the value of Country by an iconic shot of a proud Kimberley boab tree against the stars.
Cinematographer Geoff Simpson wins the day!
But Cameron Wallaby and Joseph Pedley as the boys are delightfully believable; David Gulpilil, on the other hand has aged so far from his thematically linked roles in films like Walkabout and Storm Boy, one does wonder whether he was fully motivated this time. Even Australia – The Movie saw him with a deal more vitality; and who could forget the joys of his performances in Tracker and Rabbit Proof Fence? Perhaps one has to bear in mind in a film so essentially about Country that – apart from Gulpilil's unseen role in Arnhemland's Ten Canoes – he's always been off-Country in his major roles. Perhaps it's beginning to tell?
The film is PG, is showing at Palace and Dendy Cinemas, and would delight children, I suspect. The ABC will give it a screening later.

Share this: »
del.icio.us »
Digg it »
reddit »
Google »
StumbleUpon »
Technorati »
Facebook
Contact Details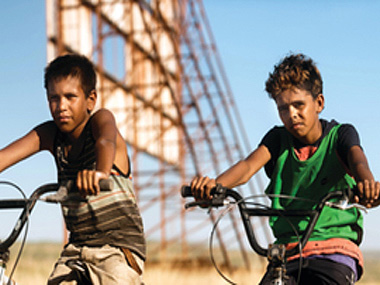 Cameron Wallaby (from Fitzroy Crossing) and Joseph Pedly (from Wyndham) in Satellite Boy
Further Research