Applications Open - Accelerate Program for Future ATSI Leaders
2013 awardees Solomon Booth (visual artist), Ron Bradfield (arts administrator), Michael Cook (photo media), Andrea James (playwright and theatre director) and Kimberley Moulton (museum curator). With HC Paul Madden, British Council (© British Council)
Aboriginal Art Directory | 31.05.14
News source: Press Release

Now in its 5th year, the Accelerate Program offers Aboriginal or Torres Strait Islanders who have at least 5 years' experience in an arts-related field, with no formal age limit but with a strong forward vision, to enter. Four recipients are chosen - one from New South Wales, Victoria, Western Australia and also nationally.
It is presented by the British Council and the Australia Council for the Arts in association with Arts NSW, Arts Victoria, Department of Culture and the Arts WA, BT Global Services, British Airways, and media partner, SBS NITV and designed to provide participants with the skills, networks and confidence to drive their own careers, and take up leadership positions within their community and cultural organisations.
Previous winners of the Accelerate Leadership Program include Alick Tipodi (Visual Arts), Kimberley Moulton (Museums and Galleries), Rita Pryce (Dance), Kevin O'Brien (architecture), Peter White(Curation), Kyle Morrison (Theatre), Andrea James (Performing Arts) and Ron Bradfield Jnr (Arts Management).
This year the prize will include a 3-day Leadership Intensive, delivered by visiting UK expert, Mark Wright of People Create. A 30-day fully paid trip to the UK to spend time with high-profile individuals and organisations in their respective field. Each of the four winners will also be paired with their own Mentor, who will remain in contact for a year after returning home.
British Council Director, Nick Marchand says, "What we have seen in previous years is that Accelerate participants return home with their minds full of possibility, and what we hope this extended support will do is to help them to process their UK experience more quickly, and to allow them to hit the ground running, to find a way of turning this possibility into practical change and action."
2013 participant, Kimberley Moulton says, "There is so much opportunity to learn, engage and share knowledge between Australia and the UK. Having an open dialogue and building trusted professional relationships is important in creating new ways of communicating old stories. It's important to understand that we do share in our histories, good and bad, and collaboration and working together is the next step in our journey."
Applications will close on 6 July 2014. For further information Accelerate

Share this: »
del.icio.us »
Digg it »
reddit »
Google »
StumbleUpon »
Technorati »
Facebook
Contact Details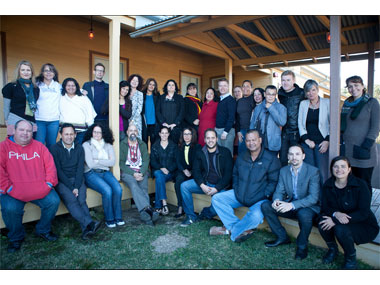 ACCELERATE alumni and 2012 shortlist participants © British Council
ACCELERATE 2012 professional development session © British Council
Further Research