TARNANTHI – THE NEW NAME IN FESTIVALS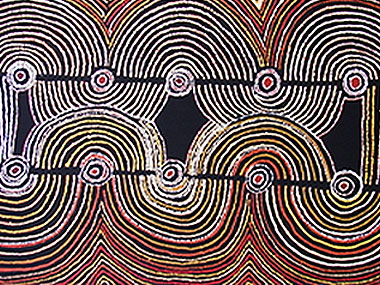 Hector Burton's 'Caterpillar Dreaming' (2004) from the APY Lands in South Australia's north - work that should be exposed to the international gaze during next year's Tarnanthi Festival
Posted by Jeremy Eccles | 23.07.14
Gallery: Art Gallery of South Australia


South Australia's Premier Jay Weatherill has announced that the State's new Aboriginal visual arts festival will be known as Tarnanthi – pronounced TAR-NAN-DEE - a local Kaurna word meaning 'to come forth', as in the sun and the first emergence of light, or of a seed sprouting.
The event, scheduled for October 2015 and hosted by the Art Gallery of South Australia under the leadership of curator and artist Nici Cumpston, is heavily supported by $4m from BHP Billiton – in part because the miner has failed to develop the Olympic Dam mine as fast as South Australia's government would have liked.
"We have an ambitious goal of making South Australia the international portal for Aboriginal visual art," Premier Weatherill said. "Tarnanthi will showcase contemporary works of art created by artists from the oldest continuous living culture on earth. The festival will include a series of exhibitions, artist workshops, a symposium and an art fair. The name beautifully captures both the vision of this Festival and the importance of celebrating language throughout the program."
Organisers are talking to artists, curators and collectors across the country to bring together the elements of the festival. "It will challenge perceptions of what Aboriginal art is, and remind us all that this is a living culture with an art practice that is celebrated internationally", the event's co-chairs, Lee-Ann Tjunypa Buckskin and Klynton Wanganeen are reported as saying.
Joining Ms Buckskin and Mr Wanganeen in providing advice are Khatija Thomas (Commissioner for Aboriginal Engagement), Dr Lewis O'Brien AO (Kaurna Elder), David Miller (Ananguku Arts), Philip Watkins (Desart), Simone Tur (Yunggorendi, Flinders Uni), Mandy Brown (Country Arts SA) and Tracey Whiting (Art Gallery Board representative).
The Art Gallery of South Australia will partner with cultural institutions across Adelaide to present the Festival, including Tandanya, Adelaide Festival Centre, the Botanic Gardens, History SA, the JamFactory, Kaurna Warra Pintyanthi (University of Adelaide), the National Aboriginal Cultural Institute, SAMSTAG Museum (University of SA), the South Australian Museum, the State Library and many others. In addition, there will be satellite exhibitions including a regional exhibition in Port Augusta to ensure broad community engagement and involvement in this important event.
For further information on Tarnanthi register your interest.

URL: http://www.tarnanthi.com.au

Share this: »
del.icio.us »
Digg it »
reddit »
Google »
StumbleUpon »
Technorati »
Facebook
Contact Details
Gallery: Art Gallery of South Australia
Contact: Nick Mitzevich
Email: agsa.info@artgallery.sa.gov.au
Telephone: +61 8 8207 7000
Address: North Terrace Adelaide Adelaide 5000 SA

Where is the exhibition?
Further Research