Art Adds to the Beauty of a Long Distance Walking Trail
The artists whose works will now be on display along the 223km Larapinta Walking Trail in Central Australia (Photo: Parks and Wildlife, NT Gov)
Aboriginal Art Directory | 22.09.14
News source: Press Release

Since reading the book, Wild: From Lost to Found Along the Pacific Crest Trail by Cheryl Strayed, I, like many others, have been romancing the idea of a long-distance walk. And today the Larapinta Trail, a 223km walking trail along the West MacDonnell Ranges just outside of Alice Springs, became an even more attractive proposition when the Minister for Parks and Wildlife, Bess Price, unveiled a new Indigenous art project along the Trail at Simpsons Gap.
"The Larapinta Trail continues to grow in popularity and prominence and receives regular recognition as one of the great long distance walks of Australia," Bess Price said.
"We've listened to what visitors want and many have expressed a desire to learn more about the cultural values along the Trail.
"Walkers stopping at shelters at Simpsons Gap, Jay Creek, Serpentine Gorge and Finke River will now be treated to stunning artwork depicting the cultural values and stories for the area," she said, referring to the commissioned artworks which will now be on display at the four of the locations along the Trail.
New shelters and amenities have also been developed, as well as new water facilities and interpretation signage and information packages.
To find out more about the Larapinta Trail or to plan your walk, visit NT Parks and Wildlife and also the Larapinta Trail site.
There are also some great photos taken along the Trail on this Facebook page.

And if you decide to go, the artists whose works you'll be seeing are:
Simpsons Gap:
· Dale Campbell (Weapons and Wildflowers of Central Australia)
· Rhonda Inkamala (Coolamon and clapsticks)
Jay Creek:
· Doreen Carroll (Wild Orange and Honey Tree)
· Trudy Inkamala (Coolamon and Goanna)
Serpentine Gorge:
· Jane Young (Summer Fruits)
· Jane Young (Eagle)
Finke River:
· Clara Inkamala (Bushtuckers)
· Kathleen Franz (Bushtuckers)
· Noreen Hudson (Bushtuckers)
· Kathy Inkamala (Wild Passionfruit)

Share this: »
del.icio.us »
Digg it »
reddit »
Google »
StumbleUpon »
Technorati »
Facebook
Contact Details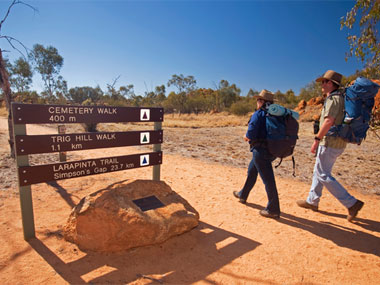 Walking the Larapinta Trail (Photo: Parks and Wildlife, NT Gov)
Further Research