Christmas Cheer in Rozelle this Sunday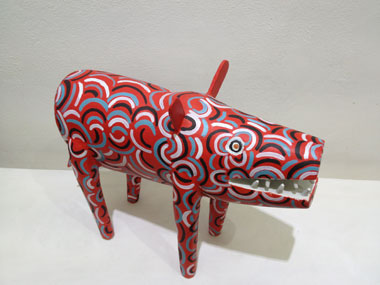 Red Dog by Michael Norman.
Posted by Aboriginal Art Directory | 16.11.14
Gallery: Tali Gallery
Dates: 23.11.14 : 23.11.14

Head along to Rozelle this Sunday to experience some early Christmas Cheer when the Pormpuraaw Arts and Culture Centre artists and Art Centre Manager visit the Tali Gallery.
All the way from the Cape York Peninsula, the Pormpuraaw Arts and Culture Centre artists are coming to Sydney as guests of the Australian Museum during the Corroboree Festival. And you'll be able to meet them.
More, they are bringing artworks and etchings they have been working on (you can see one two of their etchings pictured below), and all etchings are selling for $300.
The artist Sid Bruce Short Joe has created an interesting Ghost Net sculpture called, Jelly Fish Totem also pictured. There will also be paintings and carvings of native birds. And the Red Dog? That's by artist Michael Norman.
If you are visitors to Sydney, Rozelle is just a short distance from the city centre, and a great part of Sydney, so if you are looking for something interesting to do next weekend, head to the Tali Gallery and meet the Pormpuraaw artists - all the way from Cape York.


Share this: »
del.icio.us »
Digg it »
reddit »
Google »
StumbleUpon »
Technorati »
Facebook
Contact Details
Gallery: Tali Gallery
Contact: Di Stevens
Email: di@taligallery.com.au
Telephone: 61 2 9555 6555
Address: 134 Victoria Road Rozelle Sydney 2039 NSW

Ghost net sculpture by Sid Bruce Short Joe called, Jelly Fish Totem.
Two of the etchings available at Tali next weekend, left: Sid Bruce Short Joe, Moon and Coral Spawn (Limited ed etching, 49x44cm); right: Elliot Koomutta, Magpie Geese (Lino cut print, 42x72cm).
Where is the exhibition?
Further Research