WALKING WITH BUNGAREE
Warwick Keen's 4 metre chalk drawing, 'Bung Wuz 'Ere' (2015) on the fuel tank wall
Posted by Jeremy Eccles | 02.02.15
Gallery: Mosman Art Gallery and Community Centre
Dates: 30.01.15 : 22.02.15

"This is the most important project I've worked on in my life". Veteran Indigenous curator, Djon Mundine's statement quite shocked an audience on Middle Head on Saturday, especially those who clearly thought his 'Aboriginal Memorial' of 200 larrikitj poles from Ramingining on permanent display at the National Gallery since 1988 in commemoration of the Aboriginal dead was the achievement that ought to be his most important.
But here we were, breaking ground in a gigantic Second World War fuel tank that had been newly transformed into a cultural space by the Sydney Harbour Federation Trust, celebrating a different bicentenary – the 200 years since 'King' Bungaree of the Broken Bay Tribe had been given a farm on this site in 1815 by Governor Macquarie in a doomed attempt to assimilate the Eora Nation into a life of sedentary agriculture. At the centre of the space, 24 carved but unpainted poles reflected the 'Aboriginal Memorial', though artist Warwick Keen emphasised that his mind had been primarily turned towards the peach trees that were handed over to Bungaree to tend rather than to the death of the Guringai tribe.
And this was especially appropriate as, the previous night, Neil Evers of the Guringai people had revealed the re-discovery of his ancestry – and that of about 120 relatives - just 10 years ago in a suitcase full of documents that had otherwise disappeared from the records. Now, he believes, Guringai numbers are up to 1200, and such matters as the reincising of the marvellous carvings on the Hawkesbury's West Head can properly be undertaken.
Bungaree would be proud, perhaps. Mundine certainly was that this three-year project initiated by the Mosman Art Gallery was still flowering. Initially, he'd gathered 16 Blak artists from NSW to research and respond to Bungaree's legacy from an Indigenous point of view – almost as many as the contemporary portraits by 18 different artists of this colourful figure, more than any other individual – black or white - in Sydney's founding years. They'd had residencies on Middle Head, they'd worked (uncharacteristically for artists) as a group, and the original hope had been that their Mosman exhibition would set off on tour around Australia, just as Bungaree had done twice at sea with captains King and Flinders – who named him the first 'Australian' as a result – accumulating artworks from Indigenous artists as it went.
The Australia Council failed to support this brave plan, and the original show never went beyond Port Macquarie. Now it's back at the Mosman Art Gallery accompanying the more dynamic additional response in the fuel tank, involving film, music and song, all recorded by the sometimes reluctant visual artists and projected pellucidly on to the towering walls of the tank. One haunting musical phrase was recorded by the Rev Lancelot Thelkeld on the Hunter in the 1830s. It's only on this week just below George's Heights Oval.
But – and here, perhaps we find reason for Mundine's especial pride in the project – a Bungaree Walkway will be designated by the Harbour Trust, and Keen's poles will find a permanent home outside the Mosman Gallery.
What else could contribute to the project's significance? Politically, the commissioning of work exclusively from so many NSW-based artists should have given the 'Bandjalung-boy' curator cause for pride. And then there must have been a sense that 'awakening' whiter-than-white Mosman to the distant presence of the First Australians (and, indeed, The First Australian) in their midst and giving him an on-going role must have been satisfying. "I wanted to shift the Aboriginal presence out of the ghetto of Redfern; to remind everyone that Aboriginal people lived all over what is now called the Sydney basin – Aboriginal people are everywhere and Aboriginal people do everything", he declared.

Share this: »
del.icio.us »
Digg it »
reddit »
Google »
StumbleUpon »
Technorati »
Facebook
Contact Details
Gallery: Mosman Art Gallery and Community Centre
Contact: John Cheeseman
Email: gallery@mosman.nsw.gov.au
Telephone: +61 2 9978 4178
Address: Cnr Short Street and Myagah Road Mosman Sydney 2088 NSW

Gallery: Mosman Art Gallery and Community Centre
Contact: John Cheeseman
Email: gallery@mosman.nsw.gov.au
Telephone: +61 2 9978 4178
Address: Cnr Short Street and Myagah Road Mosman Sydney 2088 NSW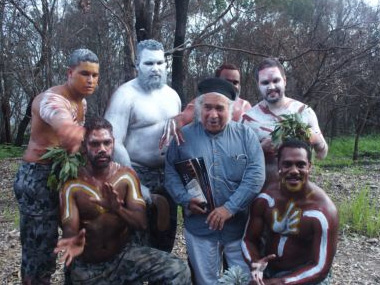 Djon Mundine surrounded by the Bungaree Dancers from the Navy, a fine-figured pan-Aboriginal troupe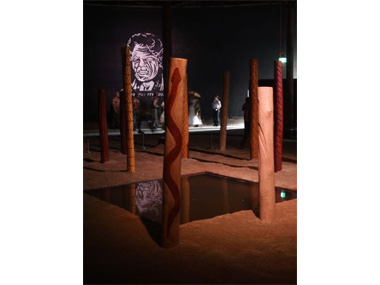 Warwick Keen's suite of memorial poles which will be erected outside the Mosman Art Gallery
Where is the exhibition?
Further Research