THE APY LANDS COME TO SYDNEY
The architecturally-designed spear/kulata installation at Tarnanthi Festival 2017 - "A story of protection" says Mumu Mike Williams, one of the tjilpies (old men) involved in the multifaceted project
Posted by Jeremy Eccles | 23.11.17
Gallery: Hazelhurst Regional Gallery & Arts Centre
Dates: 10.11.18 : 10.02.19

Exciting and slightly controversial news – artworks by artists from the ever-fruitful APY Lands in the north of South Australia will be sold directly to the Sydney public at a Darlinghurst gallery from next year. The news hit the ground with a thud last week when a News Ltd outlet in SA told us that this would happen in an effort "to bypass the middlemen and carpet-baggers" who'd been exploiting Aboriginal artists up till now.
Well, those of us who know of the dedication that a dealer like Gabriella Roy has put into selling APY art ethically at her Aboriginal & Pacific Art Gallery over the years were taken aback by this statement – apparently from Skye O'Meara, director of the APY Art Centre Collective – suggesting that APY artists had been "at the mercy of" dealers like her and Beverley Knight at Alcaston Gallery in Melbourne.
It turns out to have been all a little hyperbolic by the journalist involved, and O'Meara leapt on the email to reassure me that: "The article was a little rough really. We love our middlemen. The partnerships with Gabriella, Beverley, Emily (Rohr at Short Street Gallery), Matt (Ward at Outstation), Paul (Johnstone in his eponymous Darwin gallery) and others are so important. These relationships won't be changing. The gallery is for young and emerging artists, special projects and a home for the APY Art Centre Collective".
But as the previous attempt by a remote art centre collective – Desart – to establish a direct beachhead in the southern cities had ended in tears and financial loss, I needed to talk to Skye O'Meara.
She began by admitting that the article had attracted a pile of hate mail for her – despite her insistence that the galleries that regularly dealt in APY art were "mostly in the loop" with this project to take space at Darlinghurst's Tap Gallery. For they are in the market representing the 40 or so top APY artists – names like the late Hector Burton, Barbara Moore, Mumu Mike Williams and Betty Pumani spring to mind. "But there are more than 400 artists in the Lands", O'Meara reminded me, "working out of seven art centres, plus the Tjanpi Weavers and the Maruku distribution centre at Uluru. They're working in other materials such as video and installations, they're collaborating with non-Aboriginal artists and there are young and emerging artists who need encouragement and support. It's not random that we will be in Burton Street (in serendipitous association with Hector B) just round the corner from the National Art School".
Typical of the sort of work O'Meara is referring to is the winning entry in this year's Telstra NATSIAAs in which a photograph of the youthful Anwar Young was taken by Unrupa Rhonda Dick and given text and an installation of spears by their uncle/grandfather Frank Young to make it clear that this was part of the multi-faceted Kulata Tjuta (Many Spears) project – which also made a significant architectural appearance at the Art Gallery of SA in its Tarnanthi Festival. "The elders will always be needed for their guidance in projects like those", O'Meara assured me; "it won't just be bush kids going off to a city art school". And the elders are delighted that their youngsters are getting this encouragement and exposure – as was shown, O'Meara says, by their response to a successful photography show in Redfern a year or two ago.
"Fundamentally, the Collective has been a seven-year project to keep the control of the art in the hands of community elders", O'Meara summed up. And anyone who saw last year's Nganampa Kililpil: OUR STARS at Sutherland Shire's Hazelhurst Gallery will attest to that achievement – now recognised with a Highly Commended in the sector's National Awards.
And, as with that show, artists will be a frequent presence at this new Sydney base for the APY Art Centre Collective, so far from the Lands. When the first show opens in March – part of the big Art Month push in the city – it will reflect the organisation's plans for the future. And Skye O'Meara hopes that a benchmark can be set for the pricing of more youthful artists' work, "which the current market sells far too cheaply".
Another of the Collective's plans for the future happens in November at the Hazelhurst Gallery in Gymea. 'Weapons for the Soldier' will be the Sutherland Shire gallery's major show for the year involving 17 senior artists from the Lands and a series of Blak and non-Indigenous artists - Abdul Abdullah, Tony Albert, Lionel Bawden, Michael Cook, Shaun Gladwell, Richard Lewer, Steaphan Paton, Ben Quilty, Reko Rennie, Greg Semu,  and Christian Thompson.
Commissioning for the exhibition is in the hands of three busy young APY artists - Robert Fielding, Vincent Namitjira and Anwar Young, one of the trio that took out the top 2017 NATSIA Award. 'Weapons for the Soldier' resonates as a title with great force for the young Anangu men. For this exhibition will explore their diverse understanding of the complex and varied responses to aspects of weaponry, warfare, and their connection to fighting for and protecting land and Country. The project, as the first Anangu-curated exhibition involving non-Indigenous artists, marks a historical moment in the Western Desert Art movement. Relationships established between participating artists will see some the outsiders visit the Lands, and APY artists reciprocally visiting the urban studios of their counterparts.
URL: https://apyartcentrecollective.squarespace.com/

Share this: »
del.icio.us »
Digg it »
reddit »
Google »
StumbleUpon »
Technorati »
Facebook
Contact Details
Gallery: Hazelhurst Regional Gallery & Arts Centre
Email: hazelhurst@ssc.nsw.gov.au
Telephone: 61 2 8536 5700
Address: 782 Kingsway Gymea Sydney 2227 NSW

Gallery: Hazelhurst Regional Gallery & Arts Centre
Email: hazelhurst@ssc.nsw.gov.au
Telephone: 61 2 8536 5700
Address: 782 Kingsway Gymea Sydney 2227 NSW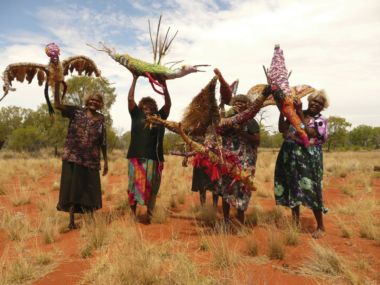 The Tjanpi weavers of Amata Paarpakani take flight with their desert grasses creations
Elders Ronnie Douglas, Brenton Ken, Willy Kaika Burton, Mick Wikilyiri and Ray Ken in front of their collaborative 'Work for Kunmanara (Gordon) Inkatji' (2016) in the Kulata Tjuta series
Where is the exhibition?
Further Research