CIAF Sets Records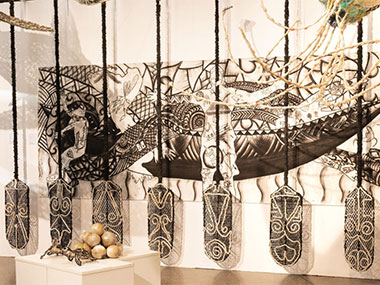 Erub Arts cooperative work, 'Paddles' (2017), winner of the Queensland Premier's Award for Excellence at CIAF 2018
Posted by Jeremy Eccles | 19.08.18
Gallery: Cairns Indigenous Art Fair
Dates: 11.07.18 : 15.07.18

Sunshine filled days and starlit skies drew the crowds and community together for last month's Cairns Indigenous Art Fair (CIAF), capping off its ninth successful iteration with record breaking success.
In releasing CIAF's sales figures, general manager Vanessa Gillen said that while attendance and participation are important benchmarks, it is the commercial outcomes generated by the Art Fair, Art Market and satellite exhibitions that are fundamental, supporting the artists and art centres that produce the work. "In our nine-year history we are proud to have generated $6.7 million in art sales which has been returned to the artistic community to further their practice. Added to this is the fact that works are acquired by curators to join the collections of museums, art galleries and institutions both at home and overseas".
This year's exclusive Collectors & Curators' Program had a new partner, Coral Expeditions, one of Australia's leading expedition cruise companies.
"CIAF has become a source of quality art work for both curators and collectors and this is heartening because it underpins the quality, diversity and depth of Queensland's Indigenous art movement while taking it to global audience," Ms Gillen said. "This year's overall result of $887,000 is an increase of 15 per cent compared against last year's result of $763,000."
In 2018, sales from CIAF's Art Fair and Art Market reached $665,715 (compared to last year's $589,182) while takings from art sold at satellite exhibitions also increased from last year's figure of $34,562 to $53,917. When it closed on Sunday 15 July after almost a week of events, CIAF 2018 had attracted an overall audience of more than 45,000, on par with previous years.
CIAF's artistic director Janina Harding said the feedback from this year's event has been outstanding and there has been much praise for the program comprising six curated exhibitions including the Art Fair's 'Connection to Country', three-day art market, workshops, approximately 50 individual dance and music acts, talks and conversations, theatre, fashion and food, and the presentation of six CIAF Art Awards with a prize cache of $50,000.
The prize winners were:
Queensland Government Premier's Award for Excellence - Erub Arts, 'Paddles' (2017)
Cairns Regional Council Art Centre Award - Girringun Aboriginal Arts Centre
Cairns Airport Innovation Award - Michael Norman, 'Pelican' (2018), Pormpuraaw Arts & Cultural Centre Inc
Lendlease Emerging Artist Award - Vernon Marbendinar, 'Rainbow Birds & Parrots' (2018), Wik & Kugu Arts and Crafts Centre
Ports North Photography Award - Naomi Hobson, 'A Warrior without a Weapon' series (2018), The Kalan Clay House
Fibre Optics NQ Peoples' Choice Award - Mavis Ngallametta, 'Swamp on the way to Obun' (2018).
And the judges were:
Curator of Indigenous Australian Art at the Queensland Gallery of Modern Art, Bruce McLean. Curator and writer, Natalie King. Natalie was curator of the Tracey Moffatt exhibition at the Venice Biennale, 2017. Finally, National Maritime Museum Indigenous Programs Manager, Beau James. Beau is from the Mununjali clan of the Yugambeh Nation from SE Queensland with links to Stradbroke Island.
"CIAF is about shining a light on the Aboriginal and Torres Strait Islander life experience and celebrating our distinct cultures while elevating the community's appreciation of Queensland's First Peoples' art movement," Ms Harding said.
The success of this year's Fair was topped by satellite events including CIAF's annual fashion performance Bulmba-barra, JUTE Theatre Company's theatre production, 'Bukal', Screen Australia's, Pitchas After Dark short film screening and Miriki Performing Arts' collaboration with the POMO Nation of Northern California in 'Bayal Kaymanen' (Dancing Smoke).
In the preparations for this tear's Fair, a third and final remote community workshop was held at Aurukun for a week of collaboration with artists from the Wik & Kugu Art & Crafts Centre. The results underpinned the show, 'Pride in Authority' during CIAF. Previously the team had visited Mornington Island/Bentinck Island and Pormpuraaw thanks to sponsorship from Skytrans.
 
Mark CIAF 2019 in your calendars now - 11-14 July 2019!
URL: https://ciaf.com.au/

Share this: »
del.icio.us »
Digg it »
reddit »
Google »
StumbleUpon »
Technorati »
Facebook
Contact Details
Gallery: Cairns Indigenous Art Fair
Contact: Janina Harding / Vanessa Gillin
Email: artfair@ciaf.com.au
Telephone: 07 4050 7712
Address: 51 The Esplanade Cairns 4870 QLD

Gallery: Cairns Indigenous Art Fair
Contact: Janina Harding / Vanessa Gillin
Email: artfair@ciaf.com.au
Telephone: 07 4050 7712
Address: 51 The Esplanade Cairns 4870 QLD

'Rainbow Birds and Parrots' (2018), Vernon Marbendinar's delightful Wik 3D work that won the Fair's Lend Lease Emerging Artist Award
People's Choice winner Mavis Ngallametta in front of her floral work - reflecting the swamps on her way to Obun, as did her NATSIAA finalist work.
Where is the exhibition?
Further Research