NATSIAAS 2018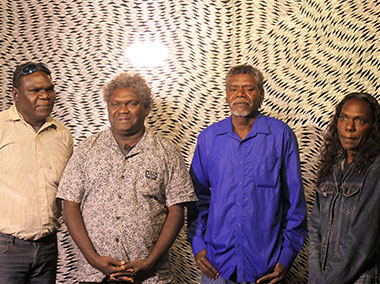 The Buku Tsunami with (l to r) Gunybi Ganambarr, the Big Telstra winner (in front his artwork) , Wukun Wanambi (the 3D Art winner), Napawarri Marawili, (Bark winner), and Patrina Mununggurr ( the Multimedia winner)
Aboriginal Art Directory | 09.08.18
Author: Jeremy Eccles
News source: Research

When a tsunami comes your way, all you can do is head for higher ground very fast. This year's Telstra NATSIA Awards have been hit by the Buku Tsunami – which has been a long time coming.
No less than four of the seven awards, from nine works hung, have gone to that singular art centre in the far northeast of Arnhemland. A Yolgnu world full of lore and laws that used to restrict artists in both what they could paint and what they could paint it on. But in Darwin at the Museum and Art Gallery of the NT, senior Buku Larrnggay artist Wukun Wanambi, with his fellow winners around him, declared that "young guns" were now allowed to use "different methods".
And no-one has pioneered different methods more than Gunybi Ganambarr from Gangan, a mere 6 hours from the Yirrkala art centre. At last, after six previous attempts, he's taken out the Big Telstra for an extraordinary 3 by 3-metre work delicately etched into aluminium sheeting with an angle-grinder! He's been working up to this by incising both bark and old rubber mining belts. Here his evocation of the waters flowing from rivers into Blue Mud Bay, hitting rocks and heading off in multiple directions is palpable. But it's also referencing an ancient fish trap, multiple grandfathers, and the clash of fresh and salt waters in the Bay.
And it's not irrelevant to the Buku Tsunami that last week they were celebrating the 10th anniversary of winning sea rights in a court case based on their historic knowledge of Blue Mud Bay's waters.
Out at sea there, Napuwarri Marawili has added fire to the waters in which mythic rocks sit, dugong float and Baru the Ancestral Crocodile emerges as diamond patterns in his prize-winning bark. For it was the seagrass that looked like flames which boiled the water and destroyed the dugong hunters' canoe in legend. Possibly this reflects memories of an actual tsunami.
Wukun Wanambi takes rocks in a different bay – Trial Bay- turning them into three matched lorrkons, to tell his familiar story of sea mullet milling around in search of their ancestral homes or breeding grounds. But this time he's added digital imagery of rotating fish in response to the way people today make the same sorts of search on computers. This won him the Wandjuk Marika Memorial 3D Award for the second time.
It was a strong year for filmed work, with young Petrina Mununggurr taking out the Multimedia Award for her moving introduction to the important role of gapang/white ochre in Yolgnu life and ceremony. For it not only represents the clouds when wiped across the forehead but, when sensually rubbed into limbs, creates an invisibility which allows celebrants to master the spirit world. But was Petrina a beneficiary of the Buku Tsunami? For I felt that the emergent Anindilyakwa Art Centre team from Groote Eylandt had offered a more complex film capturing the community engagement in finding and using natural materials to make dyes for silk on their Country. And Yolgnu man Baluku Maymaru was pretty competitive too. Altogether, there' d been 17 entries.
Young Yolgnu man Matthew Gurruwiwi – from Goulburn Island not Yirrkala this time - has clearly learnt much from his grandfather Gali about the art and craft of creating Morning Star poles. For his set of five more than justified his assertion that "I was born and raised to be an artist. Making Banumbirr has been passed on to me and it is important I keep doing it and keep my culture strong". He takes home the Emerging Artist prize.
At some point, I suggested to the Buku art director, Will Stubbs, that if only his guys learnt to paint on canvas, they could have had a full house of Telstra's this year. "It's because they're not painting on canvas that they're so successful", he insisted. "They're not painting for the outside world, they're painting the land on the land. They only have two gods – Yolgnu law and art". Which left the wonderful Peter Mungkuri from the almost equally dynamic Indulkana art centre to capture the General Painting Award. Surely the biggest canvas by this frequent prize-winner, it's also a beautifully resolved work, almost entirely in black and white.
Just up the road, Kathy Inkamala is moving the venerable Hermannsburg traditions of watercolour painting along using ink and gouache to illuminate Mt Gillen, the McDonnell Ranges peak which she sees the sun rise on every morning. You can feel the stratas in her lines. She won the Works on Paper prize.
308 entries were brought down to 66 finalists for this 35th NATSIA Awards. Telstra has been there for 27 of them. The pre-selection panel differed from the final judges, who were curator Glen Iseger-Pilkington, Ian Potter Museum Director, Kelly Gellatly, and Hermannsburg potter, Judith Inkamala. For Iseger-Pilkington the key change in the six years since he last judged was a post-anthropological transformation of traditional objects into fine art - such as the wooden piti from Kunmanara Brumby and the Nyurpaya Kaika/Mary Pan team. "They were ephemeral, now they're cared for", he commented, "often by a new generation". For Gellatly, this was a "temperature check of the diversity of Indigenous art as contemporary art", and she'd learnt much from a generous Judith Inkamala; who added that she felt she'd been able to assist her fellow judges in understanding many works.
Outside the winners, I was delighted by the hanging of old men's works by Johnson Lane and Lawrence Pennington, by Tuppy Goodwin's dancing canvas, by Helen Ganalmirriwuy's black pandanus mat, and Tamika Grant-Iramu's multi-panelled linocut - probably the finest urban work in the show.
More next week.


Share this: »
del.icio.us »
Digg it »
reddit »
Google »
StumbleUpon »
Technorati »
Facebook
Contact Details
Gallery: National Aboriginal and Torres Strait Islander Art Award
Telephone: +61 8 8999 8264
Address: 19 Conacher Street Fanny Bay Darwin 0820 NT

Gallery: Museum and Art Gallery of the Northern Territory
Contact: Marcus Schutenko
Email: info@magnt.net.au
Telephone: +61 8 8999 8264
Address: 19 Conacher Street Fanny Bay 0820 NT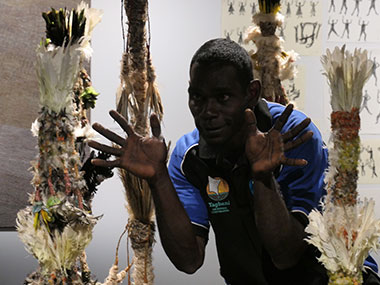 Matthew Gurruwiwi dances amongst his Morning Star Poles (Banumbirr)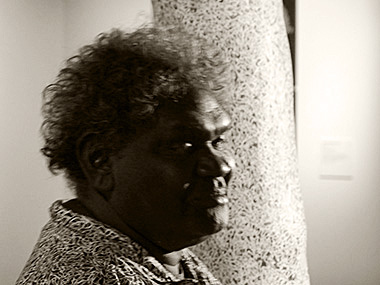 Wukun Wanambi with his larrikitj poles representing the rocks and the fish at the mouth of Trial Bay, NE Arnhemland
Further Research