Art and the Election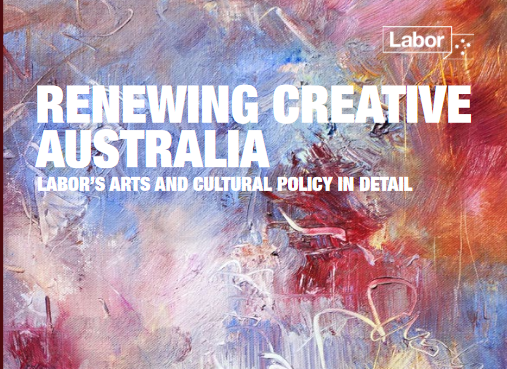 The cover of the ALP policy document, 'Renewing Creative Australia'. Unfortunately, the cover artwork contains no copyright acknowledgment the ABC noted!
Jeremy Eccles | 17.05.19
Author: Jeremy Eccles
News source: Research

The arts haven't exactly been at the centre of debates during the current election campaign. Let's face it, the arts haven't turned the electoral tide since 1993 when Paul Keating discovered how enthusiastic cultural people were for his government, which swept back in on the crest of that arty wave.
This year, the ALP has at least published an arts policy document for the first time in several elections called 'Renewing Creative Australia'. Minister Tony Burke is behind this enthusiasm. And here's a snapshot of matters relating to the Indigenous sphere:
"A Shorten Labor Government has committed to partner with First Nations' peoples to enshrine a First Nations' Voice to Parliament in the Constitution, and establish a Makarrata Commission for agreement-making and truth-telling. In restoring a national cultural policy, First Nations will again be the first of the five pillars of Creative Australia...a name with history, as 'Creative Nation' was Paul Keating's document in 1994 that first attempted to establish a national policy for the arts.
Recognising the important role that the existing Indigenous dance and theatre companies play, Labor will provide $3 million to assist existing state-based First Nations' theatre companies and dance groups to grow and apply to become major performing arts organisations. This funding would be made available with the expectation that state governments would also contribute. A Shorten Labor Government will also invest $5 million to build the NAISDA Dance College, a new centre for National Indigenous creative learning called Naya Wa Yugali ('We Dance' in Darkinjung Language). No mention of the original Creative Nation's support for ACPA, the Aboriginal Centre for the Performing Arts.
Labor will provide funding to establish a new National Indigenous Theatre Company as a major performing arts institution. Labor values First Nations' peoples and their stories and we want their stories to be central to Australia's cultural landscape. The theatre will not be a "bricks and mortar" theatre, but one that is based on coordination, partnerships and co-production. The investment will include funds to increase First Nations' audiences, perform stories on country and to build capacity in the sector through training First Nations' staff, creators and artists. The theatre would be established by First Nations' peoples and the governance will be determined by First Nations' peoples. First Nations audiences would be seen as a destination in their own right. The initial investment will be $8 million over four years to establish the theatre and ongoing funding of $5 million per year for performance, training and touring.
Labor will also invest $85 million in a new Aboriginal Art and Cultures Gallery at Lot Fourteen in Adelaide. We will consult with First Nations' peoples about the best approach to establishing the gallery. Labor supports the vision as "...a place devoted to Australian Aboriginal cultures, truth telling, art, history, science and contemporary life. It will recognise and celebrate the longest continuous human culture on the planet, provide a dynamic cultural and economic hub and be a beacon for reconciliation for generations to come."
Labor will maintain the Indigenous languages and arts program, supporting Aboriginal and Torres Strait Islander communities to revive and maintain languages, and to develop and present art. In recognition of the fact that the United Nations General Assembly has proclaimed 2019 as the international year of Indigenous languages, a Shorten Labor Government will allocate $4 million to community organisations to support the production of resources for the recording, maintenance, and development of materials which encourage learning and recognition of First Nations' languages.
A Shorten Labor Government will continue to support the First Nations' arts and cultural sector to work towards an agreement on a National Indigenous Arts and Cultural Authority.
Fake art is an attack on copyright, an attack on artists' incomes and an attack on culture. Labor sides with the rights of Indigenous artists to protect their cultural and intellectual property. Of the souvenirs sold in Australia, 80 per cent are imported fakes, with no connection to Traditional Owners. Labor will prioritise action at the consumer affairs forum of all commonwealth, state & territory ministers responsible for consumer affairs, and ensure a national approach to policy development to protect First Nations artists and consumers across the country. We don't rule out legislation, our commitment is to consult.
For 20 years now, the Coalition has not released specific pre-election arts policies. In response to a query about its vision, a Coalition spokeswoman told the ABC of four culture-related components of the 2019 budget:
"The Morrison Government announced several arts initiatives in the 2019-20 Budget, including $30.9 million to amplify the Australian music industry, $22 million to the Bundanon Trust, $10 million to the National Library of Australia's Digitisation Fund and $8 million to assist the work of the national cultural institutions (which have been subject to a relentless regime of negative 'efficiency dividends'). This builds on earlier measures implemented, including $140 million in location incentives for the screen industry, a boost to National Gallery of Australia funding, $6.7m funding for the 250th anniversary of Captain Cook's voyage to Australia and additional funding for Indigenous languages". Hurrah for the last.
The Greens have a plan to support a creative and innovative Australia by establishing a Creativity Commission to provide oversight, advice and structural support to help grow the arts sector, by investing in local content production and by reinstating funding to the independent Australia Council for the Arts so that it can provide security and confidence to the sector.
The benefits of their plan: Grow the creative economy, an industry which Australians love; Better support for artists and greater depth of creativity; A thriving local screen content sector: More secure jobs for people working in the creative sector.

Share this: »
del.icio.us »
Digg it »
reddit »
Google »
StumbleUpon »
Technorati »
Facebook
Contact Details
Further Research