SWEET COUNTRY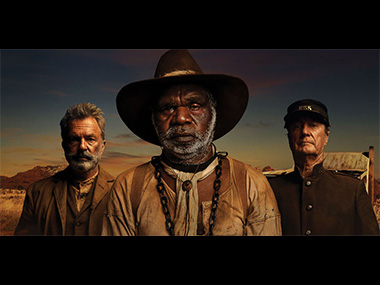 Sam Neil and Bryan Brown flank the stoic Sam Kelly - played by Hamilton Morris
Posted by Jeremy Eccles | 12.01.18
Dates: 25.01.18

Oh boy, has Warwick Thornton set us a series of virtually unanswerable ethical questions in his latest film as director and cinematographer! 'Sweet Country', his successor in terms of its examination of the Aboriginal condition in Central Australia to the achingly sad 'Samson & Delilah', which is anything but sweet. The racism of post World War 1 Australia is violent and bitter; the first products of miscegenation are confusing both sides of the racial divide, and the white part will increasingly attempt to eradicate the Indigenous in those products as the century progresses; the loss of lore is beginning to cause the elders concern; the Christian religion and ethic is patently incapable of imposing itself; and contact with the gardiya/white man is nothing but corrupting.
In fact, the only person uttering the words "sweet country" is the white police Sergeant Fletcher (played by an implacable Bryan Brown), who sees as-yet virginal tribal lands as good cattle country. Ironic.
Yet much of this complexity has to be experienced (rather than simply explained) through the character of Sam Kelly, played with minimal English language and a reluctance to engage in facial gesture by Alice local, Hamilton Morris. Stoic would be too mild a word to describe him. One can almost hear Warwick Thornton, camera on shoulder, calmly instructing him not to react to anything. But it doesn't make Thornton's desire to force us to think our way out of this film any easier. Nor does Nick Meyers's editing, which throws in vignettes of scenes from past and future at random, almost as though he were attempting an imitation of the timelessness of the Dreaming.
Sam and his wife Lizzie (Natassia Gorey Furber) work uncomplainingly for the Bible-thumping Fred Smith (quizzically underplayed by Sam Neill), who's persuaded to make a "Christian" loan of the couple to the neighbouring Harry March. Ewan Leslie inhabits this black-hearted white man, possibly a PTSD victim of the 1st WW, certainly a rum-soaked believer in his own racial superiority and his rights to "my property". Ironically, none of the district's 'property owners' lives in anything better than an earthen-floored slab hut, but their attitudes are 'Kings in Grass Castles'!
So March asserts his right to rape Sam's wife, and to chain up, then set off in pursuit of the cheeky young half-caste, Philomac (insolently played by twins Tremayne and Trevon Doolan) with his gun. When his fury is denied and he faces an equally-armed Sam, the Aranda man fires faster and straighter. March gets the soldier's funeral he doesn't deserve from his fellow ex-military man, Sgt Fletcher.
Who then leads the hunt for Sam. Who, of course, as in Rolf de Heer's comparable, 'The Tracker', is much better at moving around this country – his Country. But Fletcher has the assistance of Gibson John's Uncle Tomish Archie – a tribal man who's moved further over to 'the other side' in the short time since the telegraph came to Alice Springs. However, in strange (and sweet) country the other side of the frontier, the land's real custodians assert their rights on both hunters and hunted – with significant consequences on the latter later.
Fletcher, maddened and now alone, sets out across an equally implacable salt lake (filmed at Lake Gairdner, SA) apparently determined to die rather than fail to catch Sam. Slow motion, mirage-like progress of his horse captures this quixotic effort. About to perish beneath an unrelenting sun, a shadow falls on his face and Sam, applying tribal lore, delivers water to his nemesis. Sam also removes the policeman's guns.
Happy ending? No way – for Lizzie's flight is now impeded by signs of an amazingly quick pregnancy, the first time Sam is aware of her violation. They head for town and give themselves up.
To the off-screen strains of the scaffold being built (or is it Fred Smith's utterly unwanted church, which we later see being hauled into place?), we're about to go through a form of justice in a place that has never experienced the like before. Definite hints of a dirty John Ford Western with a twist of 'To Kill a Mockingbird'!
Matt Day's youthful if unshaven judge is up to the task though, facing down Sgt Fletcher's assertion that he's the law around here, even if the only courtroom available is the dusty street across from the pub lined with deckchairs. As the verdict is delivered, Hamilton Morris betrays emotion for the first time – powerfully expressed in the uncontrolled shaking of his shoulders.
Happy ending? Not telling. But I reckon Warwick Thornton didn't want us to see his film as a drama that progresses from A to Z. So, the equivocal role of Christianity in this diabolical world is tossed in at the end – the vestiges of a church being erected are quickly followed by holy roller Fred Smith's cry of despair for "this country". And the final image has nothing to do with the story I've been telling you. For Philomac has stolen Harry March's gold pocket watch – fair enough, you'd think; the dead man has no use for it. His tribal elders think otherwise, and Philomac's bemused fumblings with the watch don't really suggest it has value to him. At the end, he tosses it in a creek, suggesting a number of possible meanings. Does it link him too closely with March's death? Is it a gardiya symbol he no longer wants to associate with? Is it simply useless to him? Or is he possibly cleaning the slate in recognition of his new status that's emerged during the film – acknowledged as his son by another 'property owner', Mick Kennedy, who's been quietly challenged by Sgt Fletcher's threat to "take the kid away" unless Kennedy looks after him.
It's a conclusion not unlike 'Samson & Delilah', which didn't exactly hammer home its 'happy' ending where the kids find refuge and solace in an empty, remote outstation which doesn't look like much comfort unless you were attuned to the undercurrents of the NT politics at the time which wanted to close down such outstations.
So, 'Sweet Country' is a thought-provoking if under-explained film – though it does much to prepare us for the Coniston Massacre that happened in that very area just a few years later. And, somewhere in its archives, Channel 9 has a docu-drama about that which I'd love to see again.
'Sweet Country' was the opening night film of Sydney's Indigenous Winda Film Festival where it received a more lukewarm reception than it must have done the same night in Brisbane, for it took out the Best Film prize in the Asia Pacific Screen Awards. And that accolade follows Warwick Thornton's Venice Jury Prize and the Toronto Film Festival's Platform Award with this film.
'Sweet Country' opens around Australia on January 25.

URL: http://www.bunyaproductions.com.au

Share this: »
del.icio.us »
Digg it »
reddit »
Google »
StumbleUpon »
Technorati »
Facebook
Contact Details
Hamilton Morris and Natassia Gorey Furber as his wife Lizzie flee across country that's evocatively captured by director Warwick Thornton
Further Research