SONGLINES – TRACKING THE SEVEN SISTERS
'Travelling Kungkarangkalpa' in the digital domelab. Seven Sisters rock art with permission of Walinynga (Cave Hill) traditional owners.
Posted by Jeremy Eccles | 06.02.18
Gallery: National Museum of Australia
: 25.02.18

Back a'while, Banjo Paterson saw the outback as "a land half-made"....."Far to the Northward there lies a land, A great grey chaos -- a land half made, Where endless space is and no life stirreth; And the soul of a man will recoil afraid From the sphinx-like visage that Nature weareth".

But academic and writer Nicholas Jose in his 2002 book 'Black Sheep', visiting the same land, instead saw that "The land is made, by stories of such fraying scope and complexity that they become tellable only by taking the most wandering pathways".
The important show currently at the National Museum in Canberra – but only on this month – is just such a story of the land told by the most wandering pathways: 'Songlines – Tracking the Seven Sisters'.
Ah, but were there always seven? For my non-Indigenous readers, the Seven Sisters is almost certainly the Pleiades, the cluster of stars so close to Earth that we think we can count them and accept the linkage from Ancient Greece that associates them with the seven daughters of Atlas and Pleione, transformed by Zeus into seven stars, their name in Greek meaning "constellation of the doves". In fact, modern telescopes reveal at least 800 solar masses in that area, so it's more than likely that Aborigines – who, of course, spent some 60,000 years lying on their backs at night looking at the heavens and telling themselves stories about the stars – saw far more than seven with their desert-trained eyes. Coincidentally, though, they also saw sisters.
But, however astronomically accurate they might be, Aborigines are a land-based people. So those sisters needed events on the land to justify these stars' permanent presence in the skies. And since so many language groups could see the Pleiades, they developed a coordinated saga covering at least 7000kms from the coast of Western Australia into the continent's heart (and then on to the East coast) justifying all that travelling by having a randy man pursue the sisters, both parties using their magical skills to attempt to take advantage of the other. And where such encounters occurred, the story explains a particular rock shape, a waterhole or a food source being there.
Linking all this complexity up is called a Songline – something rather more than Bruce Chatwin's view of it limited to meaning an unwritten map.
And even more complex than the quotation with which curator Margo Neale opens the whole show from Noel Pearson, designed to suck non-Indigenous people in: "It is this culture that is the Iliad and Odyssey of Australia. It is these mythic stories that are Australia's Book of Genesis"!
And, while that tempter may be interculturally dodgy in a museological sense, Dr Neale is also being radical in attempting a sea (and earth) change in the way Aboriginal art is presented. Whereas the catchcry amongst institutional curators of late has been "It's contemporary art", which, by definition, needs no explanation, she is seeking to answer the greater public demand for meaning. And she's well supported in that by the Aboriginal elders who, in the first place called upon the National Museum and ANU to come to their aid: "You mob gotta help us", Anangu elder, David Miller demanded in 2010. "Those songlines have been all broken up now (by mining and pastoral business, and by the loss of engagement by younger Anangu) ....you can help us put them all back together again".
And the Seven Sisters, one of five major trans-national travelling stories, was as good a place as any to start – wandering as it does through three deserts and four different language groups from Tinki, inland from Roebourne on the WA coast to Alkara, somewhere south of Uluru, and then heading back west to Kununurra.
Much of the story is told through painting, of course. But there's strong contribution too by other art forms, from the sung to the digital, from pottery to Tjanpi weaving – which offers a perfect way to represent the Seven Sisters flying away from their pursuer and provocatively unveiling their nether regions as they escape to the next confrontation. Not all of the art is 'museum quality'. Yes, there magnificent works like Wingu Tingima's 'Kuru Ala' (2007), the Spinifex Arts Project collaborative of the same name (2016) and the Papulankutja Art Centre collaborative work, 'Kungkarrangkalpa Tjukurrpa' (2015), which is actually the Ngaanyatjarra way of saying 'Seven Sisters Dreaming'. But the tail-end of the exhibition heads quite deliberately to the Wanarn Pensioners Home to recover pillow-slips and wheelchairs that the aged artists there have, in their cultural hunger, painted in the absence of canvas. Even here, though, the 84 year old Tjunka Lewis in the year before his death has scattered a jewel-like pattern of yellow and red dots on black in 'Patjarrtja' (2011) which the catalogue identifies as "revealing the skeleton of the structure (of the story) that lies like secrets within".
And song is the best possible way of remembering those secrets – using mnemonics as we call it. Song is a kind of musical map, weaving history, topography, spirituality, science survival, navigation and tribal law together seamlessly. So different to the way the Western mind archives everything separately. And so important to both the Aboriginal future and the ability for the rest of us to understand our country. For, if the stories die, part of the culture dies and the country dies. Margo Neale wants non-Indigenous Australia to acknowledge the centrality of the Songlines to our mutual survival.
And the exhibition attempts to achieve something that the art alone – however well explained – cannot. As Anangu elder, Keith Stevens explained: "Whitefellas are seeing all our work on canvas, but we want people to see the places that really are this Dreaming. Then you will see how much we love our Country and why we always want to stay here".
Go to Canberra to experience something of those places captured in multi-media – especially via the domelab that transports you from desert rock-art to the heavens - and make the jump to the knowledge system developed over 2000 generations that governs Aboriginal life. Pity it's too late for Banjo Paterson! And if you can't get there, fall back on the almost-comparable catalogue that just about does everything apart from sing.
URL: http://www.nma.gov.au/exhibitions/songlines

Share this: »
del.icio.us »
Digg it »
reddit »
Google »
StumbleUpon »
Technorati »
Facebook
Contact Details
Gallery: National Museum of Australia
Email: information@nma.gov.au
Telephone: +61 2 6208 5000
Address: Lawson Crescent Acton Peninsula Canberra 2600 ACT

Gallery: National Museum of Australia
Email: information@nma.gov.au
Telephone: +61 2 6208 5000
Address: Lawson Crescent Acton Peninsula Canberra 2600 ACT

'Kuru Ala' (2016) the rock face with two 'eyes open' where Wati Nyiru looks down on the Sisters, painted by the Spinifex Collaborative consisting of Estelle Inyika Hogan, Myrtle Pennington, Ngalpingka Simms, Lorraine Davies, Debbie Hansen, Tjaruwa Woods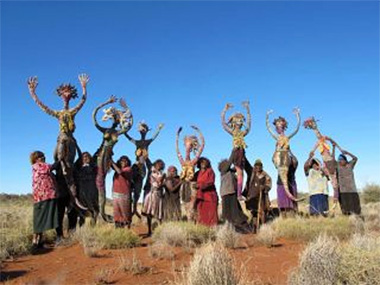 The Tjanpi Desert Weavers 'fly' the Seven Sisters to escape the clutches of Wati Nyiru, their "relentlessly priapic" pursuer
Where is the exhibition?
Further Research