Art Fairs Exit - and Entrance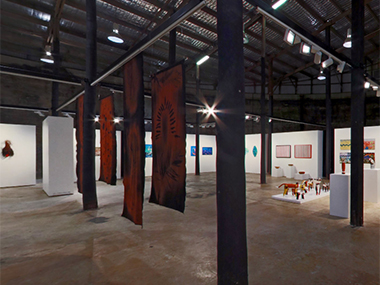 The big prize-winner at CIAF, Clinton Naina's 4-panel installation, 'Stolen Climate' hanging in the Tanks Arts Centre in Cairns
Posted by Jeremy Eccles | 24.08.20
Gallery: Cairns Indigenous Art Fair


The online art fairs are over for 2020. Still no sales figures from either Darwin (See Below) or Cairns though an examination of their websites suggests that sales at the lower price end were pretty good, but a $2000 barrier stood in the way of online buyers throwing their money about. Pity – because quality really starts there!
In Cairns, the Indigenous Art Fair closed yesterday with its traditional prize-giving – aren't fairs about selling rather than winning??? - and the esteemed judging panel comprised Queensland's leading Indigenous curators and an artist - Bruce Johnson-McLean (formerly at the QAG, now Assistant Director, Indigenous Engagement at the National Gallery), Carly Lane (a Queenslander, but now Curator of Indigenous Art at the Art Gallery of Western Australia) and Judy Watson (the artist, from Waanyi country in north-west Queensland).
Impressed by the quality and diversity of the art in this year's 'Climate Change' themed exhibition, the judges said they were delighted and honoured to engage with such a strong body of work.
"Although it upsets us not to be in Cairns to experience the immersive celebration of art and culture that CIAF delivers, one of CIAF's great lures is that every year there is something new and different to excite audiences – it is never predictable – and this year is no different.
"In this year – one which has brought many of us great pain and uncertainty – it is important to regroup and reconnect with culture, stand tall and maintain. Always was, always will be……"
More than 50 Queensland artists whose 421 pieces featured in the curated Art Fair were eligible for judging, with criteria based on creativity and response to this year's climate change theme.
Premier Annastacia Palaszczuk said her government was proud to continue to support CIAF and to sponsor the event's largest prize, the $15,000 Premier's Award for Excellence. "I'm delighted to announce the winner of the CIAF 2020 Premier's Award for Excellence goes to Clinton Naina, for his 4-panel installation, 'Stolen Climate',," the Premier said.

"The judges said it was a haunting exploration of the shared suffering Indigenous people experience in times of crisis. The visceral grief and pain that sits heavily in both the artist and the collective unconscious is beautifully expressed. This installation is very strong and would work well in its own space, allowing the viewer to meditate on the imagery and the deeply felt emotions imparted by the artist," they said.
Clinton Nain (as he was formerly known) is the second youngest of seven siblings, including his sister Destiny Deacon – about to be feted at the NGV in Melbourne, where they were all born. His mother descends from the Meriam Mer people of the eastern Torres Strait, also the ku-ku people of Cape York. On his father's side, his lineage is from Denmark and Ireland.

The winner of the Cairns Regional Council Art Centre Award ($10,000) is Erub Arts for its subtle but strong approach to this year's theme of climate change, making their multi-layered ghost net installation comprising many sculptural elements a 'stand out'.
CIAF's 2020 winner of the Holding Redlich Innovation Award ($10,000), is Paula Savage for her 'Coral Bleaching' triptych on paper, which repurposes traditional weaving practices to create a woven, two-dimensional form which, according to the judges, immediately captured their attention and was considered, 'pure genius'.
This year's Ports North 3D Design, Sculpture and Installation Award ($5000) was won by Toby Cedar (WA-born but from Darnley and Moa Islands) for his five-piece installation, 'Beizam Tirig' (Shark Teeth) highlighting the significance of culture and spirituality as a oneness with the different forces of nature.
Meredith Arkwookerum from Cape York's Pormpuraaw Arts and Cultural Centre was awarded the BDO Emerging Art Award ($5000) for her three 'Lorikeet and Parrot' acrylic works. The judges remarked that Arkwookerum's vibrant paintings are full of life and display a genuine love for Country and all that encompasses.
Online visitors to CIAF 2020 determined Agnes Wotton of Palm Island for her work, 'Sea Anemone' the final category winner in the Fibre Optics NQ Peoples Choice ($5000 prize).
Judges' special mentions went to Mylene Holroyd, Tommy Pau, Mornington Island Arts, Pormpuraaw Arts and Cultural Centre and Wik and Kugu Arts Centre.
The next major art fair will be in Alice Springs at Desert Mob - 12 – 19 September, online. But then comes Adelaide, where it's just been announced that the Tarnanthi Art Fair will be held from 4 - 6 December – hopefully in physical form.
Just in from DAAF - "We are incredibly proud to announce that more than $2 million was generated in sales and over 44,000 people visited the event! As always, DAAF takes no commission - 100% of these sales have gone back to support the Art Centres".
URL: https://ciaf.com.au

Share this: »
del.icio.us »
Digg it »
reddit »
Google »
StumbleUpon »
Technorati »
Facebook
Contact Details
Gallery: Cairns Indigenous Art Fair
Contact: Janina Harding / Vanessa Gillin
Email: artfair@ciaf.com.au
Telephone: 07 4050 7712
Address: 51 The Esplanade Cairns 4870 QLD

Gallery: Tanks Art Centre
Contact: Stephen Foster
Email: info@tanksartscentre.com
Telephone: +61 7 4032 6600
Address: 46 Collins Avenue Edge Hill Cairns 4870 QLD

"Pure genius" was the judges' assessment of Paula Savage for her 'Coral Bleaching' triptych on paper, winner of the CIAF Innovation Award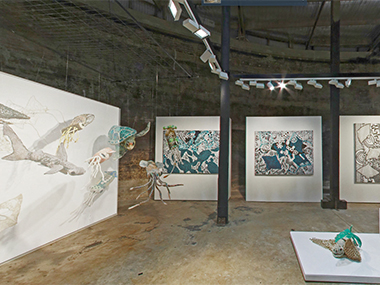 The multi-layered ghost net installation by Erub Arts from the Torres Strait comprised many sculptural elements and was hailed as "a stand out"
Where is the exhibition?
Further Research