Fairs Fare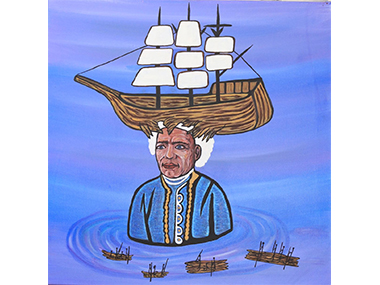 The catalogue image for 'Undercurrents' in the Cairns Tanks Art Centre - created by artist Mylene Holroyd from Pormpurraau
Posted by Jeremy Eccles | 12.08.20
Dates: 07.08.20 : 23.08.20

The two biggest First Nations art fairs are both either on or about to be. So, if you've a sense that these devastating times are just the right ones to support Indigenous artists in the most direct way, then this year all you have to do is to tune your computer in to either (or both) of the Darwin Aboriginal Art Fair's or the Cairns Indigenous Art Fair's websites and get out your credit card!
And many have been doing that for DAAF's – which ends on Friday as CIAF begins - with a torrent of red dots online. Perhaps the fact that you don't have to be in Darwin or Cairns and could be in Timbuktu has actually increased the potential audience exponentially. Amazingly, both fairs are also doing their best to offer a first-hand experience with opening and closing ceremonies, music and dance performances, kids story-telling, Tjanpi basket-weaving lessons (sold out), and in Cairns, both a Climate Change side-bar and a program of discussions lead by the ubiquitous Wesley Enoch on matters such as Indigenous tourism and Captain Cook!
Poor old Cookie! Though fair enough, there is bound to be an imbalance between the written colonial history and First Peoples oral versions of the same events. So Cook does have special relevance in FNQ as a result of his 48 days on Guugu Yimithirr Country in what is now Cooktown and the home of Hopevale Art Centre artists. And they are contributors through paintings, works on paper, sculpture, photography, textile installations and screen to a special show at CIAF called 'Undercurrents' in which 24 North Queensland artists consider the legacy that almost all of the rest of us have put behind us once the Prime Minister's daft circumnavigation project was canned. Up there, as local artist Jack Wilkie-Jans so politically correctly puts it, they have "Cook's racial othering" to consider. Fortunately, Pormpurraau's Mylene Holroyd seems to take a lighter view of the matter (see image).
But her views are now online at the CIAF2020 site: "This year is the 250 year celebration of Captain Cook discovering our country. The place was filled with Aboriginal people who owned the land. We have been here from the beginning. We see Cook as a mongrel invader. When he came here, people told him to go away, but he did not listen and brought back all his mob".
I'm not quite sure how the CIAF website will tackle the fair side of things because it only goes live on Friday, but they say 300 artworks will be for sale, and their creators will be eligible for the CIAF Art Awards. If price is a key factor, the enterprising Andy Duffin must lead the pack with a series of lawyer cane woven bicornual baskets with prices ranging from $17,600 to $20,900! Sadly, the conversations and workshops at CIAF are only available on Facebook.
However, using the DAAF website as the model, then each of the Queensland art centres (they're very patriotic up there) would have its own pages - anything up to 15 of them - and maybe 60 or more offerings of works ranging from a Regina Wilson painting (at Durrmu) for $2600 or an even pricier Nonggirrnga Marawili bark from Buku Larrnggay, via carvings and ghost-net baskets from coastal art centres, to tie-died T-shirts or jewellery for less than a $100. I noticed a kangaroo cloak from Tassie – and the really significant first appearance (as far as I know) of a Tasmanian community art centre – Nayri Niara in Hobart. A sell-out by artist Jacob Tchora from the Thamarrur Men's Shed at troubled Wadye was pleasing, and a shell necklace from Tassie had sold without even needing its image to be available!
And, on the DAAF model, you can buy something from Baluk in Victoria and another piece from Anindilyakwa on Groote Eylandt in the same basket – presumably paying DAAF with your card. However, should you try to buy a Bark Painting through their Search offering, the odd result was offerings of material from Babbarra at Maningrida, a necklace, a woven Yawk Yawk and a length of Injalak linen!
Intriguingly, there's so much art available in FNQ, that three Torresian, Mornington Island Arts and five Cape York art centres are managing to show at both fairs.
And, in a late update, the Darwin Fair has, by popular demand, extended its online opening until Sunday, 16 August, 11.59 pm. Very competitive!
URL: https://daaf.com.au/art-fair-2020/; https://ciaf.com.au/program

Share this: »
del.icio.us »
Digg it »
reddit »
Google »
StumbleUpon »
Technorati »
Facebook
Contact Details
A witty image by Lockhart River's Naomi Hobson as part of the CIAF's special Climate Change exhibition this year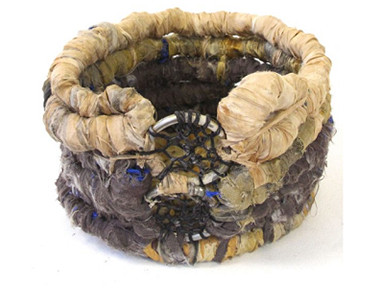 Groote Eyelandt's Tammy Lalalra says she's happy to work all night to weave works like this ghost-net and bush dye basket for DAAF
Further Research