The Very Late Charlie Flannigan
Many equine subjects appear in Charlie Flannigan's drawings. Could this be him escaping from Auvergne Station after killing its manager?
Posted by Jeremy Eccles | 16.03.21
Dates: 10.03.21 : 27.06.21
Location: Northern Territory Library, Parliament House, Darwin

Drawings by a prisoner who became the first person to be executed at Darwin's Fannie Bay Gaol are currently on show at the Northern Territory's Library in Parliament House, Darwin. 'A Little Bit of Justice: The Drawings of Charlie Flannigan' will be exhibited until 27 June.
Charlie Flannigan, an Aboriginal/Irish stockman from Queensland, came to the Northern Territory in 1883 as one of the drovers who brought the first herd of cattle to Wave Hill and Victoria River Downs stations. He was a well-regarded horseman and prize-winning jockey who took out the Palmerston Cup (and two other races) at a meeting in 1887.
Nine years on in 1892, Flannigan's fate was sealed when he fatally shot Auvergne Station manager Sam Croker. Varying reports say there was an argument over a game of cribbage, or that he and Croker had a vendetta to settle. They had both worked together for Nat Buchanan, and Flannigan had only been at Auvergne one week. Curator Don Christophersen believes that Croker fired the first shot which then turned into a Wild West gunfight. The killer fled across the border to Western Australia but later turned himself into police and was transported by boat from Wyndham to the notorious Fannie Bay Gaol.
Flannigan's death sentence caused significant controversy, but despite a public outcry which saved some of the nine other prisoners due to be executed, he was hanged at Fannie Bay Gaol – the first legal execution in the NT - on 15 July 1893 after declaring, "I'm sorry for the life I led but I'm sure it will be okay where I'm going". Earlier he'd expressed a little doubt: "Not sure whether I'll become a stoker in Hell or come back with wings on!".
While awaiting his execution in solitary confinement, Flannigan, whose literacy was limited, created 82 drawings that depicted his life, his work and his arrest, though some were quite bizarre and seemed to be based on contemporary magazine images, particularly the British 'Punch' magazine's titles. His art provides a unique insight into Northern Territory history and the life of a stockman in the late 1800s.
Of course, at that time, the NT was governed from Adelaide, so Flannigan's 41 double-sided drawings ended up in the South Australian Museum after 130 years, and will presumably transfer to the new Aboriginal Art & Cultures Centre with SAM's First Nations collection.
"These are strong images that document the life of a hard worker who came to the Territory as our pastoral industry was still in the throes of development", commented Chansey Paech, the NT's Minister for Arts, Culture and Heritage. "A talented artist who showed great attention to detail, Flannigan produced these works while impeded by leg shackles and handcuffs. The drawings offer insight into Flannigan's own life as well as the Territory's history and exemplify the importance of preserving our past through art".
In a contemporary newspaper article, the July 15th 1893 report read : "The execution of Charlie Flanagan … took place at the Fannie Bay Labour Prison at 9 o'clock to-day. Since his conviction the prisoner had maintained a cool demeanour throughout. His chief expressed desire was that he should not show the white feather. Although admitting the crime for which he was sentenced, he showed no contrition or desire to avoid the death penalty. He slept well last night, and breakfasted and smoked this morning, and mounted the scaffold alone. The whole arrangements for the execution were carried through successfully, and death was instantaneous".
This was a great relief to authorities who'd put much effort into not messing up their first hanging.
URL: https://ntl.nt.gov.au/announcement/little-bit-justice-drawings-charlie-flannigan

Share this: »
del.icio.us »
Digg it »
reddit »
Google »
StumbleUpon »
Technorati »
Facebook
Contact Details
One of Flannigan's weirder drawings - surreally based on Punch magazine's style of playing with its title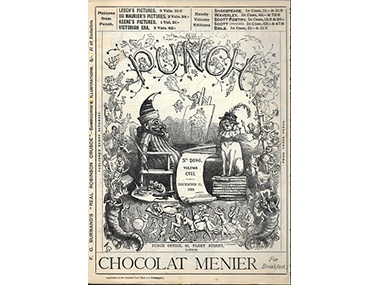 A Punch magazine cover which surely inspired Charlie Flannigan's drawing
Further Research