Aboriginal Art Storms Online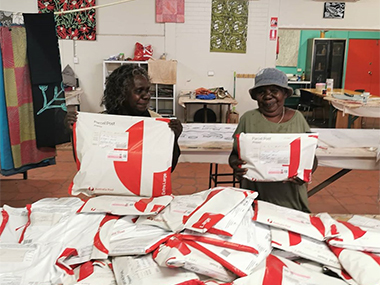 A delightful image showing the consequences of success at the Darwin Art Fair online - much posting from the Bábbarra Women's Centre at Maningrida
Posted by Jeremy Eccles | 17.11.20
This year has been one of terrible isolation for many people – none more so than the remote First Nations communities that produce so much of Australia's greatest art at the moment. But that very enforced isolation has a) kept them healthy and done much to increase cultural communication between the locked-down generations and b) forced both the art fairs where so much art is displayed and sold to develop online selling systems that have worked and taken our art to the world without having to travel.
As Desart – representing 34 art centres across the central Australian deserts reported, "In a first, the event went online due to the pandemic and closed borders to the Northern Territory. And total sales over the week of the DesertMob Marketplace were over $700,000, with close to 2,000 works sold and over 56,000 virtual visits". "While part of us asks is this a false economy because of the lockdown", speculated Carmel Young, Desart Program Manager, "there is also a realisation that we can leverage off the two – online and live events – so maybe the future is a mix".
One international visitor told Desart, "I live in Denmark and went online in the quiet dark night and I was blown away by paintings in the most beautiful colours. Being able to visit the Marketplace again and again was such a pleasure. And I discovered a wealth of art and explanations when visiting the art centres. I did not know they were also online".
Of course it was an advantage that the fair was able to extend its availability from a weekend to a week online; and, in an attempt to keep the momentum going, they added a brand new Christmas Marketplace last weekend.
Earlier, the Mummy of them all, the Darwin Aboriginal Art Fair headlined "69 Art Centres, 1,335 Artists, 6,118 Artworks, More than $2.6 million in sales, Over 44,500 unique online visitors".
Having pulled together its digital platform in less then 3 months, the proof of their efforts came in reports such as: "Warlayirti Artists hit its highest grossing month in almost 10 years", "Jilamara almost doubled sales from previous fairs; on a number of occasions, we needed to upload more works to meet the positive responses of customers!"; "Girringun sent purchased works as far as the Netherlands, and describes its sales as "Amazing … our aim was to make at least one sale, given the current circumstances our industry is facing. Every day we logged-in, it was like a joyous celebration".
DAAF also hosted the inaugural National Indigenous Fashion Awards via NITV.
In Queensland, the Cairns Indigenous Art Fair went digital for 10 days in August. Once again, big numbers. CIAF's Facebook posts and 40 free livestream performances reached an amazing 2,646,397 people in 80 countries, while its selling website was visited 12,968 times by 85 countries. As a result, sales tallied up to $330,781, $4,000 more than in 2019. That's just 1.3%.
CIAF's Artistic Director Janina Harding said that choosing to proceed with a virtual program allowed the event to maintain and grow its already powerful brand. But the event's commitment to create an online presence was exhaustive in terms of production and the logistics associated with curating 36 hours of compelling content.
"Art sales not only bring economic benefits to artists; it lets artists provide their world view to those who want to be better informed," she said.
While we're in Queensland, it may be noted that the entrepreneurial State government has linked the Indigenous Artists Hub of FNQ with a commercial mob called iihub to develop their artist's websites.
Meanwhile, across the north, Pinterest Australia has partnered with the Arnhem, Northern and Kimberley Artists Aboriginal Corporation (ANKA) to launch Northern Indigenous Renaissance, a digital art and photography exhibition connecting remote art centres to the virtual world. ANKA represents 47 Aboriginal-owned remote community art centres and an estimated 5,000 artists.
Carin Lee-Skelton, Country Manager Australia and NZ at Pinterest said "We wanted to give people an opportunity to be inspired and discover the amazing work that's happening around Australia." And with the site on the ANKA Pinterest profile, they're providing a curated board for each participating artist or art centre. "It was important for us to help people be inspired by and discover the artwork, the community, and the story behind the art," Lee-Skelton added.
A quick scan of the site (https://www.pinterest.co.uk/today/article/naidoc-week-2020-anka-art-gallery/59470/) suggests that the Buku Larrnggay Art Centre, for instance, has been able to upload a range of pictures including the barks of its major artists, some weaving and sculptural work, jewellery, and a wacky film announcing "We're back" showing surprised artists working away at the now-open art centre. Links are to Buku's sales page, but no direct sales can be made.
Just finished in Canberra, the usual weekend Indigenous Art Market ran for a week via the AIATSIS website, which hosted 20 art centres – from Gapuwiyak off Arnhemland to Ngarga Warendj – the Dancing Wombat, somewhere in SE Australia. Talking of which area, Carriageworks in Sydney opens its Online Market on Thursday 26 until Sun 29 November.
"SOUTHEAST showcases the extraordinary cultural traditions and contemporary art of south-east Aboriginal Australia. SOUTHEAST brings together 26 independent artists and collectives with over 250 artworks for sale across ceramics, jewellery, weaving, carving, textiles, photography, painting and prints. 100% of proceeds of sale go to the artist".
And then we go live again! Over in the still disease-free West, the State's art centre facilitator, AACHWA will be offering a members' exhibition and marketplace at the Midland Junction Arts Centre until Saturday.
Bringing together Aboriginal artists from across Western Australia, Yoowalkoorl meaning "Come on, Come here" in Bibbulmum/Noongar, presents work by local Aboriginal artists and artists from the following art centres: Martumili Artists, Mowanjum Aboriginal Art and Culture Centre, Nagula Jarndu Designs, Papulankutja Artists, Tjarlirli Art Centre, Tjukurba Art Gallery/Birriliburu Artists, Warakurna Artists, Warringarri Aboriginal Arts and Kira Kiro Kalumburu Art Centre.
There's a catalogue on the Midland Arts website, but no sign of any effort to sell online.
Which all leads up the Tarnanthi Art Fair – health permitting in Adelaide – which is live and physical from 4th to 6th December. It's establishing the Indigenous presence at Lot 14 – the site where the future Aboriginal Art and Cultures Centre will be built. No fewer than 49 art centres are taking part – with their art, but, sadly, not with their artists or art coordinators.
Although Tarnanthi has been organised brilliantly by the Art Gallery of SA for a number of years now with the help of generous BHP funding, this time a new organisation, Agency has been brought in to assist with the fair. I wondered why they were needed, and Agency CEO Kade McDonald – ex Buku and still with Durrmu art centre – responded: "In a year with limited abilities to safely travel and a year full of uncertainty, AGSA needed to ensure the representation of Art Centres was equal and fair to the best of their abilities. Agency has supported this through working with the 49 different organisations to help them select a diverse body of work to showcase their best work to an in-person art fair for the first time this year".
On show will be video works and films of artists making their work, discussing their motivations and traditions, all accumulated by Agency. Adelaideans will be able to experience art from as far away as Moa Island in the Torres Strait and as close as Arts Ceduna.
So what is Agency and why does it need to exist when First Nations art already seems to have a plethora of facilitators? Fundamentally, it's a continuation of Kade McDonald's individual efforts "to foster entrepreneurship and capacity building" since he left Buku Larrnggay, giving him organisational support, a board and, hopefully, regular funding from both philanthropists and the Government's Indigenous Visual Arts Industry Support piggy-bank. On his record already are his work to promote the artists of Peppiminarti, raising funds for the recording of stories at Milingimbi, and the delayed but ever-expanding 'Madayin Project' for America.
The essence in this would seem to be the primacy given to Yolngu leaders – Djambawa Marawili whose idea it originally was, and Wukun Wanambi as curator of this 80 year span of barks from NE Arnhemland. The links between work made today at the Buku Larrnggay arts centre and the historic collection going back to Thompson Time in the 30s at the Kluge-Ruhe Museum in Virginia have made it possible. And this has been recognised by America's National Endowment for the Humanities which has come up with US$300,00 to support the show's touring in 2022 and 2023, starting with the Hood Museum at Dartmouth University. The Hood was originally turned on to the Indigenous by Brian Kennedy – ex-NGA Director – and the gift of the Will Owen and Harvey Wagner Collection of Aboriginal art.
The Hood has been able to offer the project "some amazing digital curation", says McDonald, which has been vital in the absence of any travel this year by the Yolngu leaders. "They're amazingly cool in the digital space", says McDonald admiringly. In addition, the Hood has commissioned new work.
Back to the art fairs, and recognising that 2020 has been a totally abnormal year, but that online marketing developments have been such a success that they're bound to continue, I do have to wonder why each fair has developed its own website? And in my limited experience, some were much more user-friendly than others. Is this perhaps a project for Agency to find out just what art centres need beyond physical selling then to create a national fair website that really tackles "entrepreneurship and capacity building" in the business??
URL: https://agencyprojects.org/home

Share this: »
del.icio.us »
Digg it »
reddit »
Google »
StumbleUpon »
Technorati »
Facebook
Contact Details
A reminder of what First Nations art fairs normally look like!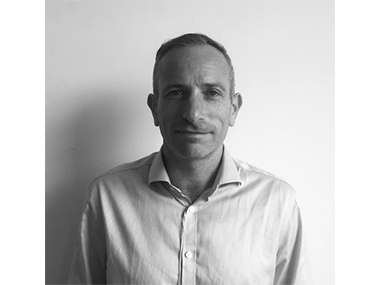 Kade McDonald - CEO of the new Agency support organisation.
Further Research