MILINGIMBI ALL OVER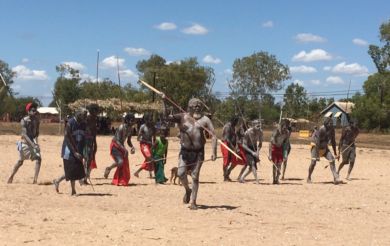 This is the Makarrata ceremony itself, being led by Yolngu elder Richard Gaykamangu.
Posted by Jeremy Eccles | 24.08.16
Gallery: Art Gallery of NSW
Dates: 12.11.16 : 29.01.17

The unfashionable name of Milingimbi – a place that doesn't even appear in the index for the 'Oxford Companion to Aboriginal Art and Culture' published in 2000 – may soon be cropping up all over. This Yolngu island off the coast of Central Arnhemland was the place where an early Methodist mission was established in 1923, where, soon afterwards, American sociologist W Lloyd Warner based his research for the ground-breaking book, 'A Black Civilisation', and was the source for adventurer Sir Hubert Wilkins first sighting of bark paintings nearby.
As a result, the 1948/9 American/Australian Scientific Expedition to Arnhemland certainly collected material at Milingimbi, and in the 50s and 60s, the Reverends Edgar Wells and Alan Fidock's energetic support for art and artefact making there found a receptive white market in the Mission's commercial outlets down south. Djon Mundine came as an art adviser in 1969 and found a lively art scene; but soon departed for the mainland Ramingining, from where he developed the Bicentennial Memorial Poles project for the National Gallery.
With family members all-too-often leaving the island for Ramingining, Elcho Island or Maningrida, Milingimbi began to disappear from the picture, and the achievements of its artists such as Binyinyuwuy, Buranday, Dayngangan, Dawidi, Djäwa, Djimbarrdjimbarrwuy, Lipundja, Malangi and Makani – many of whom painted (in the 60s) in a dynamic style that others in Arnhemland would only discover in the 80s – have faded. Even the notorious One Dollar note design, stolen by the Reserve Bank from David Daymirringu's bark painting (carried through Sydney by French collector, Karel Kupka – has became obsolete and replaced by coinage.
But their works are out there somewhere, many in museums and art galleries, such as the AGNSW, which, surprisingly, bought a large number of works in 1962 from the Rev Wells when he retired – only just after the defining moment in 1958 when the Scougall/Tuckson commission of Pukumani Poles from the Tiwi Islands was accepted by the Gallery. Djon Mundine reports (in 'The Native Born') that the missionaries paid four or five pounds for a work at this time.
Mundine also explains the following at this on-the-cusp time of commercialisation for Aboriginal art:
'In traditional practice, at the end of most major ceremonies, secret-sacred painted compositions on the human body dissolved. Meanwhile sculptural pieces were usually destroyed, or hidden away to be reworked at the next ritual. However, instances now occurred of the sale of such objects to anthropologists and other researchers. Destined for distant museums, and thus never to be seen again, such objects were still thought of by their Yolngu creators as being, in effect, destroyed.
Interestingly, there was a strain of Aboriginal thought developing that certain of these secret-sacred objects should go to white museums because of the fear on the part of elders that theirs might be the last generation to construct such imagery and carry on the religion with conviction. Of course, this was not to be the case.
It must nevertheless be understood that with the coming together of practitioners in a prescribed way to produce a community-directed work, the process is actually more important than the object itself, imbuing it with spiritual and social meaning.'
But times change. That which disappeared and was considered destroyed is now of interest. And this is partly the result of southern (and overseas) institutions realising how little they really know about their holdings; the artist might not even be named if a work was collected as ethnology rather than art. It's partly political correctness in that those institutions are increasingly reluctant to show art and artefacts without the permission and interpretation of what have come to be called the 'contemporary cultural custodians' of the appropriate community. And it's certainly also a demand from those communities to know where their old work is and to relate it to current ceremonial and artistic need. Cape York ceremonies have been revived on the strength of visits to the National Museum, for instance. The late great Dr Joe Gumbula from Milingimbi and Steven Wanta Patrick from Lajamanu have been especially diligent in hunting down wandering material culture.
So the guys on Milingimbi decided on a Makarrata. Traditionally, this was how disputes were resolved, and is often translated as pay-back. Spears were once involved and some considerable pain. "Makarrata was embedded in the roots of our law and culture," explains senior Djambarrpuyngu man, Lapulung Dhamarrandji, who lead the proceedings locally. "This is the Law of the Law, not the changeable law created by men. Yolngu law of which Makarrata is part, never changes. It's been here since eternity and contains not only all fo the past and the present but all of the future as well", he amplifies in the excellent booklet produced for this occasion earlier this month.
Spears, but no actual spearing was involved this time when curators from just about every major institution in Australia – from TMAG in Tasmania to MAGNT in Darwin, via the Directors of Museums Victoria and the National Museum of Australia in Canberra - came to resolve the situation in distant Milingimbi. So did French, Swiss (with objects obtained by Karel Kupka) and American curators from a list of 50 institutions engaged around the world. "It would have been a hell of a lot easier to have done it in Canberra", admits one of the organisers, Dr Louise Hamby from the ANU, "but we couldn't have ended up there with a Makarrata Resolution, a document that I hope will come to have the same import as the Bark Petition to Parliament".
For every one of those institutions has been challenged to show something from Milingimbi in the coming year as a first step to achieving the ceremony's aim of building a two-way bridge between the art world and the island community. At the NMA, Matt Trinca agrees it's a priority for his team to digitise all its Milingimbi material. At Museums Victoria, Patrick Greene is in discussions to bring members of the impressive Crocodile Islands Rangers – especially its younger players – down to Melbourne to expand the horizons of his Koorie staff.
And the Art Gallery of NSW is definitely offering 'Art from Milingimbi: taking memories back' from 12 November to the end of January 2017. This exhibition "showcases the work of key artists working there in the 1950s, men who had their own style and vision, and were at the forefront of the art movement that emerged under the guidance of Rev Edgar Wells". Like Milingimbi itself, their work has been locked in the AGNSW vaults for too long.
Unlike most of the Makarrata's visitors, Louise Hamby and the Melbourne Museum's Lindy Allen have been around Milingimbi since 2003 researching various projects, including the presence there of the pioneering Donald Thomson (father of his own Thomson Time in the Arafura Swamp, as seen in the film 'Ten Canoes'), and the 50 year span of the missionaries. This project has taken 3 years to bring off, and Hamby's pretty happy that "now, everyone's in the loop, and Milingimbi's back on the map"!
URL: http://www.artgallery.nsw.gov.au/exhibitions/milingimbi/

Share this: »
del.icio.us »
Digg it »
reddit »
Google »
StumbleUpon »
Technorati »
Facebook
Contact Details
Gallery: Art Gallery of NSW
Contact: Cara Pinchbeck - Curator of Aboriginal and Torres Strait Islander Art
Email: artmail@ag.nsw.gov.au
Telephone: +61 2 9225 1700 or 1
Address: Art Gallery Road Sydney Sydney 2000 NSW

Gallery: Art Gallery of NSW
Contact: Cara Pinchbeck - Curator of Aboriginal and Torres Strait Islander Art
Email: artmail@ag.nsw.gov.au
Telephone: +61 2 9225 1700 or 1
Address: Art Gallery Road Sydney Sydney 2000 NSW

A group of objects brought to Milingimbi by Beatrice Voirol from the museum der Kulturen in Basel, Switzerland. They had been collected by Karel Kupka, who went on to author 'Dawn of Art'.
A larrakitj made by the artist, Joe Dhamandyji and dedicated to his late brother, the Yolngu academic Dr Joe Gumbula.
Where is the exhibition?
Further Research