Sotheby's NY Inaugural Aboriginal Art Auction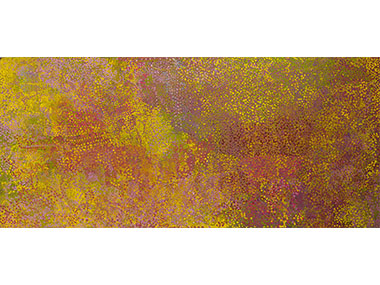 Emily Kngwarreye's Summer Celebration (1991) achieved $US596,000.
Posted by Aboriginal Art Directory | 17.12.19
Gallery: Sothebys New York


The first dedicated Aboriginal art auction in the US by an international auction house was held by Sotheby's in New York on December 13.
The sale surpassed its high estimate with 88% of all lots sold and set eight new world auction records. Featuring modern and contemporary indigenous Australian art dating from the 1950s to the present, the auction continues Sotheby's position as market leaders in the field since dedicated sales were established in 1997.
Timothy Klingender, Sotheby's Senior Consultant Australian Art - who initiated the event - said, "The results are a watershed moment for Aboriginal art and an incredible introduction to auctions of Aboriginal art of this scale in the United States. To showcase these extraordinary works of art in Sotheby's New York galleries was a significant statement of the value of these artists on the international market, and the response was very enthusiastic.
"Bidders were active from all over the world, with a large concentration of new bidders from the U.S. and Europe, further indicating the appeal of Aboriginal art to a growing international audience. It was equally thrilling to see a number of artist auction records established, setting a new standard for Aboriginal artists. We hope the results from this sale will mark a new era for Aboriginal artists to be recognized as significant contemporary artists in their own right."
The auction was led by a colourful three-metre painting by Emily Kngwarreye, Summer Celebration (1991), which came from the Thomas Vroom Collection. It achieved $US596,000 against an estimated $US300/400,000.
Gordon Bennett's icon of post-colonial postmodernism, Self Portrait (But I Always Wanted to Be One of The Good Guys) (1990), sold for $US437,500 (estimate $US350/450,000) – setting a new auction record for the artist. A culmination of a series that Bennett had been working on throughout 1990, the monumental painting illustrates Bennett's self-declared mission to upturn the colonialist assumptions of Australian national culture. Depicting a five-year-old Bennett dressed in cowboy garb as he conjures frontier scenes appropriated from educational Australian social studies books, the painting is an illustration of the artist's personal struggle with his identity as a child of the stolen generation.
Another auction record was set with Ronnie Tjampitjinpa's Tingari Ceremonies at The Site of Pintjun, which fetched $US243,750 against an estimate of $US120/180,000. From the Collection of Gabrielle Pizzi, the work was recently featured on the cover of the catalogue for curator Kaspar König's exhibition, 'Remembering Forward – Australian Aboriginal Painting Since 1960,' mounted by the Museum Ludwig in Cologne. A classic example of his style, Tingari Ceremonies at The Site of Pintjun features repetitive, geometric shapes and bold lines in the traditional four basic colours of black, red, yellow and white, representing the activities of the Tingari ancestors, and evoking the sacred powers of these supernatural creators, who established Pintupi law and ritual – a common theme throughout Tjampitjinpa's oeuvre.
Additional auction records were established for:
•Kayili Artists, Yunpalara (Lake Blair), $US162,500
•Mawalan Marika, The Seagull, $US56,250
•George (Tjampu) Tjapaltjarri, Karpadi, $US68,750
•Paddy Jupurrurla Nelson & Larry Jungarrayi Spencer, Yarla Jukurrpa (Bush Potato Dreaming), $US40,000
•Wentja Napaltjarri, Untitled, $US22,500
•Fred Ward Tjungurrayi, Patjanja, $US13,125
For more details, read Jeremy Eccles pre-auction review.

URL: https://www.sothebys.com/en/about/locations/new-york

Share this: »
del.icio.us »
Digg it »
reddit »
Google »
StumbleUpon »
Technorati »
Facebook
Contact Details
Gallery: Sothebys New York
Contact: Hallie Freer | Derek Parsons
Email: Hallie.Freer@Sothebys.com | Derek.Parsons@Sothebys.com
Telephone: +1 212-606-7176
Address: 1334 York Avenue New York 10021 New York

Gordon Bennett's Self Portrait (But I Always Wanted to Be One of The Good Guys) (1990) sold for $US437,500 - a record for the artist.
Ronnie Tjampitjinpa's Tingari Ceremonies at The Site of Pintjun set a record at $US243,750.
Where is the exhibition?
Further Research