Sun Shines on the Wiradjuri Festival
The set and the crowd for the world premier of 'Sunshine Super Girl' in Griffith
Posted by Jeremy Eccles | 12.10.20

Location: Griffith Regional Gallery

Refreshed after almost a week in the NSW country, I am excited about the Wiradjuri cultural revival that's going on in the Western Riverina. For the Yarruawala Festival taking place in Griffith, Narrandera, Leeton and Darlington Point displayed a seriousness towards the recovery of what was once an almost-extinct culture that was an honour to share.
Headlining the Festival was the world premier of a play, 'Sunshine Super Girl' about Evonne Goolagong Cawley, the first Aboriginal tennis player to reach Number 1 in the world (followed by Ash Barty today). As writer/director Andrea James told me in advance of that Griffith debut, "the area's teeming with Goolagongs, so it had to be seen in the place where it vibrates". But it'll be coming to Sydney in January, and no doubt tour further via producer Performing Lines.
In Griffith, though, the Griffith Regional Theratre - which had fought to get the premier on Wiradjuri Country - commandeered the local basketball stadium to suggest a flexible tennis court set and appropriate bleechers seating. Many a white outfit and flying tennis ball accompanied the unlikely progress of this lass "with soft brown eyes" and eight siblings born in a dirt-floor hut outside Griffith, requiring her Mum to sew her first court dress from a sheet overnight when the obsessed racqueteer was first allowed to play on a court in nearby Barellan.
And what a cheer for Barellan – the otherwise all-white town that embraced Evonne and family and sent her off to train in Sydney in 1965 with a suitcase full of donated clothes and racquets when she was 14. Appropriately, Barellan families with connections going back to then and Goolagong descendants were invited to the VIP opening, though sadly, Evonne herself failed to get through the Queensland border closure.
For Andrea James, the sporting side was pretty easy. Such grand slam successes over twelve years, including her marriage to former English player Roger Cawley and the birth of a baby, was a jolly roller-coaster, darkened only by the predatory behaviour of coach Victor A Edwards – ironically played by the reliable (and Indigenous) Luke Carroll. Though the question, "Why did I win?" from Evonne herself at the beginning was only half answered by the closing lines, "Why me? Why not?".
In the winsome Katie Beckett playing Evonne, we had an innocent face and character that went delightfully with such responses to the question as to why she accepted being "a white for a week" in order to play (and win) in apartheid South Africa - "I'm going to let my tennis do the talking". Perhaps Beckett can get a little more running under her belt before Sydney – her movement is not that of a super athlete, especially beside the three dancers who were recruited to create some of Evonne's graceful physicality through Katina Olsen's choreography.
But we're now in the 21st Century not the 1970s. And James has felt the need to politicise where, I suspect, Goolagong barely allowed herself to be troubled by it. Did she even know she was Wiradjuri, I wonder? But James contextualises her times by reminding us that Charlie Perkins was taking a bus to tackle racism just up the road in Moree, and suggests that the Blacks up in the furthest reaches of those South African courts where Evonne happily played were "empowered" by her winning.
Certainly now, Goolagong feels no need to live on Wiradjuri country, choosing America when she retired and then Queensland, where she now runs tennis development camps for Aboriginal kids. But the play brings her home to the iconic Murrumbidgeri River, fishing in the best spots that her mother had showed her, reflectively ensconced on an antique tennis umpire's chair as she was at the play's opening, getting "in the zone" for the catch, recapturing her mindset "back on the court". The river's murky waters are created by Karen Norris's evocative overhead lighting.
Maybe I'm making much more of the politics than I should? But I'm trying to place them in the context of what else I experienced in the Yarruwala Festival. Particularly, an interview with Kerry Johnson, founder and director of Burrundi Theatre in Griffith this year which created ceremony for the 'Sunshine Super Girl' premier as well as making the show, 'One Night at Warangesda', the 19th Century mission which offered refuge to the tattered remains of the Wiradjuri after massacres such as that in 1841 which wiped out all but one of the Narrungdera clan.
Johnson told me of her own, much more recent experience of her First Nations identity in which, growing up in Griffith, "racism was all that being Wiradjuri was for us". And this confirms a comment in an Indigenous history of Warangesda that the mission took in so many of the local clans that "Warangesda replaced the Wiradjuri identity". Sad, then that the 16 year old Johnson had to go to Sydney to be politicised, especially as the aging Auntie offering a Welcome to Country during the 'Sunshine Super Girl' ceremonies told us she'd been brought up never to leave Wiradjuri Country.
But, bringing back her experience as a student at NAISDA, including enriching cultural experiences in the remote communities of the north, going on to work on big projects such as the Rugby World Cup opening ceremony, Kerry Johnson realised that her mission was to build self-esteem amongst the community's youth, a generation threatened by a wave of suicides – eight in recent times. As well as history and traditional culture, Johnson and her ex-Bangarra sister Rayma, have brought a discipline which, Kerry believes, flows back into the family and community with the kids who've accepted it.
As for the history of the Warangesda Mission, founded by the much-despised Rev JB Gribble, whose son Ernie would go on to make trouble for unheeding white pioneers across the country, Johnson admits, "I don't know much of the old history apart from the fact that my great-grandmother was born there under a tree there in the 1880s. But I am sure that Warangesda saved us – I might not be here without it". 'One Night in Warangesda' was a sold-out text and dance performance designed to "get the old people to start talking, to get the story started. That would give us a voice in Griffith that we've not had in the past, allowing us to start thinking about the origin of our cycles of alcohol and depression. It's also a celebration of survival".
And the evening is captured on Facebook (as was so much of the Festival): https://www.facebook.com/BTPALtdNSW/videos/1061316727672988/
Also appreciated in the the Festival were tours of the Fivebough Wetlands at Leeton and the Narrandera Sandhills where artist and artefact-maker Mick Lyons introduced us to some of the deep connections that his people have with these lands – food sources on land and water, mighty red gum canoe and scar trees, rocky sheltering birthing places, a Bora Ring. This patient and smiling man was also the didg player who'd taken the 'Sunshine Super Girl' celebrants aback by announcing a moving lament for "those we've lost through suicide".
The Wiradjuri art on show was definitely reflective of local culture. A blinkered critic recently commented that First Nations paintings dominating the Wynne Prize at the Art Gallery on NSW weren't 'landscapes' at all within the stipulations of that prize. They're more maps than landscapes, he averred. But an apparently abstract picture that reflects the twists and turns of the Murrumbidgeri River, suggests food-sources growing beside it, references sand paintings and scar trees is as much a landscape as any Fred Williams canvas! Artists like Veronica Collins and Treahna Hamm achieve this, while Gail Manderson weaves Wiradjuri words into her grass baskets and William Carter still makes and decorates possum-skin cloaks.
Intriguingly, the Griffith Regional Gallery's speciality is jewellery, and its National Contemporary Jewellery Award will be held this year, entries closing on 16th October – the day before the final act of the Festival, the 'Celebration at Barellan', home of both young Evonne and the crazy Big Racquet which now looms over the town's famous tennis courts!
URL: https://www.yarruwalafestival.com/

Share this: »
del.icio.us »
Digg it »
reddit »
Google »
StumbleUpon »
Technorati »
Facebook
Contact Details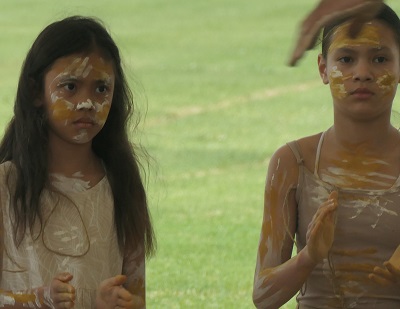 The high seriousness of the young Burrundi dancers as they revive Wiradjuri stories and culture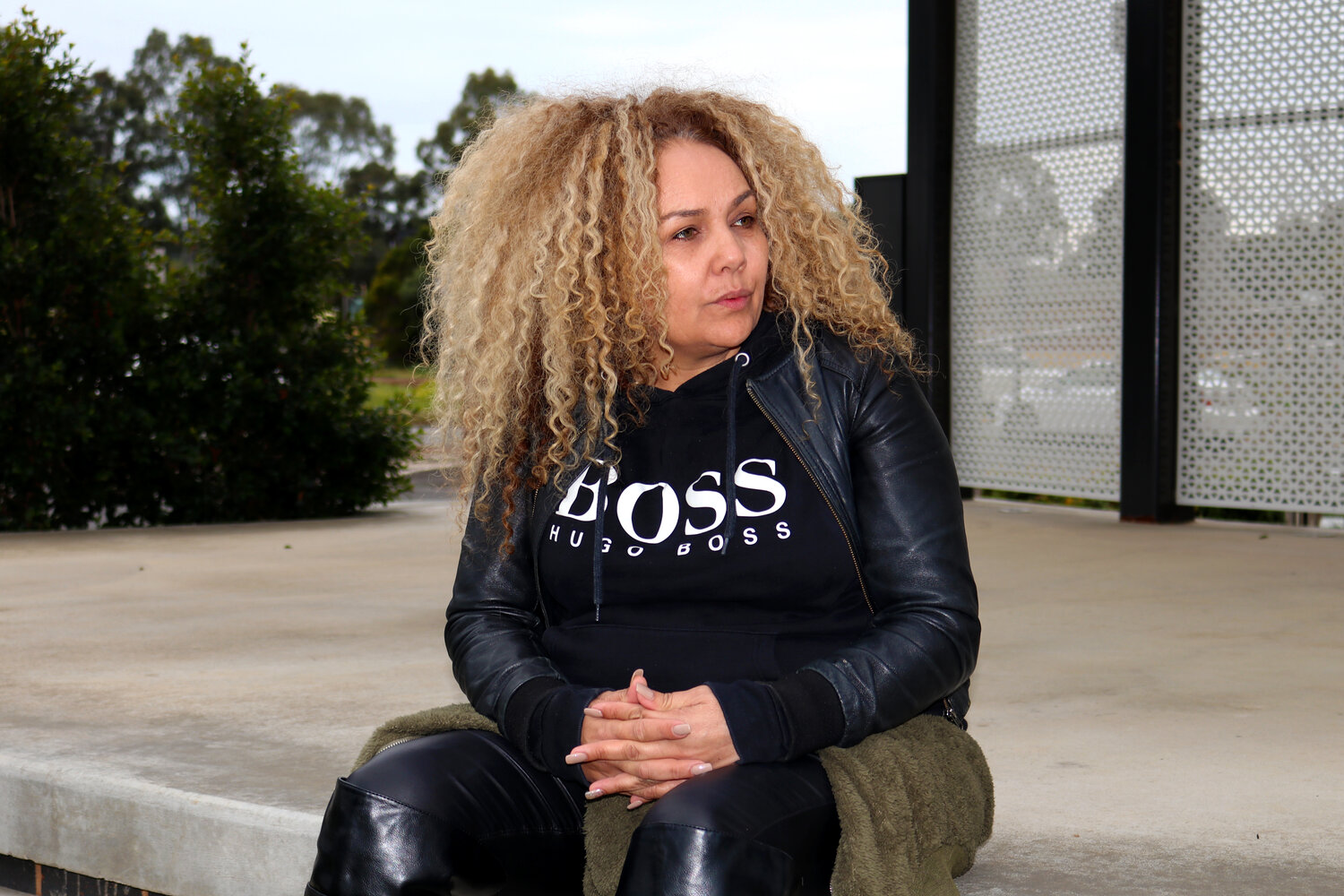 Director Kerry Johnson, vital spirit behind ceremonial parts of the Yarruwala Cultural Festival in the Western Riverina
Further Research