The Kelton Collection Heads to Switzerland
Bruno Raschle, the Swiss buyer of 250 works from the Kelton Collection
Jeremy Eccles | 03.12.20
Author: Jeremy Eccles
News source: Press Release

What's claimed to be the largest ever single private transfer of Australian Indigenous Art has taken place in California. The legendary Kelton Collection built up by Richard Kelton, who died last year, has sold more then 250 works to the Swiss collector Bruno E Raschle for an assumed sum around US$10m.
The Kelton Collection – perhaps the least known of the so-called 'Three Ks' (Kluge, Kelton and Kaplan/Levi) - was amassed over almost four decades from 1979 by the Marina del Rey real estate developer, and at 1400 works, was arguably the most comprehensive collection of First Nations art to exist outside a public institution. The Collection was a reflection of Kelton's indefatigable love of and commitment to Aboriginal artists and their art, and was driven by his belief in the international relevance of the art and Indigenous material culture.
This was only one aspect of Kelton's collecting, for his heart lay in the Pacific Ocean where he sailed and gathered Oceanic art, China Trade art and Gaugin as well as the Australian works – particularly appreciating barks with a Macassan subject. His art was kept around him in a suite of LA apartments, appreciated on a daily basis as well as exhibited widely through the 80s and 90s. Indeed, his first exhibition was mounted in 1980 at the Pacific Asia Museum in Pasadena, and it's credited as being the first Aboriginal Art exhibition in the United States. But, as he aged, Kelton's activism waned and he stopped adding to the Collection around 2007.
It was Kelton's commitment to the art and artists that compelled Bruno Raschle, an engineer turned fund-manager, who is known for his support for heritage conservation worldwide, to acquire a significant portion of the Kelton Collection. This will allow him to keep this premium selection intact while adding to the breadth of his existing collection of Indigenous art. As vice chairman of Schroder Adveq, he has about $10 billion of investments in Australia, where he's a frequent visitor.
The record-breaking deal was brokered by D'Lan Davidson, a leading Indigenous art consultant and dealer working recently with Gagosian, in partnership with Miriam Grundy, a long-time adviser and appraiser in the field, formerly based in the US. The acquisition includes an important collection of early 1970s Papunya boards and canvases; seminal paintings by Clifford Possum Tjapaltjarri; several monumental paintings by the most revered Indigenous artist, Emily Kame Kngwarreye; and significant paintings by early urban Aboriginal artists, Lin Onus and Sally Morgan.
Raschle plans to broaden the exhibition, scholarship and appreciation of Aboriginal art outside Australia, and continue the work based on Richard Kelton's fastidious record-keeping, which was supported by the Kelton Foundation and his daughter, Kerry Smallwood. D'Lan Davidson said, "This major acquisition combines two of the most significant private collections of Australian Indigenous art outside Australia and comes at a time when we are seeing consistent international growth in demand for contemporary Indigenous Art."
Bruno Raschle added: "The acquisition of the exquisite Kelton Collection, which includes a wealth of unpublished documents and videos, is a very meaningful complement to my existing Collection. We will seek to contribute to building an inclusive and transparent narrative of Australian Indigenous cultures and we have the goal of serving as an important resource that encourages the spirit of the Australian Indigenous people to continue well into the future".
Miriam Grundy's comment: "The Kelton Foundation has done a tremendous amount over the past four decades to bring Australian Aboriginal art and artists into critical dialogue with their North American peers. But the time is now right for this space to be led by the next generations. And museum directors all over the world would surely weep to have such a collection in their charge".
About the Kelton Collection: An often-uncritical but rigorous collector with a singular focus on the Pacific, Richard Kelton expanded his wide-ranging collection to include Aboriginal art beginning in1979, while on a trip to Australia, where he acquired four canvases from the Papunya Tula Artists cooperative. Kelton's saw these artworks as the equivalent of crucial books, transferring knowledge from generation to generation.
Accordingly, paintings from the Western Desert account for a significant portion of the Kelton Collection, comprising over 60 paintings on board and carvings from the 1971-1975 period, all created by the founding artists of the Papunya Tula painting movement, including all the stars - Tim Leura Tjapaltjarri, Mick Namarari Tjapaltjarri, Long Jack Phillipus Tjakamarra, Anatjari Tjampitjinpa No. 3 and Yala Yala Gibbs Tjungurrayi. There's also a unique double-sided work on stone by Kaapa Mbitjana Tjampitjinpa. Later he collected works by senior female painters.
Another focus area of the collection is barks and sculpture from Arnhemland, the Tiwi Islands and Wadeye (Port Keats). Kelton collected consistently over three decades from these regions, buying works by artists such as Deaf Tommy Mungatopi, Nym Banduk and Lofty Bardayal Nadjamerrek. Another community discovered was Yuendumu, where Kelton collected landmark collaborative paintings from some of the most distinguished Warlpiri artists, including Darby Ross Tjampitjinpa, Paddy Sims Tjapaltjarri, Paddy Nelson Tjupurrula and Paddy Japaljarri Stewart. To the north-west, the artists of the Balgo community favoured included Eubena Nampitjin, Wimmitji Tjapangarti, Bridget Mudgidell Napanangka, Muntja Nungurrdayi and Donkeyman Lee Tjupurrula.

Kelton went on to capture the dynamism of the East Kimberley art movement of the 1990s and 2000s. Significant works by Rover Thomas, Freddie Timms, Jack Britten, Peggy Patrick and Hector Jandany are in the Collection. Kelton was also deeply moved by the watercolors of Albert Namatjira and his contemporaries.
While Kelton bought throughout the careers of many of these artists, the two artists that he seemed to have the closest affinity with are Emily Kame Kngwarreye and Clifford Possum Tjapaltjarri. The Collection contains five major paintings by Emily, one of the most important female artists of the 20th century, including three monumental large-scale panels and a rare, late period 'Yam Dreaming'. There are seven consequential and rarely seen works by Clifford Possum, including two of the major paintings and a carving that were last shown publicly in Possum's 2004 retrospective at the Art Gallery of South Australia curated by Vivien Johnson.
The Kelton Foundation intends to maintain its philanthropic connection to Australia, emphasising First Nations health and education projects.

Share this: »
del.icio.us »
Digg it »
reddit »
Google »
StumbleUpon »
Technorati »
Facebook
Contact Details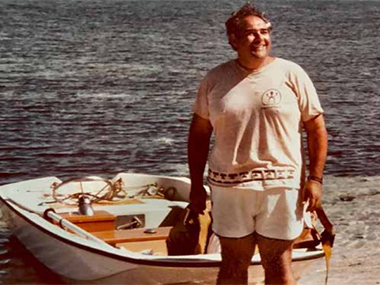 The late Richard Kelton, collector, happiest whenever he was at sea
Clifford Possum's 'Ancestral Tales of Mount Allen Sites - Yuutjutiyung' (1979), one of the first artworks that Richard Kelton bought for a collection that would increase to 1400
Further Research